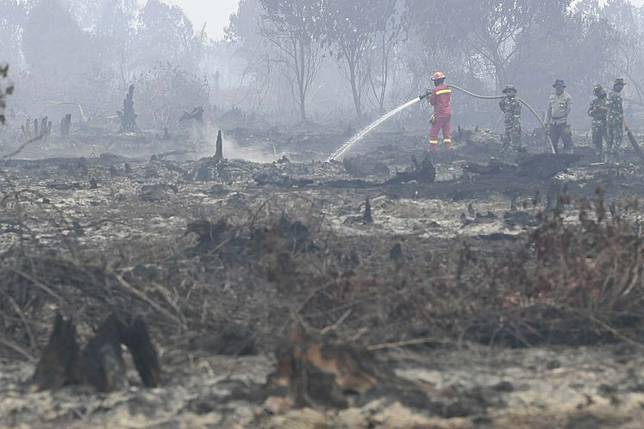 Malaysia's Prime Minister Mahathir Mohamad wonders aloud why a neighbor clearly in desperate need would dismiss offers for help — as thousands of schools remain closed, orangutans are relocated and millions choke on smoky haze across parts of Sumatra, Kalimantan, Malaysia and Singapore.
"We had offered help all the time. We have airplanes that are special, which spray water," he said, as quoted by the New Straits Times Friday, referring to forest fires in Indonesia.
"I don't know why Indonesia is not accepting our help. I would also like to ask [President Joko 'Jokowi' Widodo] why the government doesn't want to receive our help but I have not done that yet," he added.
Indonesian diplomats seem to have given up, deferring queries on neighbors' complaints to the Environment and Forestry Ministry, for instance — whose officials tell journalists to ask the Foreign Ministry instead.
In response to the defensive attitude among some Indonesian authorities, leaders from neighboring countries reiterate that no one is blaming anyone. Indonesian police have made arrests of several people suspected of causing the fires, but of course this does not answer the need to simply inhale breathable air, no matter where the foul smog is coming from. Residents affected by the haze in Indonesia and neighboring countries have every right to question Indonesia's commitment not only to compliance with a regional treaty on haze, but also to the wellbeing of its own citizens and that of its neighbors.
Expectations of ASEAN agreements are often not very high and in times of need the 2002 ASEAN Agreement on Transboundary Haze Pollution especially falls flat. Ratified only in 2014 by foot-dragging lawmakers, it provides mechanisms for neighbors helping each other in the annual occurrences of land and forest fires. Indonesia's central and local governments and private businesses say they have taken several measures to stop fires but prevention continues to be necessary in dry periods, while critics say law enforcement such as against slash-and-burn practices for land clearing, often blamed for triggering fires, is also lacking.
Indonesians and their neighbors in affected regions need help now. Help is being offered. But as the above treaty says, "Assistance can only be employed at the request of and with the consent of the requesting Party, or, when offered by another Party or Parties, with the consent of the receiving Party." Only when this consent is secured can governments collaborate through ASEAN's Coordinating Center for Transboundary Haze Pollution Control.
Whether our President represents Indonesia or not at the upcoming United Nations General Assembly in New York, it will be indeed difficult to answer possible questions regarding the impression, at least, that Indonesia, which has secured a nonpermanent seat on the United Nations Security Council, seems to be refusing assistance to put out fires.
Optimism that we can contain the fires ourselves does not help while children suffer even more from the effect of toxic pollutants compared with adults. Rushing the children to the nearest health facilities involves slow, careful navigation when parents cannot even see anything 10 meters ahead. We need all the help we can get. Now.