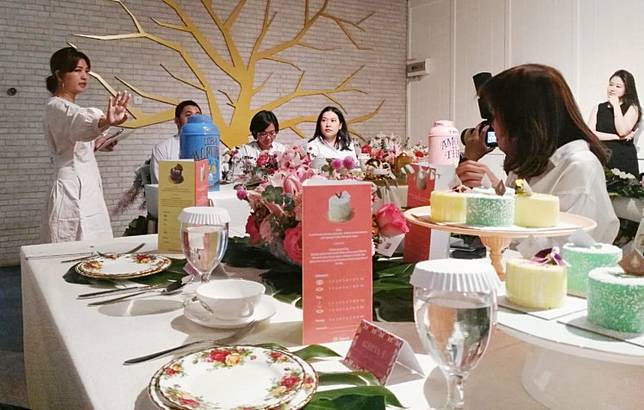 The inaugural Jakarta Dessert Week (JDW), held on Oct. 7 to 20, is more than halfway to completion on Friday.
Notifications on sold-out events as well as photos of people enjoying the festivities at participating venues, such as Fotile kitchen appliances showroom and Beau Bakery Panglima Polim, have been posted on the social media account of JDW.
        View this post on Instagram                  

@jakartadessertweek is all 'bout dessert-hopping. From trying Special Menu, to being pampered with dessert classes and dinings ('Experiences') 🥰 Sunday, 13 October 2019 Keseruan siang ini di @jakartadessertweek dalam rangka OXONE x BUILD THE CAKE @oxoneonline @buildthecake_id di mana chef @putrimirantiindra sebagai pendiri mengadakan intimate cooking demo bersama dengan participants. Antusiasme sangat terasa, terlebih ketika diadakan demo salah satu kue signature dari @buildthecake_id yaitu Gluten Free Chocolate Volcano Cake. Thank you to our sponsor @oxoneonline for PINK SERIES Oven dan Mixer used by Chef Putri. Cute looking, tough perfomance! Thank you @putrimirantiindra, Chef-Founder of @buildthecake_id for making teaching session so fun. Sure was a #party! Supported by: Venue: @fotileshowroom Tableware: Royal Albert and Serena by @homethecary Photo animation: @awwnderful #JakartaDessertWeek #dessert #pastry #cake #event #retro

A post shared by 7-20 October 2019 (@jakartadessertweek) on Oct 13, 2019 at 7:56am PDT
The Jakarta Post had the chance to attend a JDW event, namely a tart-making workshop and entremets-and-tea pairing at Arkamaya Culinary Education on Oct. 10.
Pastry chef Yosua Ekajaya, a 2016 graduate of Le Cordon Bleu London, gave the tart-making workshop, which comprised three tarts with different flavored fillings, namely strawberry, blueberry and lemon.
In between rolling the crust dough, setting it in the mold and moving on to making the filling, chef Yosua and the host of the event, food writer Tria Nuragustina, chatted about various kinds of pastries. What's the difference between a tart and a pie, for example? What is a gateau? And what are entremets?
Tarts, of course, are a baked dish with a pastry base and a filling with an open top, unlike a pie, which is usually covered. A gateau, on the other hand, is commonly known as a light sponge cake with rich icing or filling, while entremets are a complex cake comprising many different layers, each made with various techniques.
Yosua also demonstrated how to decorate entremets with mirror glaze, which made quite a show.
First, a measuring cup (or a can, a glass or other things similar in shape) is put under the center of the cake to elevate the cake. And then the mirror glaze, looking shiny thanks to the use of gelatin sheets, was poured and swirled over the cake. The excess glaze inevitably fell to the surface, but that remaining all over the cake quickly set and after a few wipes here and there, voila, the chef presented a perfect mirror glaze entremets.
        View this post on Instagram                  

Look at that shiny smooth glaze. . #mirrorglaze #entremetjakarta #jualentremet #cakejakarta #jualcakejakarta #jualcakepremium #kueulangtahun #jualkue #jualkuejakarta #jktfoodies #jktgo #eatandtreats

A post shared by ARKAMAYA ARTISAN CAKERY (@arkamaya.artisancakery) on Aug 5, 2019 at 12:54am PDT
The mirror glaze demonstration was, however, only given to us after we "labored" on our own spaces in the long kitchen counter to decorate the previously demonstrated tart.
        View this post on Instagram                  

@jakartadessertweek is all 'bout dessert-hopping. From trying Special Menu, to being pampered with dessert classes and dinings ('Experiences') 🥰 Thursday, 10 October 2019: EXPERIENCE Kamis lalu memperkenalkan kehadiran online cake shop @arkamaya.artisancakery yang berfokus pada entremet. Di Pastry Room @arkamaya.culinaryeducation, pencinta #dessert ikutan mendekor Tropical Tarts pakai edible flowers dan Italian meringue, hingga turun ke Function Room belajar pairing #entremet and #tea. . . Pada sesi #teapairing, semua diajak memberi skor dengan interpretasi masing-masing, tanpa perlu takut salah menilai. Kecakapan pairing memang butuh proses, kok. "Pairing tak sekadar mencari kesamaan bahan antar kue dan teh. Testing-nya kompleks dan kami uji berkali-kali," ujar Trixie Anindita, Director @twgteaid Nyaris 4 jam intensif tapi ditekuni dengan hepi! Terima kasih untuk @feminamagazine yang sudah membuka acara. "Saya menanti sesi pairing seperti ini. Teh adalah komoditi besar Indonesia dan kita perlu memahami demi perdalam apresiasi," ujar Managing Editor for Food @nana_atiningmas Alsoooo, heaps of love for @homethecary tablewares. Alat makan dan minum teh Royal Albert dan Serena-nya bikin jamuan edukatif kemarin ala ngeteh2 ratu Inggris! Tengkyu juga photobooth animasi yang gemesin dari tim @awwnderful . Photo: Dok.Arkamaya Creative . . Yg ikutan kemaren, komennn doongg masukan atau experience nya di bawah ini ya 😝

A post shared by 7-20 October 2019 (@jakartadessertweek) on Oct 13, 2019 at 5:24am PDT
After the "laboring" and the mirror glaze demonstration, we were whisked to a dining space for entremets and tea pairing.
Read also: Juice pairing for special dining experiences
TWG Tea Indonesia partners with Arkamaya artisan cakery -which is founded by chef Yosua himself- to present the pairing, and promote the possibility of pairing tea with entremets, which is a fine gourmet product.
The first entremets was called Elsa, inspired by nastar (pineapple tart), which is popular during Idul Fitri and Christmas in Indonesia. Elsa is paired with TWG's Alfonso tea, which is a black tea blended with young mango and a secret combination of fruit and flowers. For someone who is not much into cakes and pineapple tarts, I found the pairing appealing. The entremets with its mirror glaze is not only pleasing to look at but also delightful to eat.
Second entremets for that afternoon was called Elma, which is inspired by Indonesian traditional sweet delicacy klepon. Coconut and arenga sugar being the highlight of klepon, I found that Elma went far beyond my expectation.
Read also: (Not so) Similar tastes: Reimagining classic Indonesian Food
Klepon cake has been trending lately, but I'll stick to the real klepon, as I thought most of the cakes were too rich and sweet. However, Elma is an exception. Its layers of mousse that bring the taste of coconut and arenga sugar are soft, light and airy, as if it teases the palate lightly but is suddenly gone, leaving the palate curious for more.
One of TWG's best-selling teas, crème caramel, was paired with Elma. A red tea from South Africa blended with sweet French spices, crème caramel fills the "missing piece of the puzzle" for Elma.
      View this post on Instagram                  

First look of one of our signature cake, Èloise, our Chocolate Marie Entremet. consist of Genoise Marie Sponge, Vanilla Marie Cremeux, Dark Chocolate Mousse, Marie Biscuit Crunch and Chocolate Glaze. #arkamayaartisancakery #entremet #entremetcake #entremetjakarta #jualentremet #mirrorglaze #mirrorglazejakarta #kuejakarta #kueulangtahun #jualcakejakarta #jktfoodies #premiumcake

A post shared by ARKAMAYA ARTISAN CAKERY (@arkamaya.artisancakery) on Mar 6, 2019 at 1:47am PST
The final pairing was between Eloise -entremets made of Indonesia's famous Marie Regal cookies- and chocolate Earl Grey tea. I could be biased about the entremets as this is the one I've been anticipating the most, but I have been a purist when it comes to Earl Grey. However, while chocolate Earl Grey is unlikely to make it to my tea vocabulary, I find that this tea is very much acceptable when paired with the Marie Regal-based entremets.
Leaving the pairing event, I came to realize that nobody will ever need to add sugar to their teas if the beverage is paired with such delightful series of entremets.