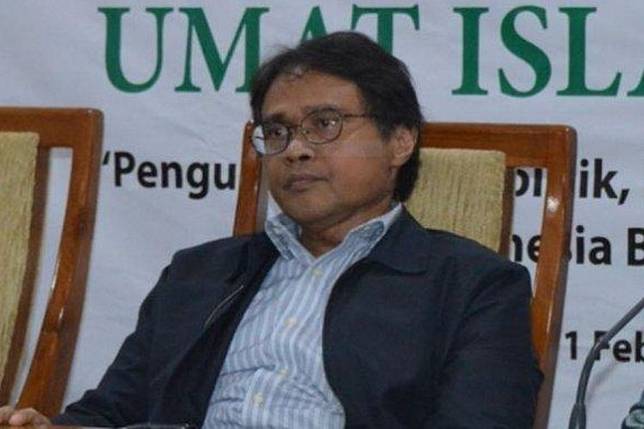 Prominent Muslim scholar and Muhammadiyah central board (PP) chairman Bahtiar Effendy passed away in Jakarta on Thursday. He was 60 years old.
His death was first announced by former Muhammadiyah central board chairman Din Syamsuddin in a written statement.
"Inna lillahi wa inna ilaihirojiun [We belong to God and to God we shall return]. Our brother, friend and teacher Prof. Dr. Bahtiar Effendy has passed away," Din wrote in the statement.
Din said Bahtiar died close to 12 a.m. on Thursday at Cempaka Putih Jakarta Islamic Hospital in Central Jakarta.
The country's second-largest Muslim organization also announced his death on its official Twitter account @muhammadiyah, saying in a tweet posted on Thursday that "Muhammadiyah has just lost one of its best."
Innalillahi wainnailaihi rajiun.
Muhammadiyah telah kehilangan salah satu kader terbaiknya.
Mohon doa terbaik untuk almarhum Prof. Dr. Bahtiar Effendy, semoga Allah Subhanahuwata'ala melimpahkan rahmat, maghfirah dan jannahNya. Aamiin#Muhammadiyah #BahtiarEffendy pic.twitter.com/DNaPQrZcNz

— Muhammadiyah (@muhammadiyah) November 20, 2019
Muhammadiyah chairman Haedar Nasir said Bahtiar was an intellectual and expert on political Islam who often gave sharp and wise insights about how the organization should respond to the political dynamics in the country.
"Muhammadiyah is in deep sorrow over the loss," Haedar said in a statement as quoted in muhammadiyah.or.id.
Born in Ambarawa, Central Java, on Dec. 10, 1958, Bahtiar was a renowned academic and was active in writing books on Islam, politics and governance, as well as writing media articles.
Prior to his death, Bahtiar served as Muhammadiyah central board chairman for international relations and cooperation.
Bahtiar was a professor of political science and was the first dean of Jakarta Syarif Hidayatullah Islamic State University's (UIN Syarif Hidayatullah) Social and Political Science Department.
He was an undergraduate of comparative religious studies at IAIN Jakarta, the former name of Syarif Hidayatullah State Islamic University. He had two master's degrees on Southeast Asian studies and political science and obtained a Ph D on political sciences from Ohio State University, the United States. (ami)