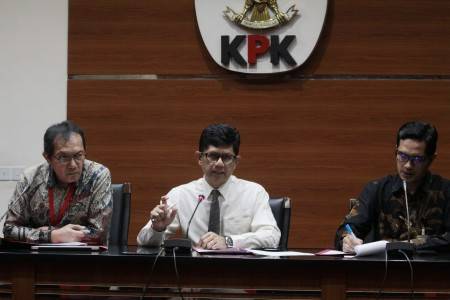 The Corruption Eradication Commission (KPK) is seeking Interpol's assistance in locating Sjamsul Nursalim and his wife Itjih Nursalim, both of whom are suspects in a graft case pertaining to the Bank Indonesia Liquidity Support (BLBI) funding in 1997.
"We have sent a letter to the National Central Bureau [NCB]-Interpol Indonesia to issue a red notice for the two suspects SJN and ITN," KPK spokesperson Febri Diansyah said in a statement on Thursday, referring to both suspects by their initials.
He added that the antigraft body had explained in the letter — sent on Sept. 6 — details of the case against the owner of Bank Dagang Negara Indonesia (BDNI) and his wife as well as a request to search for the suspects.
"The NCB-Interpol has responded to the letter by saying that it will hold a meeting with us for coordination and a case expose, if necessary," Febri said.
Read also: KPK hunts tycoon Sjamsul Nursalim in BLBI bailout case
The antigraft body previously made a request in October to the National Police to put the Nursalims on their most-wanted list.
Sjamsul and Itjih were named suspects in June for their alleged involvement in a corruption case related to irregularities surrounding the BLBI disbursement. The case caused Rp 4.58 trillion (US$324 million) in state losses.
Since then, graft busters have summonsed them for questioning at the KPK headquarters in Jakarta. However, neither suspect has answered the summons. 
The case dates back to the Asian financial crisis when BDNI received Rp 28 trillion in BLBI funds, which were disbursed through the central bank to help them survive during the monetary crisis.
The money received by BDNI was supposedly used for loans to farmers and fish farmers, as instructed by Sjamsul as the bank owner. However, he allegedly misrepresented the loans and embezzled the funds.