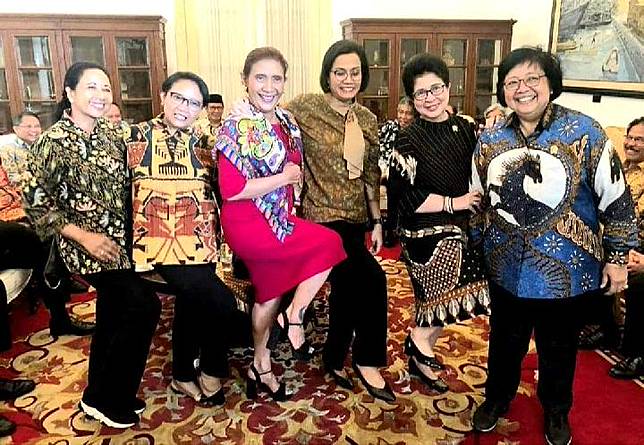 TEMPO.CO, Jakarta - President Joko "Jokowi" Widodo introduced ministers of his new cabinet dubbed 'Kabinet Indonesia Maju' at the Presidential Palace, Jakarta, on Wednesday morning, October 23.
"This morning I introduce you Kabinet Indonesia Maju, which will focus on developing human resources, creating jobs, and empowering MSMEs," said the President today.
In this second-term cabinet, the President appointed five female ministers among the total 34 ministers. Whereas, his previous cabinet had eight female ministers, including Susi Pudjiastuti, who was famous for her controversial policies. However, Susi no longer served as a minister of maritime affairs and fisheries.
The following are five female ministers for the new cabinet:
President Joko Widodo reappointed Sri Mulyani as Finance Minister for the new cabinet. Sri had managed the country's finance since the presidential era of Susilo Bambang Yudhoyono in 2005-2010 and Jokowi's 2014-2019 administration.
Retno Marsudi was again named as Foreign Affairs Minister. This would be her second-term to serve as a minister in Joko Widodo's administration.
Similar to Sri Mulyani and Retno Marsudi, a NasDem politician Siti Nurbaya also retained as Minister of Environment and Forestry. She pledged to resume jobs that focus on dealing with rampant forest fires across the country.
The former lawmaker who is also a PKB politician Ida Fauziyah was named Manpower Minister to replace her fellow party cadre, Hanif Dhakiri. At the 2019 Presidential Election, Ida served as the coordinator chair of the National Women's Volunteer for Jokowi or Super Jokowi. She mobilized women's votes to elect Joko Widodo-Ma'ruf Amin in the previous election race.
I Gusti Bintang Darmawati
Hailed from Bali, I Gusti Bintan Darmawati is the wife of Cooperatives and Small and Medium Enterprises Minister of the 2014-2019 period, AAGN Puspayoga. Bintang Darmawati clinched a seat in Joko Widodo's second-term Cabinet as Minister of Women Empowerment and Child Protection (PPPA).
DEWI NURITA