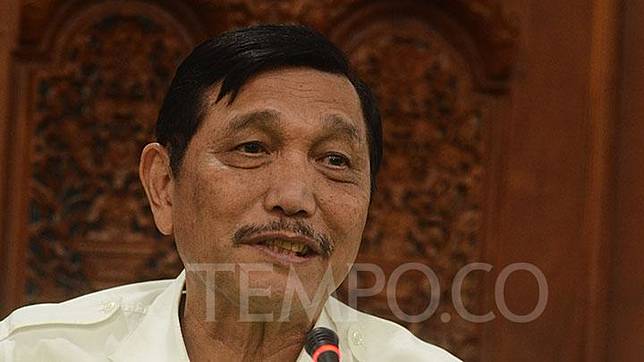 TEMPO.CO, Jakarta -Luhut Pandjaitan has been invited again into President Jokowi's second-term Cabinet to reprise the position as Coordinating Minister of Maritime Affairs and Investments.
"I was summoned and briefed about handling maritime issues and investments," said Luhut at the State Palace on Tuesday afternoon, October 22.
Throughout his role as Coordinating Minister in Jokowi's first term, Luhut oftentimes would spark controversy through a number of policies or feuds with fellow State Ministers, such as the one with former Fisheries and Maritime Affairs Minister Susi Pudjiastuti, regarding a policy in the field of fisheries.
Here are 5 of Luhut Pandjaitan's moments that sparked controversy:
Accelerating the Ban on Nickel Ore Exports
Luhut once said that the government will issue a regulation that will effectively ban nickel ore exports starting on January 1, 2020, in an attempt to establish added-value for the domestic nickel industry. However, this policy is two-years too soon as another regulation states that nickel firms must build smelters to be able to export ore nickels.
This is eventually fought by entrepreneurs joined in Indonesia Nickel Miners Association as nickel businesses have just constructed smelters that has only entered 30 percent of its construction phase. It is also feared that the ban on nickel ore exports will stop the construction of 31 smelters in Indonesia due to lack of funds that is mainly sourced from export profits.
*Chinese Firm Offering to Help Evaluate BPJS Kesehatan *
In August of 2019, Luhut said that a Chinese insurance firm, Ping An Insurance, offered to assist in the evaluation of BPJS Kesehatan's information technology system with their own AI technology. This offer was made after his meeting with one of the firm's bosses during a work visit to China
This was met with resistance from a large group of people, one includes from the BPJS watch's advocacy coordinator who addressed the danger of exposing public data to foreigners that will imperil the national defense.
Boosting China's Investment in Indonesia
Minister Luhut is often seen attracting China to invest in Indonesia and defends that this country is a potential market for China, added to the fact that the two countries have maintained close relations in the past three years. However, his frequent negotiation with China, he has been called "China's agent" and the "Chinese ambassador."
*Close Ties with Palm Oil Industry *
Minister Luhut is one of the State Ministers who still persists to fight for palm oil and considers this commodity as an asset that needs guarding for he believes the people's economy still depends on palm oil. However, people found it difficult to forget that Luhut Pandjaitan's name is mentioned in the Panama Papers scandal based on a leaked document from law-firm Mossack Fonseca.
Luhut's name was incriminated in the issue by being appointed as the owner of Mayfair International Ltd the same day the firm was launched. This firm is located in Mahe, Seychelles, which is known to be a tax haven state. Luhut denied the allegations in 2016.
Public Feud with Susi Pudjiastuti in Trawl Ban
Luhut Pandjaitan found himself in a feud with then-minister of fisheries and maritime affairs, Susi Pudjiastuti. They were mainly entangled in the issue of the use of trawl devices and Susi's policy to prohibit its use as it is deemed environmentally destructive.
HENDARTYO HANGGI | FAJAR PEBRIANTO | BISNIS