Just an hour by plane from Jakarta, Yogyakarta is often overlooked as a quick escape destination, as Bandung in West Java is closer and Bali is more popular. However, with its laidback vibe and affordability, as well as attractive culinary scene, just to mention a few, Yogyakarta deserves more attention.
Those who have at least 48 hours to spend in Yogyakarta, here are a few activities to consider:
Permaculture farm tour at Bumi Langit
Closed every Monday, the farm makes a great destination to visit as soon as your early morning flight touches down in Yogyakarta. Bumi Langit is located on a hilly area in Imogiri, Bantul regency. Visitors can book a guided tour to walk around and see how a permaculture farm works. An important highlight is how the whole compound uses electricity, from a combination of solar panels and diesel power, and how cooking is powered by bio gas sourced from solid human and animal waste.
        View this post on Instagram                  

. Hari-6 Bumi Langit PDC 21 Maret 2019 . Murid-murid berpencar! Beberapa dari kami memutuskan untuk tetap tinggal di Bumi Langit untuk beristirahat, membantu Mas Tantra di kebun, maupun menjadi fasilitator tur kebun menemani Mbak Nung. Kang Anas sudah cocok pisan buat jadi fasilitator Bumi Langit kan? Ilmu tentang sistem biogas, kompos cacing, dan BSF langsung dipraktikkan tuh! Sama-sama di rumah, peserta lain memutuskan untuk nongkrong di Warung Bumi atau beristirahat di rumah. . Lainnya? Jalan-jalan turun dan naik gunung! Sebagian jalan-jalan ke hutan pinus, berbelanja bersama Ibu ke Pasar Imogiri, dan tur arsitektur dan desainer ke kota. . Malam ini kami dijadwalkan makan malam bersama. Berkumpul lagi! Hore! . . . #bumilangit #bumilangitpdc #bumilangitpdc0319 #bumilangitinstitute #pemaculture #permakultur #permaculturedesigncourse

A post shared by Bumi Langit (@bumilangit.official) on Mar 21, 2019 at 5:09am PDT
Also a part of Bumi Langit compound is Warung Bumi, a restaurant serving various foods, from toasted, homemade whole wheat and sorghum bread topped with passionfruit jam, mulberry jam, peanut butter; organic soybean tofu and tempeh; free range chicken to noodles and spaghetti made of cassava.
Exploring pine forest at Puncak Becici
A few minutes by car from Bumi Langit lies Puncak Becici, a pine forest where visitors like to walk around and take photos among the tall trees. Those who walk up to the higher edge of the forest may find platforms perched on the trees.
If you're not afraid of heights, climbing up the platform is worth a try, and you will be met with a breathtaking aerial view of Yogyakarta. Climbing the platform is actually a lot less scary than going back down. Be careful!
Sip coffee, eat and furniture (window) shopping at Epic Coffee and Epilog Furniture
Open from 10 a.m. to 11 p.m., Epic Coffee spoils its guests with spacious indoor and outdoor dining areas. Its indoor dining area seems to be purposefully built with a high ceiling, as it also houses a furniture store. The area is laid out in a way that makes guests feel encouraged to walk around, browse the goods and probably buy a thing or two.
        View this post on Instagram                  

We're here to serve you good coffee, everyday. 10 am until 11 pm. Have a great Monday. #coffee #cafe #resto #roastery #barista #lamarzocco #manualbrew #strada #roastedbean #houseblend #epic #epiccoffee #coffeeshop #yogyakarta

A post shared by Epic Coffee (@epic_coffee) on Jul 24, 2017 at 2:51am PDT
As Epic doesn't open very early as a coffee shop, it should be good for a late morning coffee session, but its menu is quite appealing for lunch and dinner alike.
Eat dinner like locals at Iga Sapi Bali
Although already popular among tourists, Iga Sapi Bali is also where locals go for special but unpretentious eating out. Halal certified and having claimed that it has no plans to open any branches, Iga Sapi Bali serves beef ribs cooked in many different ways, seasoned with various herbs, spices and sauces.
        View this post on Instagram                  

Weekend waktunya kumpul sama sanak saudara nih. Yuks mari merapat ke @igasapibaliyogyakarta 😍😍😍 . . . 🏠 Iga Sapi Bumbu Bali Halal Pertama di Dunia 📌 Jalan Umbul Permai, Sariharjo NgaglikSleman, Yk 📡 FREE Wifi ---------------------------------------------------- #igasapibali #kulinerjogja #kekinian #kuliner #makananjogja #explorejogja #foodgram #dagelan #anakjajan #instagram #kekinian #makan #madang #mampiryuk #instagram #foodgram #foodgram_yk #like4like #fff #indonesianfood #dolanndeso #manganenak #kuliner #l4l #kulinerjogja #jogja #jogjakarta #makananjogja #unfirst #sukamakan #berburukuliner #temenmakan #instafood

A post shared by IGA SAPI BALI YOGYAKARTA (@igasapibaliyogyakarta) on Sep 22, 2019 at 1:42am PDT
Aside from its famous beef ribs, Iga Sapi Bali also offers chicken and fish dishes as well as moist tempeh mendoan (batter-dipped and fried tempeh) and corn fritters. It also has spacious dining areas for those coming in groups.
Read also: Five affordable things to do in Yogyakarta
Where to stay
Greenhost boutique hotel
An established boutique hotel in lively Prawirotaman area, Greenhost remains charming with its lush green scenery. Rooms are quite small, but according to my experience checking in late at night once, room service is handled really well.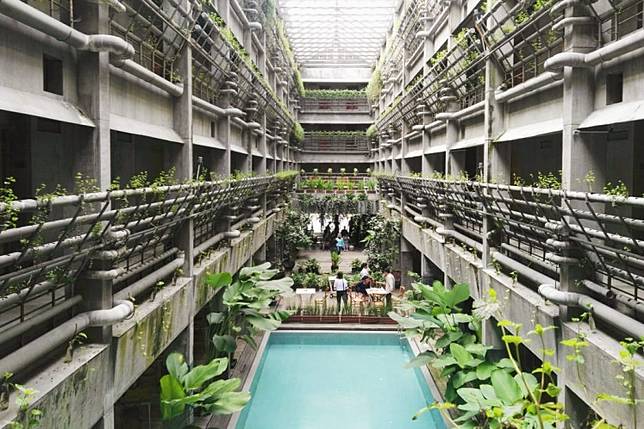 An established boutique hotel in lively Prawirotaman area, Greenhost remains charming with its lush scenery. (JP/Muthi Kautsar)
The hotel building is designed like a rectangle with a small swimming pool at its center, and it has a rooftop garden where urban farming takes place. There is also a restaurant at the rooftop, adjacent to the garden.
Yats Colony
One of the most booked hotels in Yogyakarta these days, Yats often collaborates with creative and artistic souls to provide workshops for its community. It also has a well-curated boutique that sells clothes and accessories. Room types at Yats consist of Ha, Na, Ca, Ra, Ka, inspired by Javanese alphabet hanacaraka.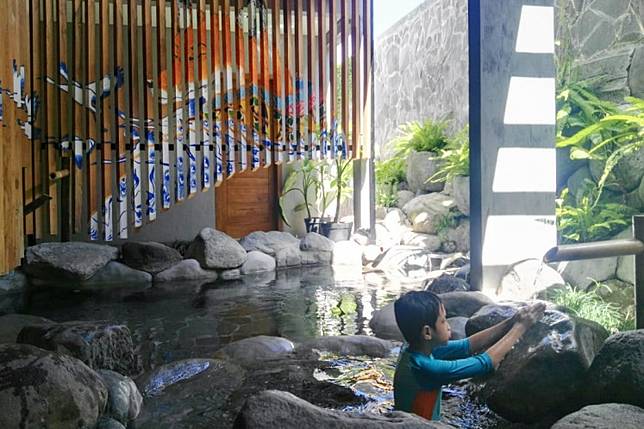 A warm tub accessible for guests staying in a Ha sendang room, Yats colony, Yogyakarta. (JP/Muthi Kautsar)
Those who are into design might find it difficult to choose between a Ha Dhuwur room and Ha Sendang room, the former a two-story with floor-to-ceiling and direct view to the pool, while the latter has a semi-private, semi-outdoor onsen-like warm tub.