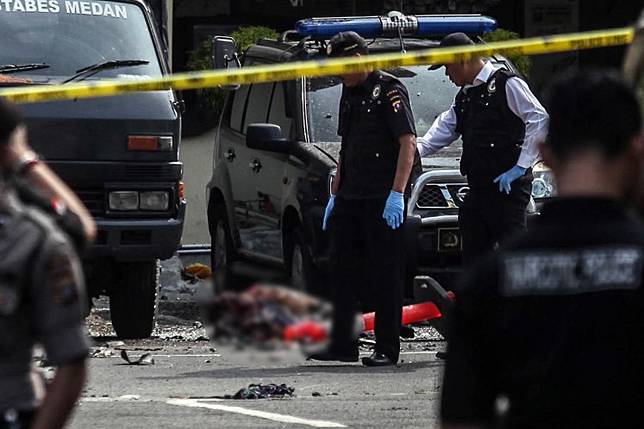 A 24-year-old man who was formerly an online-delivery motorcycle driver has been identified by police as the suicide bomber in the attack on the Medan Police precinct headquarters in Medan, North Sumatra, on Wednesday. 
North Sumatra Police Spokesperson Sr. Comr. Tatan Dirsan Atmaja said the suicide bomber was a Medan city resident and identified him as Rabbial Muslim Nasution, alias Dedek. He is, so far, thought to have carried out the attack alone. 
"[Rabbial] had resigned from his job as an online-delivery motorcycle driver," Tatan said on Wednesday. "We still don't know about his affiliation to certain [terrorist] groups."
He said the police's Densus 88 antiterrorism squad and the North Sumatra Police went to Rabbial's house after the accident. Three of his family members were brought in for further questioning, Tatan said. 
The suicide bombing occurred at about 8:45 a.m. on Wednesday, after the morning roll call at the precinct police headquarters. Six people, including four police officers, one non-permanent staffer and one civilian, suffered injuries in the attack. 
The police's Indonesia Automatic Fingerprint Identification System (Inafis) unit identified Rabbinal as the suicide bomber through fingerprint analysis. 
North Sumatra Deputy Police Brig. Gen. Mardiaz Kusin said Rabbinal had been stopped and checked by police officers on duty at the gate before he entered the police compound. However, he was away from the gate for some time before he finally entered the headquarters. 
Mardiaz said that Rabbial blended in with members of the public who were applying to obtain police certificates of good conduct (SKCK) near the police's operational office.
"At that time, he blew himself up," Mardiaz said. 
The police said they would continue to investigate whether Rabbinal was part of Islamic State-linked homegrown terror group Jamaah Ansharut Daulah (JAD), which has been behind a number of past terror attacks in Indonesia. (afr)