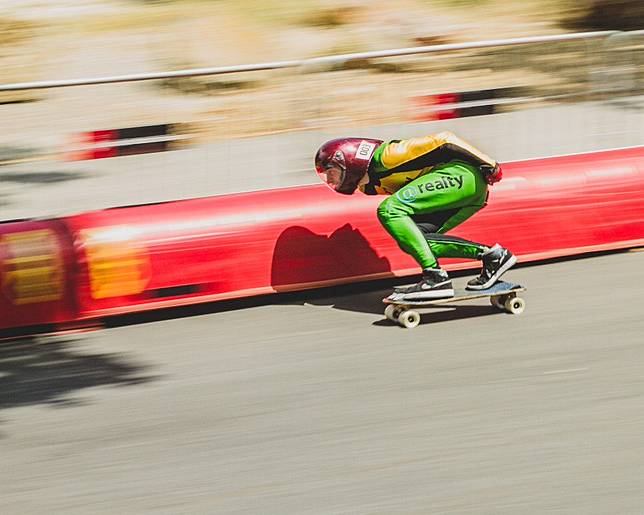 Downhill skateboarder Harry Clarke knew he was good. He had conquered the hills of Sai Kung, Tai Tam and Tai Mo Shan and was winning everything in Hong Kong. He felt the time was ripe to take on the rest of Asia.
So he and his friends entered some events in the Philippines - and were promptly thrashed. It was an eye-opener for the former King George V School student but he was determined to improve. He decided to hang around in the Philippines and compete against the locals until he was as good, if not better, than them.
Six years later, a 21-year-old Clarke returns to the Philippines - no longer the naive upstart but a world champion, no less, and a coach to those very same skaters who used to make minced meat of him when he first ventured out of Hong Kong.
"It was around 2013, we did a lot of events here and I was winning all of them, I thought I was hot, was pretty good I want to try somewhere else, a bigger scene," said Clarke, who was recently crowned International Downhill Federation world champion and has been appointed coach of the Philippines Southeast Asian Games squad.
"I went to the Philippines and got absolutely whipped. I didn't win anything, I got absolutely thrashed. Then I went back and said to myself 'OK, look, we are not the best here, those guys are miles ahead of us'. So we just kept racing there, it was a really good training ground for us.
"I went out to Europe in 2014 to try my hand out there (in junior races) and again got whipped. I learned so much during that time, and it's been all downhill since then."
Clarke, who was born in Australia and came to Hong Kong when he was five, beat out a strong field of skaters from the United States, Canada and Australia for his first world title. It was his second year on the series, finishing sixth in his rookie season in 2018.
Each race comprises four riders who push off from the top of a hill, assume aerodynamic postures as they speed along at between 70 and 100km/h. The first to the bottom is the winner.
Clarke, whose parents are high schoolteachers in Hong Kong, is looking forward to defending his title next season but, before that, he is excited at the chance to coach his Filipino friends in the Sea Games.
"I've been invited to coach the Philippines national team so I will be there too," said Clarke. "We are all friends. These are the guys who were whipping me seven years ago.
"With this opportunity I am the first professional skateboarding coach in history. How cool is that?
It's all come full circle, now I'm the coach and the world champion. The Philippines is where I won my first race."
Clarke said the hills of Hong Kong are ideal breeding grounds for world-class skateboarders but of the batch of friends who he would skate with during his school days, he is the only one pursuing the sport professionally.
With the full support of his parents, Clarke decided to delay his university studies to compete on the world circuit. Originally, he was supposed to take a year out. That was three years ago.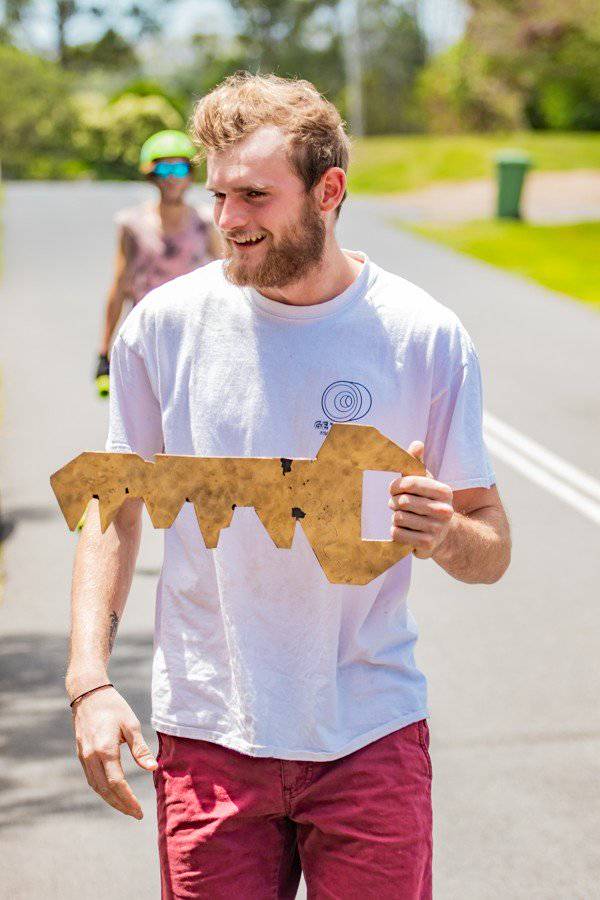 "We have some crazy roads here (in Hong Kong) and it bred some really, really good downhill skateboarders," he said. "My friends have all gone to university, everyone feels like they need to go. I've been looking at it from a different perspective.
"Both my parents are high schoolteachers and their job is to prepare these people for that next step in life and we've talked about it a lot. I won't do it for the sake of doing it. If I find something that I want to study or need to study for something that I want to do, then I will study.
"If it was anything (that I would study) it would be something to do with sports science and sports coaching."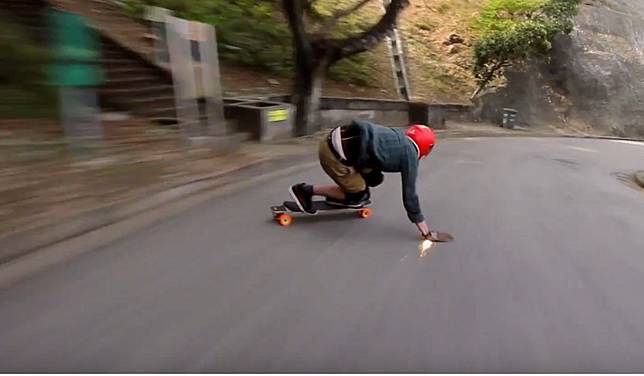 Clarke also understands the importance of a career outside skateboarding, especially with his sport being a particularly dangerous one. Sparks literally fly off a skater's hand as they scrape the road while taking corners. One wrong move could prove disastrous.
"Obviously, injuries can happen, it's a dangerous sport," said Clarke. "I know people who have been injured and unfortunately lost their lives.
"But it's a risk I'm willing to take to compete in my sport. We do everything in our power to make it as safe as possible. Whether we are out skating just for fun or at a race, we are always trying to incorporate all the safety precautions.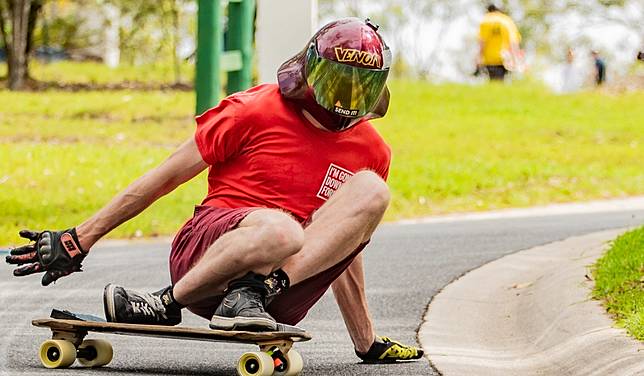 "I'm not out here trying to kill myself I'm out here trying to skate another day."
Injuries apart, downhill skateboarding is not a sport that makes you rich. Despite being world champion, Clarke must seek outside financial support to sustain his career.
His father, Paul, helped him out during his schooldays and now he relies on companies such as Madrid Skateboards, Rogue Trucks, Venom Skate, BamBam Skate and SBDW Longboardshop HK to help him financially and with equipment.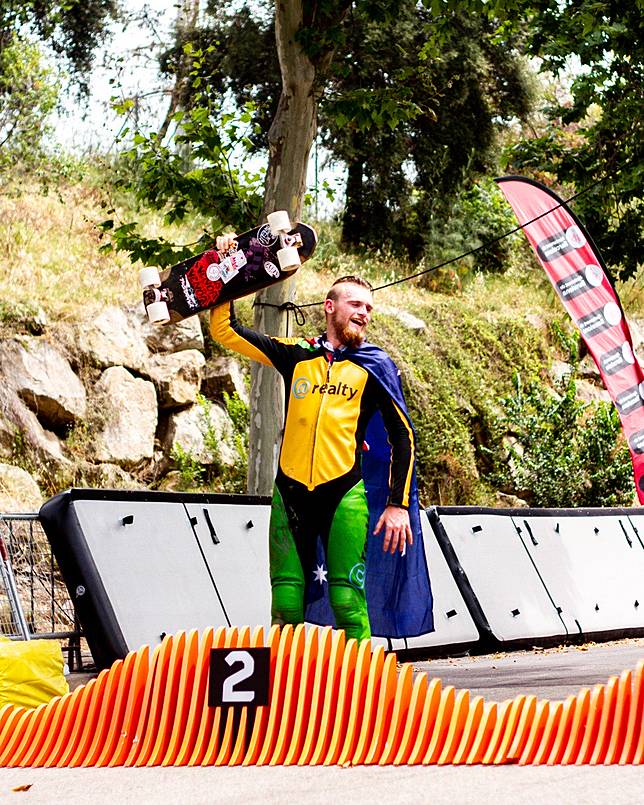 He used to work a kitchen job in Brisbane, Australia to help him buy equipment and, while in Hong Kong, he helps SBDW with development programmes and coaching youngsters.
"Since I started winning, I've got a bit more money but it's still tough. It's not exactly glamorous for sure," said Clarke, who gets a thrill from helping others improve their technique
"Coaching is cool for me. I also want to try to broaden the sport and bring it more into the mainstream.
"It's a little bit underground right now so bringing it to the spotlight is definitely one of my goals.
"I work with a skateboarding shop and they have weekly sessions for beginners and intermediate level riders, anyone can come down. We teach them how to skate."
Copyright (c) 2019. South China Morning Post Publishers Ltd. All rights reserved.