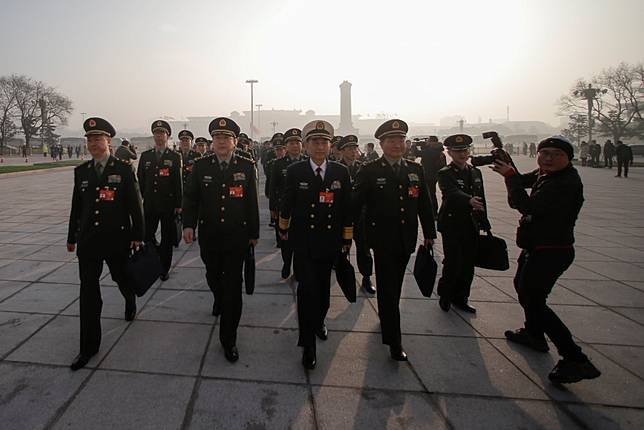 China's modest defence budget increase this year shows that modernising the military will remain a top priority for Beijing amid a slowing economy and the trade war with America, analysts say.
Military funding will rise to 1.18 trillion yuan (US$175.98 billion) in 2019, up by 7.5 per cent from last year, according to the budget report released on Tuesday at the opening of the National People's Congress in Beijing.
Although that is less than the 8.1 per cent defence spending increase in 2018, it is above the 6 to 6.5 per cent economic growth forecast for 2019.
John Lee, a senior fellow at the United States Studies Centre of the University of Sydney, said China had maintained continuous expansion of its military budget for three decades, and the increase had always been above the nation's GDP growth.
"It is no exaggeration to say that China is engaged in the most rapid (in relative and absolute terms) of military build-ups in peacetime history since the end of the second world war," Lee said. "This is (happening) at a time when its borders are secure and it is managing with the challenge of financial deleveraging and demands for higher spending on public goods.
"This (increase in defence spending) will only fuel greater and deeper suspicion of Beijing's motivations and strategic objectives," he added.
But Lieutenant General He Lei, former vice-president of the PLA's Academy of Military Sciences, said the lower growth of the People's Liberation Army budget would help Beijing refute the "China threat" claims made by Western countries.
"The 7.5 per cent (increase) is lower than last year's 8.1 per cent, and this shows that our military development takes into account not just our national defence needs but also our domestic economic situation, government revenues and other practical issues," said He, who is an NPC delegate.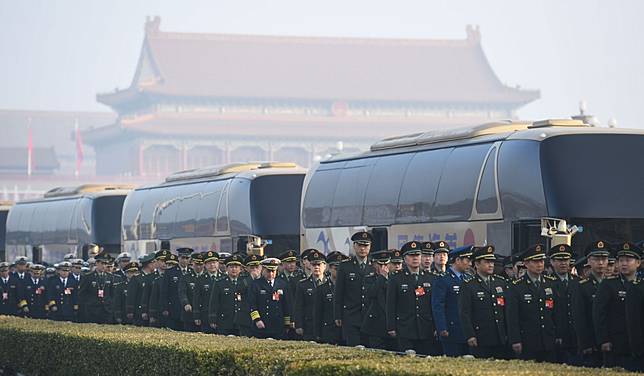 A Beijing-based miliary source who requested anonymity said Chinese leaders had taken into account both domestic and external expectations and worries in deciding and announcing the figures.
"It's time now to slow down our spending on defence after more than two decades of 'great leap forward' growth of our military," the source said. "Bearing in mind that we now have two aircraft carriers and we are going to add four more in the future."
Western observers have consistently criticised China's lack of transparency in its military spending, pointing out that many major items are left off the PLA budget.
For example, construction costs of the aircraft carriers were not included in the defence funding, though their maintenance and repair expenses were.
Other significant off-budget items include the lavish military parades China has planned to mark the 70th anniversary of the PLA Navy in April and the National Day celebration on October 1.
The military source said that by announcing single-digit growth in defence spending, China's top brass hoped to ease foreign fears over its ambitions, especially with the PLA expected to show off some of its advanced weaponry at the parades later this year.
But Collin Koh, a research fellow at the S. Rajaratnam School of International Studies at Nanyang Technological University in Singapore, did not believe the strategy would work given the size of China's military spending - especially in the eyes of its neighbours.
"The (PLA's) absolute spending figure greatly dwarfs the size of spending elsewhere in the region. And some countries can't even afford a 1 per cent increase in spending without sacrificing other needed socioeconomic expenditure," he said.
"It's pretty clear to other countries in the region that the PLA modernisation to date has paid off handsomely, generating unprecedented new and emerging capabilities as well as enhanced capacities for the military to project power and presence," he said. "So the apparent slowdown in defence spending (growth) won't cut much ice with regional perceptions."
Beijing-based naval expert Li Jie said the PLA needed to maintain steady growth in defence spending to address the various challenges in the region.
In Japan, the budget announcement was likely to be taken with a grain of salt, according to Stephen Nagy, senior associate professor in politics and international studies at the International Christian University in Tokyo.
"(It) needs to be drilled down into core defence objectives such as domestic security, naval spending, wage increases and the acquisition of new military technologies. Spending on specific capabilities is more disconcerting than total budget," said Nagy, who is also a visiting fellow at the Japan Institute for International Affairs.
"Much of the insecurity that Japan (has) with Chinese security activities is related to the hybrid tactics Beijing uses in the East China Sea and South China Sea. This includes the use of its merchant fleet to dilute Japan's sovereignty claims in the East China Sea," he said.
In December, Japan announced 5.3 trillion yen (US$43.37 billion) of defence-related expenditure for the 2019 financial year, up 2 per cent from 2018, but still accounting for less than 1 per cent of Japan's GDP. Japan has said that it aims to spend 27 trillion yen from 2019 to 2023, with an average annual rise of 1.1 per cent, as it seeks to boost missile defence and deploy stealth fighter jets in a bid to counter China's growing influence.
Meanwhile, Russia set a defence budget of 2.95 trillion roubles (US$44.84 billion) for 2018, an increase of 2.4 per cent from the previous year. That accounted for 17.9 per cent of government spending, and 3.1 per cent of its GDP, according to Jane's Defence Weekly.
In the United States, President Donald Trump has backed plans to request US$750 billion from Congress for defence spending in 2019, with US$174 billion to be used for a special war fund.
Copyright (c) 2019. South China Morning Post Publishers Ltd. All rights reserved.