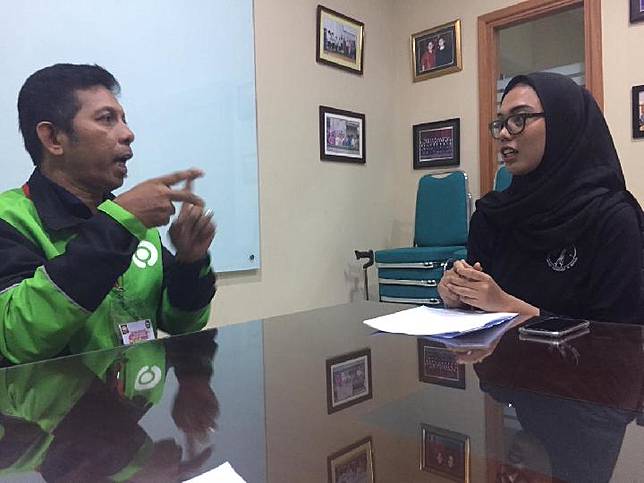 TEMPO.CO, Jakarta - As many as 150 Gojek from a community dubbed 'Elite Squad Fighter Go Send' joined a sign language training. It was the drivers themselves who took the initiative to join such an event in order to serve the customers who have impaired hearing or deaf.
The sign language trainer called Asrul is also a Gojek driver; while working as the online-based ride-hailing driver, he also teaches Indonesian sign language at Bahasa Isyarat Indonesia or Bisindo.
Asrul, on the occasion, taught the fellow drivers basic conversation in sign language. "We taught them some lessons such as greeting, alphabet learning, and self-introduction," he said at BedeeCafe & Kedai Mis U in Cinere, Depok, Friday, Oct. 18.
He said that it is important for online transportation drivers, especially Go-Jek drivers, to join the sign language training as almost 80% of Go-Send (one of Go-Jek services) partners are having impaired hearing.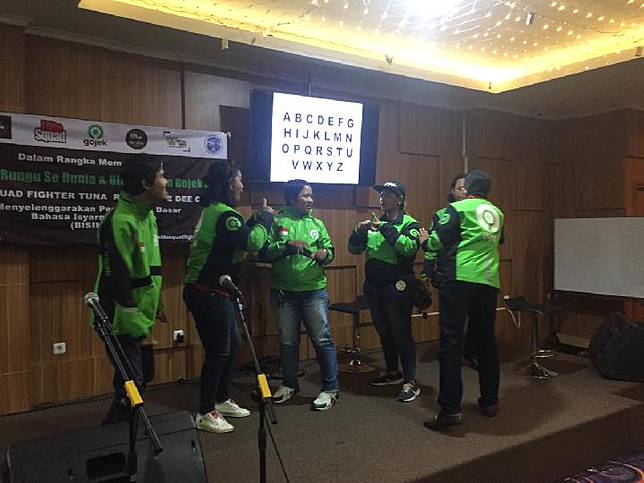 A number of Gojek drivers joined sign language training in Cinere, Depok, Friday, October 18, 2019. TEMPO | Cheta Nilawaty
Head of Logistic Supply at Gojek Indonesia, Hawais Azzad, said the training was in line with a social movement 'break the limit.'
"We want to change the public's perception about the ability of disabled people, as well as accommodate them through real work," he said.
One of the participants, Romiyatun, said that the sign language training was useful as it can facilitate communication with fellow drivers and customers who have impaired hearing. "A lot of my customers are disabled," she said, even though she said she'd never encountered any problem when she had to deal with deaf customers.
"But it is good if we can communicate to ease us finding the right location," Romiyatun said.
Coordinator of the Elite Squad Fighter Go-Send, Vika Chasasmetta, said that learning the sign language is important in order to communicate with fellow drivers and customers. "We supervise our deaf customers when delivering goods. We're worried if they're lost or involved in an accident," Vika said.
Cheta Nilawaty P.