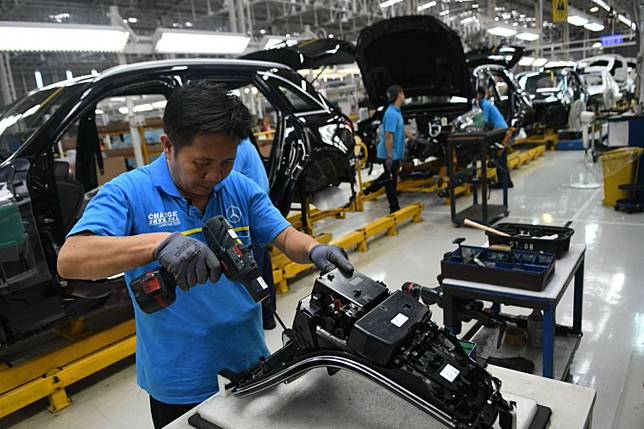 While several foreign automakers have decided to leave Indonesia, Germany's Mercedes-Benz plans to continue operating its Indonesian assembly and sales subsidiaries, its local distribution arm has said.
"Indonesia, for Mercedes-Benz, is one of the key strategic markets for the future, where there's enormous growth potential," PT Mercedes-Benz Distribution Indonesia president director Choi Duk-jun told reporters on Tuesday at the company's Wanaherang assembly plant in Bogor, West Java, where it launched new sport utility vehicle (SUV) models.
Mercedes-Benz Indonesia launched new GLE and GLC cars at a ceremony that was attended by Hendrik Berkeling, the deputy head of mission at the German Embassy to Indonesia, and Dody Widodo, a Ministry of Trade expert staffer.
Earlier this year, US carmaker General Motors, which owns the Chevrolet brand, announced that it would cease all sales of Chevrolet cars in Indonesia due to its small market segment and sluggish sales. Meanwhile, Nissan Motor Indonesia also announced recently that it would cease production of its Datsun cars starting January 2020.
"For us to pull out [of Indonesia]? That is highly unlikely," Choi stressed. "We sell about 35,000 cars a year here and I believe that we have enormous potential."
He added that he believed Mercedes cars would become more successful in Indonesia over the next 50 years.
Berkeling said during the launch that Mercedes-Benz's engagement in Indonesia was a sign of its confidence in and optimism for the country's economic development.
Mercedes-Benz Indonesia president director Guenter Hafale said the Wanaherang plant assembled S-class, E-class and C-class sedans and GLS, GLE and GLC SUV models, as well as trucks and bus chassis.
The plant currently employs around 500 people, some of whom Mercedes-Benz sent to its international training workshop in India and others who were sent on a 12-week local training program. 
"The stable economic growth of around 5 percent and the growing middle class and upper class are good reasons for German companies in general to engage more here in Indonesia's market," said Berkeling.
He added that the German and Indonesian governments had both underlined their firm commitment to developing economic ties further during last year's Asia-Pacific Conference of German Business. 
Choi said that Mercedes-Benz Distribution Indonesia was currently analyzing the market for its plan to bring electric vehicles (EVs) to Indonesia, which was in line with Mercedes-Benz's planned global launch of its EV models in 2021.
Mercedes-Benz Indonesia marketing and communication director Hari Arifanto said that introducing EVs in Indonesia was feasible because the company had already developed some supporting infrastructure this year, including charging stations. (mfp)