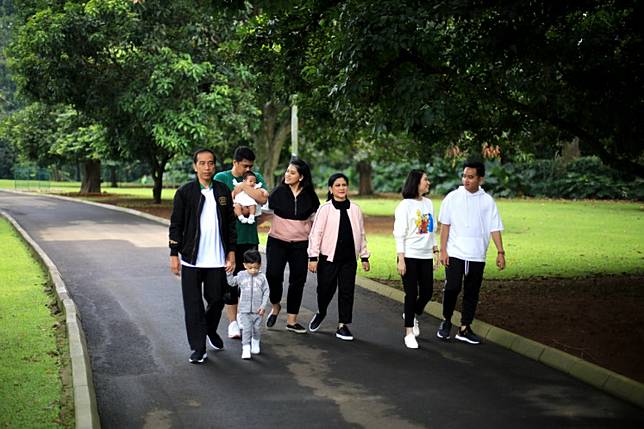 As his eldest son and son-in-law push ahead with their plans to run in mayoral races, President Joko "Jokowi" Widodo has asserted that the decision of his family members to enter politics has nothing to do with establishing a political dynasty under his name. 
Gibran Rakabuming Raka, the President's eldest son, officially registered to run in the 2020 Surakarta mayoral election in Central Java with the Indonesian Democratic Party of Struggle (PDI-P) on Thursday. 
His intention to join the race — coupled with Jokowi's son-in-law Bobby Nasution's decision to run in the Medan mayoral election in North Sumatra next year — has sparked rumors the First Family is seeking to establish yet another political dynasty in the country. 
Jokowi responded to the speculation on Thursday, saying he had no hand in Gibran's decision to run for Surakarta's top post.
"[Elections] are a competition. They could win or lose. It's up to the people to decide. Everyone has the right to vote or be voted for," Jokowi said on Thursday in Jakarta.
"What if the people don't vote for them?" Jokowi went on to say, "This a competition, not an appointment. It's different."
Gibran, who had previously approached PDI-P chairwoman Megawati Soekarnoputri, registered with the party's Central Java chapter in Semarang in attempt to get a ticket for the mayoral race. 
The PDI-P central board will later decide which candidate it will nominate.
Gibran arrived at the PDI-P Central Java office with around a hundred of his supporters. They wore t-shirts with caricatures of various Indonesian heroes like Diponegoro, Pattimura, Sisingamangaraja and General Sudirman.
"I have officially registered as a potential candidate for [Surakarta] mayor for the 2020 to 2025 term. I am grateful for your support. I owe this to you and will pay it back with my policies, which will improve the welfare of the Solo people," Gibran said to his supporters.
Gibran sought to enter the race via the PDI-P Central Java branch after being rejected by the PDI-P Surakarta branch, which gave its ticket to Achmad Purnomo and Teguh Prakosa, the current Surakarta deputy major and Surakarta Legislative Council (DPRD) chairman.
Gibran's decision to register with the PDI-P — Jokowi's own political vehicle — also came roughly a week after Bobby, the husband of the President's daughter Kahiyang Ayu, submitted his Medan mayoral candidate nomination forms to the PDI-P's North Sumatra branch on Dec. 3.
Central Java PDI-P chairman Bambang Wuryanto gave an assurance the selection process for the party's mayoral candidates would be fair. "The selection process will be equal. All are treated the same. We will not give Gibran a red carpet," Bambang said at the House of Representatives' building in Senayan, Central Jakarta.
He added that Megawati would have the final say on whose name would be on the ticket as "special cases must be decided by the chairwoman."
"What is a special case? For me it is one that will have an impact on a national scale. Will a decision on Gibran's candidacy have a national impact? Well, he's the President's son after all," Bambang said. (mrc)