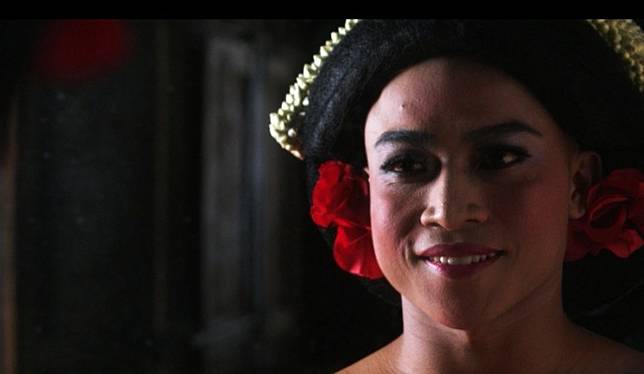 Garin Nugroho's arthouse film Kucumbu Tubuh Indahku (Memories of My Body) has won eight Citra motion picture awards, including Best Feature Film, Best Director and Best Actor.
The announcement for the best picture at the awards night of the Indonesian Film Festival (FFI) at the Metro TV studio on Sunday was made by Education and Culture Minister Nadiem Makarim and film director/producer Mira Lesmana.
It was the first Citra for Garin as director after over 30 years in the industry as well as for the newcomer Muhammad Khan, who plays Juno, the lead protagonist in the film.
"I would like to share the award with my hero [Bollywood actor] Shahrukh Khan," he said while receiving the award and singing Khan's song "Mere Mehboob Mere Sanam" on stage.
The film, which was inspired by the life of Javanese dancer and choreographer Rianto was involved in a controversy surrounding its theatrical run as a result of its homoerotic nature, which led it being banned in several regions including in Depok, West Java, and Palembang, South Sumatra.
The film was selected to represent Indonesia at the 2020 Academy Awards.
Out of 12 nominations, Kucumbu also won Best Supporting Actor, Best Music Director, Best Costume Designer, Best Art Director and Best Film Editing.
In his speech, producer Ifa Isfansyah hoped that the win would promote "freedom" for the creative work of film people.
"Independence is the inalienable right of all creators; therefore, colonialism must be abolished in all works of art as it is not in conformity with humanity and justice," he said in reference to the Preamble to the 1945 Constitution.
Raihaanun won Best Actress for her role in 27 Steps of May, while scriptwriter Gina S. Noer took home two trophies for Best Adaptation Script (Keluarga Cemara) and Best Original Script (Dua Garis Biru).
Produced by Visinema Pictures, Keluarga Cemara also won Best Soundtrack with its 1989 television series theme song "Harta Berharga".(ste)