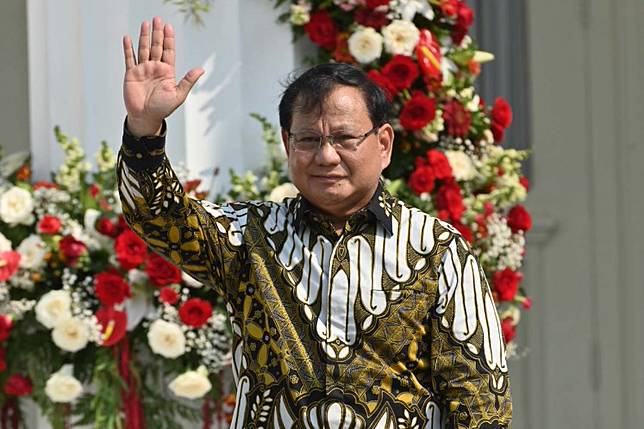 President Joko "Jokowi" Widodo has officially tapped his erstwhile opponent and Gerindra Party chairman Prabowo Subianto to take the helm of the Defense Ministry as he inaugurated his Indonesia Onward Cabinet to assist him in his second and final term on Wednesday.
Jokowi announced the new Cabinet lineup as he sat down with his ministers at the stairs of Merdeka Palace in Jakarta, calling them up one by one and conveying his hopes for each of them with regard to their duties.
When it came to announcing Prabowo as defense minister, Jokowi only said: "I believe I don't have to tell him about his job ─ he knows more than I do."
Prabowo, a former military general, replaces Ryamizard Ryacudu, who had led the ministry for nearly five years after joining Jokowi's first-term Cabinet from the very beginning.
The position of defense minister is seen by many as a key post, because the ministry is tasked with formulating the general national defense strategy.
When meeting reporters after his inauguration, Prabowo only gave short comments as to his plans for his new job, saying "I will learn about the recent situation and then start working."
The appointment of Prabowo to the defense ministry ─ which was widely expected after he had been summoned by Jokowi on Monday ─ was met with criticism from human rights activists, who pointed to Prabowo's tainted track record and questioned whether he was the right person to lead the ministry that should spearhead military reforms.
During his time in the Army, Prabowo was implicated in the kidnapping of prodemocracy activists in 1997 and 1998 in his capacity as commander of the Army's Special Forces (Kopassus).
Military documents leaked in 2014 show that the Indonesian Military (TNI) officers' ethics council discharged Prabowo for his alleged involvement in the forced disappearances, which in fact was among human rights abuse cases the Jokowi administration had promised to address during his first term in office.
Rights group Commission for Missing Persons and Victims of Violence (Kontras) said Prabowo joining the Cabinet showed that Jokowi "does not understand that human rights and democracy should be considerations in picking ministerial candidates". (afr)