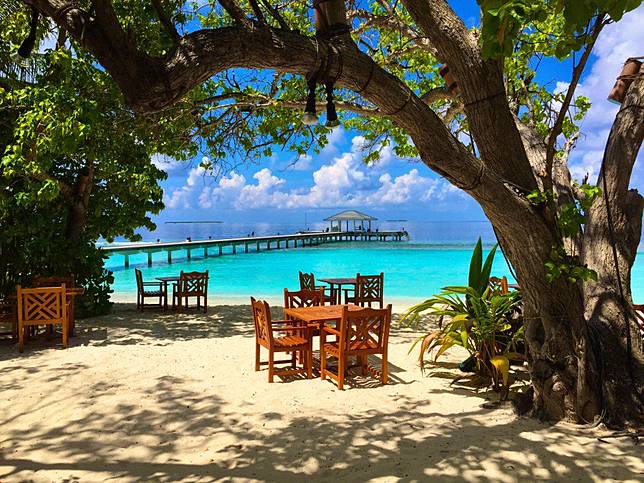 The canteen of the Indira Gandhi Memorial Hospital is not the first place that you'd expect to start a food exploration in the Maldives, but choosing to eat somewhere that is popular with locals proved its worth at Harbour Rose.
At 8am it was buzzing with customers. Staff were somewhat overdressed in bow ties, serving diners in the air-conditioned interior or outside surrounded by greenery. Breakfast provided the perfect opportunity to try what counts as one of the country's national dishes: mas huni.
When you consider that their home in the Indian Ocean is 985 kilometres (610 miles) from the next nearest country, Sri Lanka, Maldivians have long had to make the most of the ingredients around them. That includes lots of tuna, coconut milk and chilli - the key ingredients in mas huni (tuna salad with coconut).
Fresh tuna from local waters tends to get whisked away to Tokyo's Tsukiji fish market and elsewhere, so the tuna for mas huni and other popular dishes is tinned.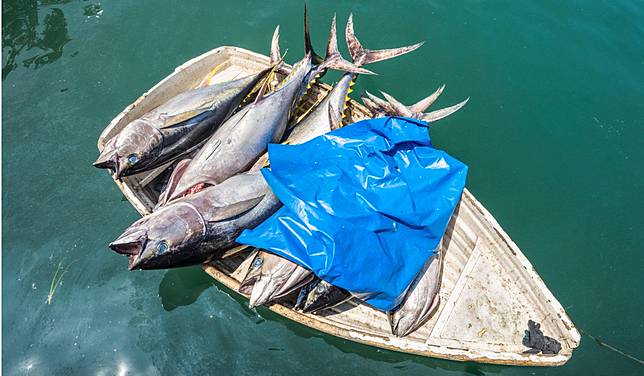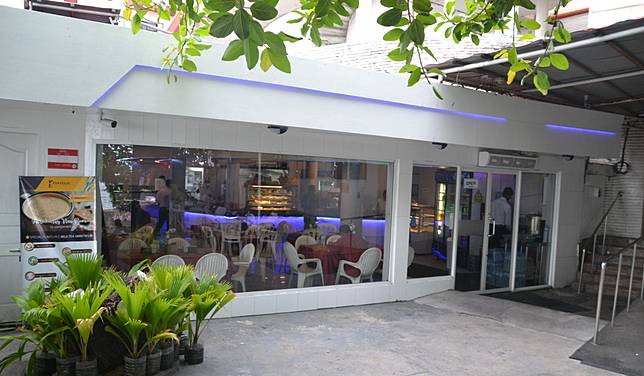 There were four tuna dishes on offer in the canteen: the classic aadaige, which was sharp with lime juice; fathu with a kale-like leaf; barabo with pumpkin; and hikimas, a spicy version with extra chilli and the crunch of salty, pungent dried tuna that is finely chopped and gives texture to the dish.
Mas huni is always served with warm roti or bread made with coconut called huni roshi - huni means coconut in the local Divehi language - as well as hot sweet tea. The two variations of tuna saladwith warm bread for scooping, which was more than enough for two, came to a reasonable 86 Maldivian rufiyaa (US$6).
Someone who has already made his mark with Michelin is London-based chef Ollie Dabbous, a guest chef at the elegant Jumeirah Vittaveli resort. His impressive resume lists his training at Belmond Le Manoir aux Quat'Saisons in the United Kingdom under Raymond Blanc, before he won a star in less than a year both at his eponymous restaurant Dabbous and then with the launch of Hyde, a huge, ambitious multi-storey property on London's Piccadilly.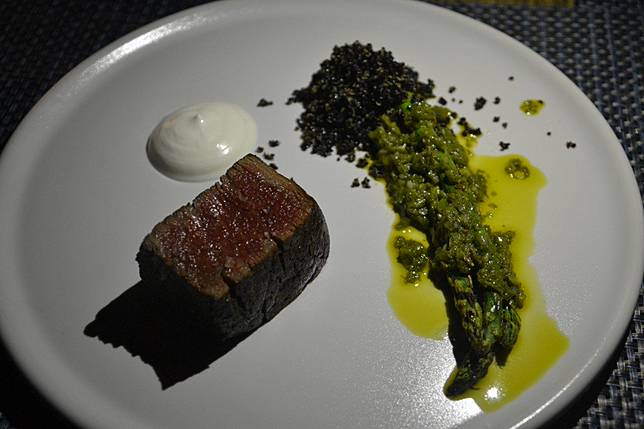 Dabbous is one of a number of guest international chefs invited by Jumeirah for short residencies. He explains how he loves these pop-ups, although they pose challenges. "It's just being in a different kitchen. I always say it's like making a cup of tea at a mate's house. Where's the mug? Where's the tea bag? So, extrapolate that across."
At Jumeirah Vittaveli, restaurant options include private dining with a remarkable wine library at Cuvee, Maldivian cuisine at MU, or excellent Indian dishes at Swarna. It was their over-the-water, French-inspired restaurant Fenesse which hosted Dabbous and the US$175, nine-course degustation menu shows why he has won such acclaim.
Dabbous' starter of celeriac and avocado in a chilled lemon verbena broth was the perfect start to a menu characterised by balance, nuance and impeccable command of flavour. A beautiful symphony in green on the plate, it did everything you'd want to open the palate and tease for what was to come.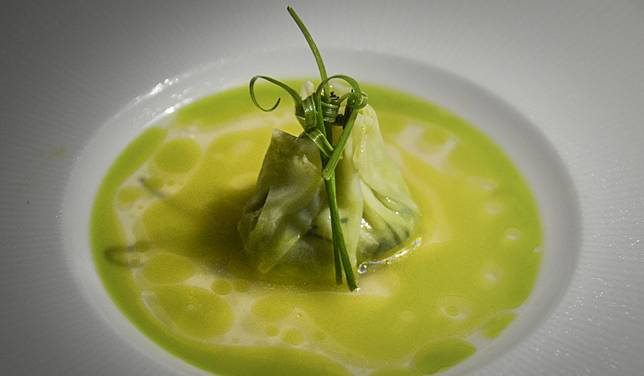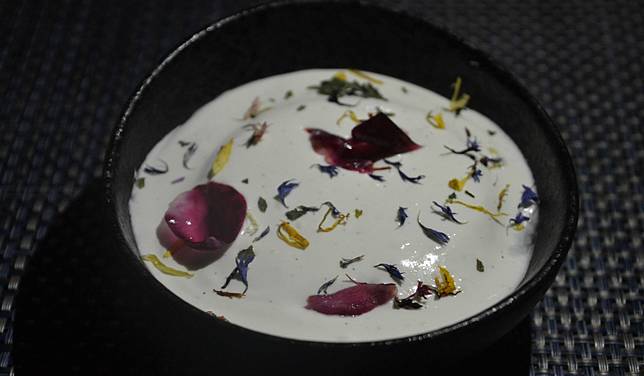 That included his take on glazed soft shell crab, thanks to a sensational butter sauce with ginger, garlic, Thai basil, pepper and oyster sauce. There was also barbecued wagyu beef that came with charred asparagus, toasted black quinoa, another excellent sauce with fresh green herbs and dots of goat's cheese mixed with yogurt.
Arguably best of all, especially for those with a sweet tooth, was his three-way dessert. There was ripe mango with slivers of lime leaf, spelt cooked with coconut milk and cardamom, and best of all, tea cake soaked in cherry blossom tea, topped with a light vanilla cream. It was the greatest, lightest, most fragrant trifle you'll ever eat.
The final destination was Soneva Fushi, a breathtaking resort which pretty much started the concept of barefoot luxury and counts Madonna, Paul McCartney and the Beckhams as regulars. It's no surprise the cuisine on offer is stellar, but it's imbued with a genuine sense of sustainability that defines the private island.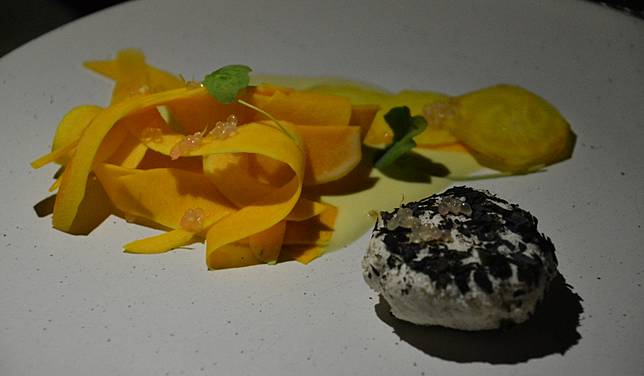 Dining options cover a range of cuisines. So Hands On is a sushi counter that sits over the water and partners with Kenji Gyoten, a chef whose restaurant Gyoten, in Fukuoka, has three Michelin stars and a waiting list of almost a year. Eating perfectly crafted sushi while waves lap underneath you and the sun sets is difficult to beat.
Elsewhere, Fresh In The Garden offers beautiful organic Mediterranean dishes served above the jungle, while Out of The Blue focuses on southeast Asian cuisines. International chefs also regularly visit, such as Christian Le Squer from the three-starred Le Cinq at the Four Seasons Paris.
Most striking, however, was its new all-vegetarian restaurant, called Shades of Green. While many places espouse farm-to-table dining, harvesting your own ingredients and digging amuse-bouches out of the soil is not something you see very often.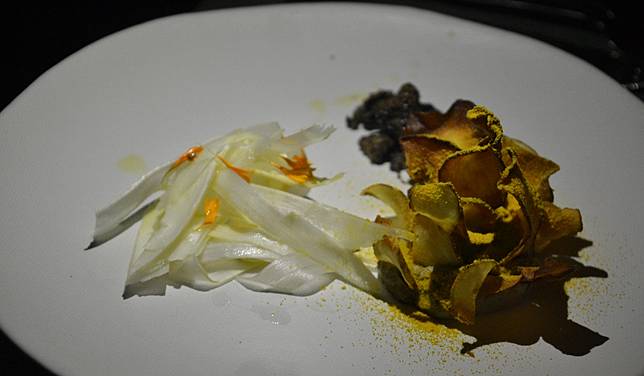 Copenhagen-based chef Carsten Kyster developed the menu, which changes with the seasons and focuses on a mix of Maldivian and Southeast Asian dishes, melded with culinary techniques popular in new Nordic cuisine such as fermenting, pickling and smoking.
As the dozen guests arrive in the walled farm garden, the dining experience starts with a cleansing hibiscus kombucha served with purple taro chips. Fruit bats fly overhead as Shades of Green's talented and affable young Filipino chef, Jenefer Espero, explains that dishes are divided into six categories: cleanse, raw, crispy, grain, fire and sweet.
To a committed carnivore somewhat cynical of food that promises to cleanse, this didn't inspire boundless enthusiasm. But by the end of a wildly successful and innovative dinner, the experiential evening was memorable for all the right reasons.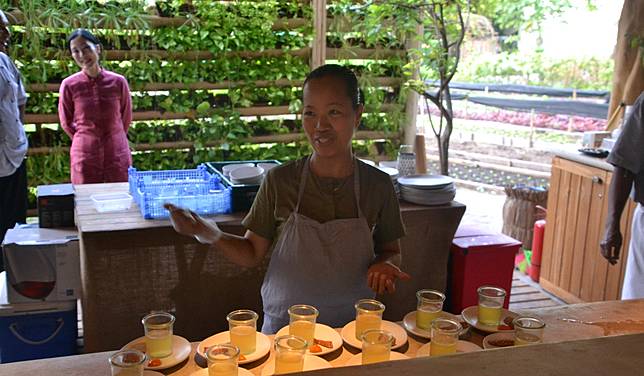 A 30-minute tour of the garden revealed the incredible diversity of produce that the chefs have to play with, including the unfamiliar such as clove leaf, Maldivian cabbage and wild gooseberries.
In a culinary treasure hunt, we first dug out little amuse-bouches that had been hidden amid the greenery. Then, as a muezzin's distant call to prayer could be heard from a neighbouring island, we gathered around a fire pit in the middle of the garden for a delicious appetiser of pumpkin that had been steeped in Maldivian curry paste, roasted in the fire, then simmered in coconut milk, chilli, lemongrass and kaffir lime leaves.
Particular stand-outs from the menu's six categories included "crispy", which brought Jerusalem artichoke chips on a mushroom puree, shaved white asparagus and morel mushroom with a bright orange dusting of pumpkin powder.
Vegan ricotta cheese was a million times better than it sounded and came with shavings of pumpkin and beetroot with vegan caviar - the citrusy pop of the tiny, tobiko-egg-like finger lime. It was lifted beautifully by an unlikely dressing made from tarragon, basil, oregano, apple juice and soya milk.
Harbour Rose Indira Gandhi Memorial Hospital, Male
Fenesse Jumeirah Vittaveli, South Male Atoll, tel: +960 664 2020; jumeirah.com/en/hotels-resorts/maldives/jumeirah-vittaveli
Shades of Green Soneva Fushi, Kunfunadhoo Island Baa Atoll, tel: +960 660 0304; soneva.com/soneva-fushi
Copyright (c) 2019. South China Morning Post Publishers Ltd. All rights reserved.
Artikel Asli