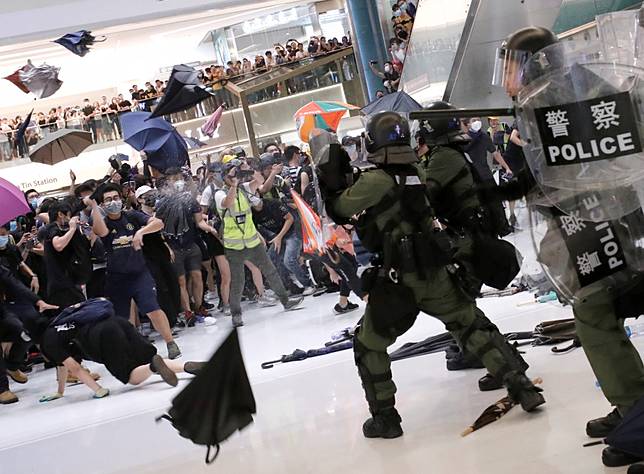 As riot police advanced towards hundreds of protesters gathered on the streets of Hong Kong on Sunday night, few could have imagined the scenes of chaos and bloodshed that would follow.
Shocking images of bloodied faces, a severed finger, head wounds, a police officer kicked from an escalator and viciously assaulted by youths as he lay on the ground, and protesters pepper-sprayed and beaten with batons painted a stark contrast to the peaceful demonstration that had taken place earlier in the day.
In total, 28 protesters and officers sought help from accident and emergency departments in the city's public hospitals. Police arrested 47 people, including 29 men and 18 women, for offences such as unlawful assembly, assaulting police officers, obstructing officers and possession of offensive weapons.
Protesters and local councillors blamed police for the chaos, claiming demonstrators departing the shopping malls had been directed one way, only to meet more officers head-on.
A police source said the force just wanted protesters to leave peacefully, but once a torrent of bricks, helmets and umbrellas rained down from above, officers were forced to react.
Another police source said officers were angry and frustrated at what they called their management's decision to persist with a tactic of tolerance, even as frontline officers suffered so much verbal abuse during the earlier march.
"Some protesters even threw dog food in front of officers to insult them," the source said.
Police top brass simply wanted a positive show of public relations, leaving frontline officers to bear the brunt of the city's anger, he added.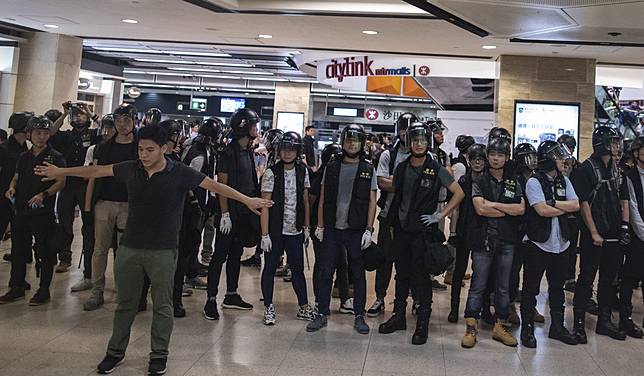 Since last month, more than 10 officers have resigned, according to a third police source. It was unclear whether those resignations were related to the protests.
Protest becomes a stand-off
Earlier in the day, around 3pm, thousands of protesters, young and old, from all walks of life, gathered at a playground near the temple of Che Kung - a military commander from the Song dynasty known for suppressing uprisings.
They were there to demand the complete withdrawal of the now-suspended extradition bill that could have resulted in the transfer of fugitives from Hong Kong to jurisdictions with which the city lacks such an arrangement, including mainland China.
The first protesters arrived at the march's destination, a bus terminal next to Sha Tin MTR station, about 90 minutes later.
As they began to quietly disperse, a shout went up: "Police pepper-sprayed protesters on Yuen Wo Road!"
Two witnesses said the action had been incited by protesters throwing traffic cones at officers stationed near Yuen Wo Road Sports Centre.
About 20 officers then rushed the protesters without warning, using pepper-spray indiscriminately, the witnesses added.
"The protesters were not wearing any (protective) gear," Claris Wong, 19, said, referring to the demonstrators' regular uniform of masks, goggles and helmets. Wong himself was sprayed on the arm, causing slight inflammation.
One after another, protesters ran towards the sports centre to back up their comrades. They took metal railings and used them to block off all five lanes on Yuen Wo Road, fearing police armed with guns, batons and long shields, would pursue them.
Any hope the demonstration could continue peacefully was gone.
Some 40 metres apart on the intersection of Yuen Wo Road and Sha Tin Rural Committee Road, the stand-off between police and protesters began.
Stick or twist?
Protesters spent the next two hours discussing strategy - should they stay or should they go?
While they deliberated, dozens of riot police closed in from the south side of Sha Tin Rural Committee Road at 7.30pm. Half an hour later, more officers marched in from the north.
Now, the protesters' only way out was onto Yuen Wo Road towards Sha Tin Town Hall.
But at 8.30pm, officers approached from there too. Protesters, cornered on all sides, fled into three connected shopping malls: Lucky Plaza, Sha Tin Centre and the scene of the bloodiest clashes, New Town Plaza.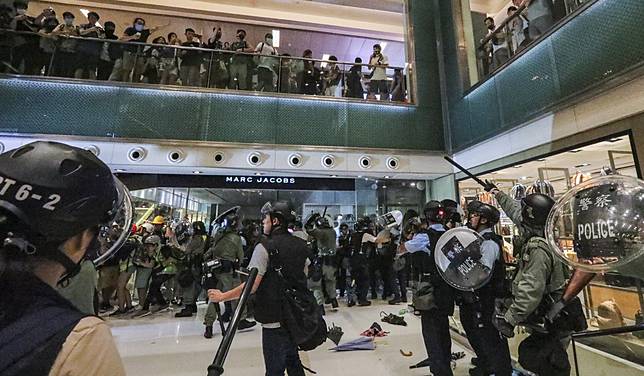 As officers chased down and subdued several protesters, others on higher floors of the malls pelted them with helmets, bottles and other items, forcing them to take cover under their shields.
The first police source said the force persisted with a "restrained and tolerant" approach seeking only to disperse protesters and avoid violent clashes. But the assault from above left them little choice, he added.
"A bag with a brick and unknown powder inside was hurled down at one point," the source said.
These are private properties. Even if some protesters did take refuge on the podium, did police have the right to enter?Sha Tin District Councillor Wai Hing-cheung
Sha Tin District Councillor, Wai Hing-cheung, said residents of estates built above two of the malls had complained officers chased protesters onto the communal areas.
"These are private properties. Even if some protesters did take refuge on the podium, did police have the right to enter? Some of those harassed were residents," Wai said.
The Police General Orders allows officers to enter and search any premises without a warrant, if they have reason to believe a person to be arrested was inside, according to the Community Legal Information Centre of the University of Hong Kong.
All hell breaks loose
A second police source said 3,000 officers were deployed in total on Sunday, more than the 2,000 originally planned.
He said the force had enough resources to arrest hundreds of protesters blocking roads under the least heavy offence of unlawful assembly. But police management let them go.
"This led to running battles in the shopping centres and the bloody clashes in New Town Plaza," he said.
He was saddened by the decision he felt had left the Hong Kong police force looking "useless".
"Crimes took place in front of our officers but we took no action and let them go. It's very sad."
At around 9.50pm, officers chased protesters all the way into New Town Plaza.
To their surprise, they were outnumbered. Surreal scenes followed as dozens of protesters surrounded several small groups of officers and assaulted them - kicking, punching, attacking them with umbrellas while others hurled objects from floors above.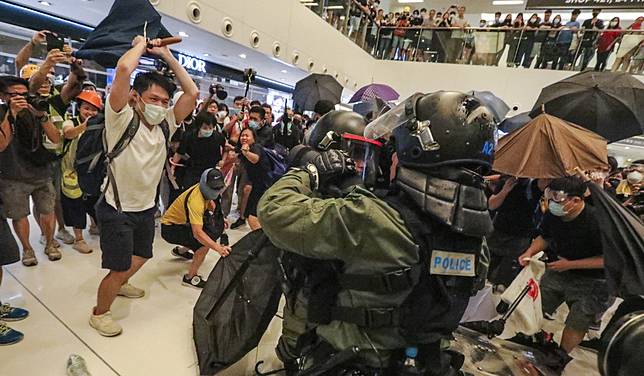 Officers scrambled to hold on to their shields, many falling to the ground as protesters maintained their offensive. Officers again resorted to pepper spray.
In one extreme case, a plain-clothes officer was assaulted by dozens of protesters as he lay on the ground, until a journalist came to the rescue.
A witness said the officer was taking an escalator to an upper floor alone when he realised a big group of protesters was lying in wait.
He tried to retreat back down but was kicked from behind. He fell from the escalator and was jumped by the crowd.
In another case, an officer had part of his finger bitten off.
Some protesters also sustained injuries as they fought off officers. One was seen bleeding from the face, another had his T-shirt completely torn as he struggled to get free.
More riot police arrived and it was not until around 11pm, with most protesters leaving that officers finally retreated.
The Heung Yee Kuk rural body, which is headquartered in Sha Tin, condemned the protesters' "beastlike" behaviour and said it was dangerous to throw umbrellas and helmets from above.
Billy Chan Shiu-yeung, another Sha Tin District Councillor, condemned the police violence.
Chan said at around 8.30pm, he asked officers how protesters should leave.
The officers looked like they had lost their mind. There were shoppers and other passers-by who just wanted to leaveSha Tin District Councillor Billy Chan
"More than one officer told me to take the MTR, and that it was safe," he said. But at the station, located next to New Town Plaza, he saw officers blocking anyone from taking the train.
The force would also not allow protesters to leave the mall through a nearby exit, he said, leaving everyone confused.
"The officers looked like they had lost their mind. There were shoppers and other passers-by who just wanted to leave," he said.
"Some were children. They had just had dinner at the mall and wanted to go home."
As police engaged in running battles with protesters inside New Town Plaza, officers outside arrested 33 people near Sha Tin Town Hall, on suspicion of taking part in an unlawful assembly.
Legal sources said one was a first-aider surnamed Mak, a registered nurse. He was wearing a vest clearly identifying him as a medical worker when he was arrested.
Democratic Party lawmaker Roy Kwong Chun-yu, who was at the scene, slammed "ridiculous" police tactics.
"The clearance operation in the mall was an international laughing stock," Kwong said.
"It was unnecessary for them to disperse and pepper-spray the crowd. They scared children to tears and were waving their batons at the passers-by … Is this something (Chief Executive Carrie Lam Cheng Yuet-ngor) wants to see?"
New Town Plaza had earlier claimed they had not called police, but protesters remained unconvinced by the clarification from mall owner Sun Hung Kai Properties, after a widely circulated online clip showed an employee leading officers into the centre.
Protesters called online for a boycott of the firm's shopping centres and some even hinted they would target its properties during another protest planned on July 28 in Tseung Kwan O.
SHKP had not responded to inquiries related to the clip.
As calm returned to Sha Tin the day after the chaos, one thing was certain: far from being deterred, the protesters were galvanised to prepare for their next march, and the next.
Additional reporting by Alvin Lum and Jeffie Lam
Copyright (c) 2019. South China Morning Post Publishers Ltd. All rights reserved.
Artikel Asli