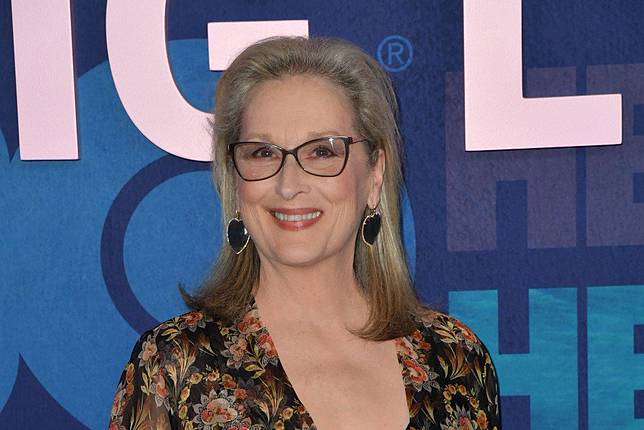 Meryl Streep has the ability to make "ordinary" female characters seem just as extraordinary as the exceptional real-life women (Karen Blixen, Margaret Thatcher, et al) she has played during her brilliant career.
Never has this been more true than in her latest performance as the mother of a slain son in HBO's American television series, Big Little Lies, season two.
Although Alexander Skarsgard's Perry, the demonic wife-beating husband of Nicole Kidman's Celeste, deserved to be pushed to his death at the conclusion of season one, Streep invests her grieving, sceptical mother with enough gravitas and menace to make audiences once again marvel at her acting gifts.
This highly anticipated sequel was willed into being by series co-stars and producers Reese Witherspoon and Nicole Kidman after they and their fellow female cast members experienced an epiphany during the course of filming the first seven episodes of Big Little Lies in 2017.
"Laura (Dern), Nicole and I would look around and go, 'I can't believe we have so many scenes together, that we have so many lines with each other, that we're exploring our relationships," Witherspoon said.
"You rarely see films or TV series which (do that) " it was a revelation for all of us."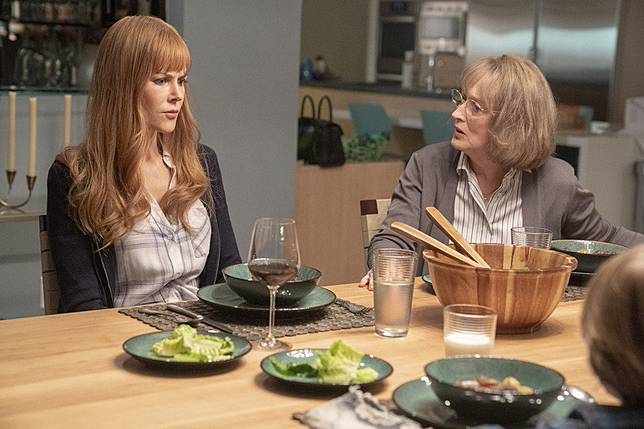 The only problem was that Australian author Liane Moriarty had never written a follow-up to her original eponymous novel, leaving Witherspoon and series writer/showrunner David E. Kelley without any source material.
Yet after prevailing upon Moriarty, the author came up with a 200-page novella that was the basis for a second season. There was also one interesting twist " Moriarty had written a part for Perry's mother " with Meryl Streep in mind " whom she named Mary Louise, which she knew was the Oscar-winning actress' real first name.
Streep didn't even read the script when she agreed to sign on for the role. "(My agent) said, 'There's a part that they wrote with you in mind because they called her Mary Louise' " Mary Louise is my actual legal name," Streep said.
"I said, 'Yeah, I'll do it.' He said, 'Don't you want to read it?' I said, 'No.' It was the greatest thing on TV. It really was, that first season."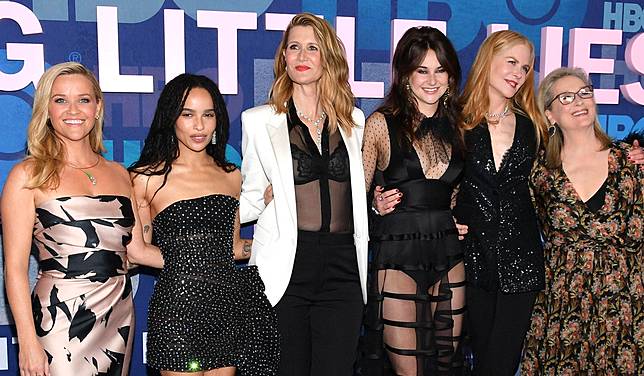 Apart from Moriarty, no one else knew that Mary Louise was Streep's given name. "That was Liane's telepathic message to Meryl," Kidman said.
After the first season dealt with Perry's relentless physical and psychological abuse of Celeste and further identified him as Jane's (Shailene Woodley) rapist, season two explores the ties that bind the women together in the face of Mary Louise's suspicious probing for the truth.
Streep's character enters the world of the so-called Monterey Five in a search for the truth, given her doubts about the women's official story to the police: that Perry merely "fell" to his death while in the process of beating Celeste, even though it was Bonnie who violently pushed Perry down the steps when she saw how the other women were unable to subdue him.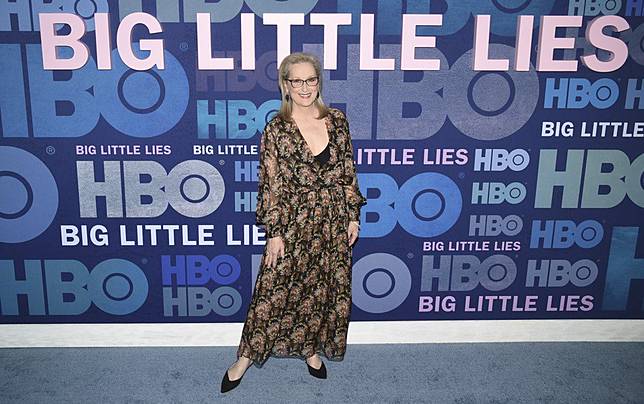 The result is another stunning season of this path-breaking female-driven series that features one of the most powerful female casts ever assembled in the form of Witherspoon, Kidman, Woodley, Dern, Zoe Kravitz, and now, Streep.
Kidman is conscious of Lies' setting a new standard for Hollywood.
"What's been the incredible virtue of this series … is you don't get six women in a show … It's so rare," she said.
"Most times, you'll get two. But the beauty of television is you do have seven hours, and so you do have the chance to delve deeply into six women's lives … I mean I don't know another show that has six female leads."
What drew you to being part of Big Little Lies before you had even read the script for season two?
Streep: One of the things I love about the first season " and I've seen three of the second " is that (Big Little Lies) isn't afraid of the mess and the really harsh contradictions in mothering, in parenting and how in your life, before you have children, you are warring with yourself.
But then, you're warring with yourself and what you hope for your children, and what you see them struggling with and the challenge of trying to help them, but not clear a path; trying to make things possible, but not give them stuff.
Your character is also intent on discovering the truth about her son's death even as she learns bitter truths about his abusive behaviour?
Streep: (There is) a special myopia that motherhood imposes on you, where you sometimes only see your own child's importance in the world and what you want for them " that's rife in this (season two). Even in playing the character that I play, where my son is dead, just going into the dark place of imagining that " your feeling of protecting him, even though he is gone, is still there. So, motherhood never stops.
How deeply did you connect to your character's perspective with your own attitudes as a mother?
via GIPHY
Streep: I'm playing someone who is dealing with whatever the deficits of her parenting were, and the mysteries in that, and how you can't go back in time and fix something.
Because I have four grown children, all those issues (were) really interesting to me. It felt real, honest, and honestly investigated. David (Kelley, the writer) really understood that part. I felt like I had something to give to this piece.
Are you also impressed with what Reese Witherspoon has helped bring into being when she first bought the rights to Moriarty's book and then brought the series to life?
Streep: I was of a generation that waited to be asked to dance. I'm so admiring of (Reese) for getting on the balls of her feet and looking for material … This is the kind of work that women need to do to make our presence felt and shake things up in our industry …
We need to keep insisting the films we make reflect the reality that women play a major role in society and that women's rights and women's issues should also be of great concern to men.
Were you also interested in Lies' exploration of themes about female bonding and the secrets women share?
via GIPHY
Streep: I thought it was an amazing exercise in what we know and what we don't know about people; about family, about friends, how it flirted with the mystery of things. What was unsaid, unshown, unknown was sort of the pull, the gravitational pull of the piece. And it was so exciting. So, when I got the chance to join the crew, I thought, Yeah! I wanted to do it, to be in that world.
What stands out most about your own relationship with your mother?
Streep: My mother was also someone I looked up to and loved very much. She had a dynamic personality and a very positive and enthusiastic outlook on life that I often wished I could have had when I was a teenager or in my twenties.
My mother told me that she always believed in me and that I could achieve anything I set my mind to, that there are no limits.
She gave me the feeling that women can be everything if we really want it and work hard for it … And my grandma was a brilliant woman (with) a very strong character (who) was always telling me to stand up for myself.
via GIPHY
You've accomplished so much as an actress and have received so much acclaim and adulation for your work. What is it about acting that still motivates you?
Streep: It's fascinating to be able to probe the life of another person and take yourself on another person's journey. You're also trying to get at the truth of another person and feel inspired by their lives and hopes and dreams.
I always found that acting gave me so much confidence when I was starting out because as a young woman I often felt very misunderstood and I worried about the kind of impression people had of me. Acting has always been a great form of therapy for me because the more I try to understand the women I'm playing, the more I understand something about myself."
You've enjoyed one of the greatest careers that any actor or actress has ever had. Do you ever wonder how you managed to accomplish so much?
Streep: I think I've been fortunate to have been at the right place at the right time. Early in my career I had the chance to play many pioneering women's roles at a moment in Hollywood when those films were very popular and I've been able to continue playing those kinds of parts more recently.
via GIPHY
I also feel very proud to have been able to work in films where the women I'm portraying are very central to the story. We need to make more films that present women's lives as authentically as possible and tell more women's stories.
Want more stories like this? Sign up here. Follow STYLE on Facebook, Instagram and Twitter
Copyright (c) 2019. South China Morning Post Publishers Ltd. All rights reserved.
Artikel Asli