Tokyo is an amazing destination to visit, but which neighbourhood is the best place to book an accommodation in? 🤔 Convenience, major attractions, proximity to transportation, and of course being around halal food are all huge factors before we decide where to stay to make the most of our Tokyo vacation.
Which is why we've gathered a list of 9 Tokyo hotels across four of the most popular neighbourhoods to get you started with planning your trip! As a bonus point each hotel is close to at least one halal eatery, and we've even tried to find rooms are spacious enough for you to be able to complete your prayers 🤗 Happy hotel hunting, and we hope this article helps you out!

#HHWT Tip: As of 18 May 2019, the approximate currency exchange rate is USD100 = SGD135.51 / RM413 / IDR1,401,200. Do check with your local money changer for the latest rates closer to your date of stay.
Disclaimer: All hotel nightly rates are based on a search done on 17 May 2019 for a 1-night stay from 21-22 Jun 2019 for 2 adults/1 room. Do note that prices may change during peak travel periods, and we recommend that you check with the hotel accordingly before booking (some hotels or booking sites may also offer cheaper prices for solo travellers or families).
Asakusa
Asakusa is one of the best neighbourhoods to stay in if you're planning a trip to Tokyo. Not only are famous locations such as Senso-ji Temple and Tokyo Skytree located here, but there are so many halal food options to choose from too, and of course the amazing Nakamise Shopping Street where you can get all the cool souvenirs you want! Check out our guide to all that Asakusa has to offer here! 1. Richmond Hotel Premier Asakusa International
Credit: Richmond Hotel Premier Asakusa Richmond Hotel Premier 
Asakusa International is definitely one of the best choices within this popular neighbourhood - not only are their rooms spacious enough so that you can pray comfortably (pictured: the Good View Twin Room), but they even offer halal breakfasts for guests (with prior reservation of breakfast tickets)! The hotel is located in-between 2 amazing halal eateries as well - Asakusa Sushi Ken that sells authentic Japanese sushi sets, and Naritaya Halal Ramen that serves up comforting warm bowls of halal ramen you can slurp up without worry. Address: 2-6-7 Asakusa, Taito-ku, Tokyo Contact: +81-3-5806-3155 Rates: From USD120/night Website 
2. Hotel Keihan Asakusa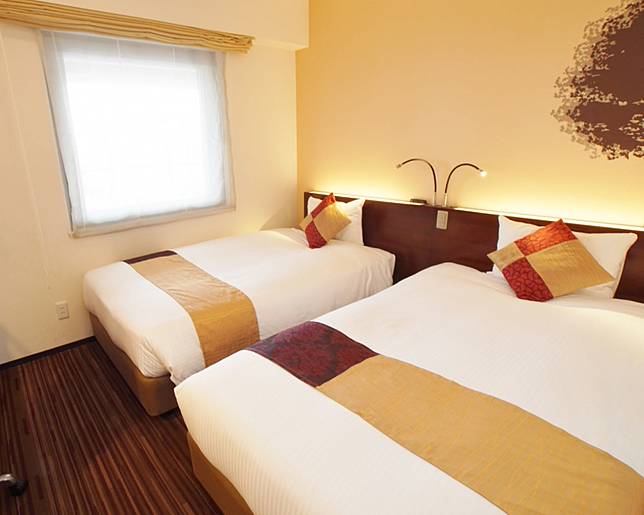 Credit: Hotel Keihan Asakusa in Tokyo - official website 
If you're the type of traveller who prizes convenience above everything else, then this hotel might be a great fit for you - it's only a 2-minute walk from Asakusa Station! Its double and twin rooms are perfect whether you're travelling for business or leisure, and if you get hungry you can always walk down the road to Asakusa Sushi Ken for some Japanese-style dishes to fill your stomach. Each room comes with free hotel wifi, free high-speed internet access (business travellers only), and even a humidifying air cleaner. Parents might also be glad to hear that you can request an additional bed for your kids, and up to 2 kids under the age of 6 years old are able to stay for free! Address: 2-12-4 Asakusa,Taito-ku, 111-0032 Tokyo Contact: +81-3-5830-0321 or email info-asakusa@hotelkeihan.co.jp Rates: From USD94/night Website 
3. Hotel WBF Tokyo Asakusa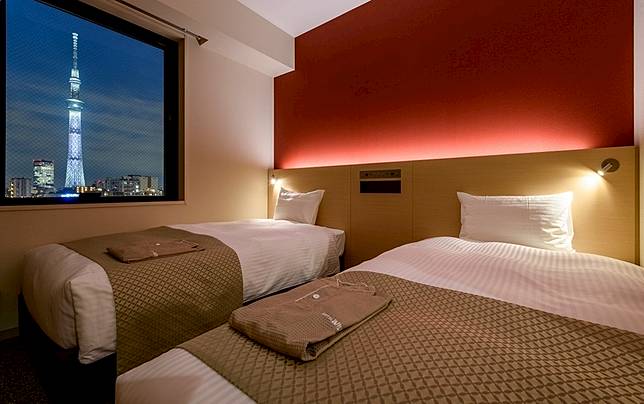 Credit: Hotel WBF Tokyo Asakusa 
For a room with a breathtaking view, Hotel WBF Tokyo Asakusa's City View and Sky View rooms are the perfect place to stay. Depending on the room you book, you may even get to see the famous Tokyo Skytree in the background illuminating the night's scenery. The hotel is also located behind Senso-ji Temple making it convenient to visit the iconic landmark. Solo travellers would also appreciate their affordable solo rooms (from USD61/night) that give you a private space of your very own. If you're feeling peckish, Naritaya Halal Ramen Shop is only a short walk down from the hotel, and you can even end your meal with some matcha ice cream from the Muslim-friendly Suzukien Asakusa nearby.Address: 2-27-10, Asakusa, Taito-ku, 111-0032 Tokyo Contact: +81(0)3-5811-1991 Rates: From USD88/night 
4. Asakusa Central Hotel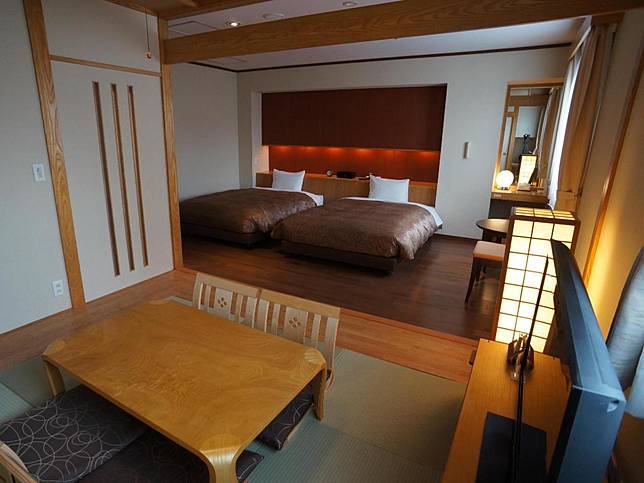 Credit: Agoda 
If you're willing to walk just a little further from the subway station, we think it's definitely worth it if it means staying in a hotel like this one! The rooms at the Asakusa Central Hotel are spacious and families will love their family room (pictured, from USD140/night) which includes plenty of space for the kids to explore and enjoy! Their wide range of rooms also come with a wide range of prices, making them perfect for anyone from a solo traveller to those travelling in a larger group. Once you've settled into the space, walk over to Sekai Cafe Asakusa to treat yourself to a delicious (and halal!) lamb chop, or purchase some halal goods such as instant noodles! Continue walking towards the subway, and you'll also find yourself nearby Halal Ramen Taizan Sakura which sells curry tsukemen (dipping noodles) as well as Origami Asakusa where you can get high-quality Japanese wagyu beef! Address: 1-5-3, Asakusa, Taito-ku, 111-0032 Tokyo Contact: Via contact form on website Rates: From USD65/night Website
Shinjuku
If you're thinking about heading out of Tokyo for a day trip then Shinjuku might be the perfect place to stay in. Shinjuku Station is one of the major transport hubs within Tokyo, housing not only several of the train lines that run throughout the city but also a bus interchange where many board buses bound for day trips to Kawaguchiko, Mount Fuji, and so many more places. Shinjuku is also a lively and energetic location that's great for shopping and is chock-full of many other attractions that make it perfect for every type of traveller! 
5. Super Hotel Shinjuku Kabukicho ($93)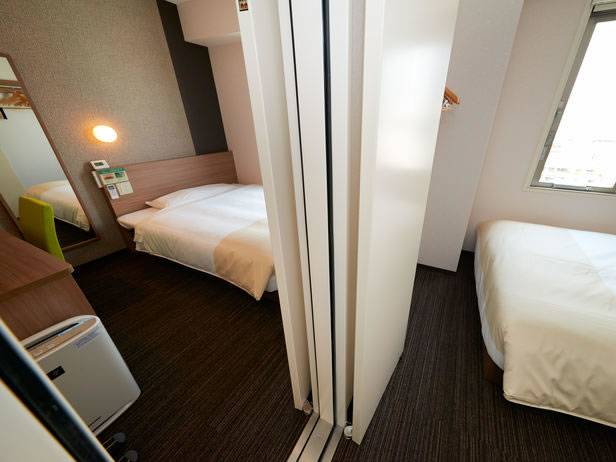 Credit: Amenities Photo - Super Hotel 
This hotel is located right next to Shinjuku Station and is even next to the small Okubo Park to give you a little nature escape in the middle of the city! Families will definitely love their connecting room option (pictured, from USD186/night), which instantly doubles the space you get while making it easier to tend to the kids at any hour of the day. Just a short walk away from the hotel is the Samurai Museum and the famous Robot Restaurant - and not to forget, one of the halal CoCo Ichibanya Curry outlets is two blocks away from the hotel, giving you the chance to finally try some authentic Japanese curry! Address: 2-39-9 Kabukicho, Shinjuku, 160-0021 Tokyo Contact: (+081)3-6855-9000 Rates: From USD93/night Website 6. Hotel Sunlite Shinjuku ($88)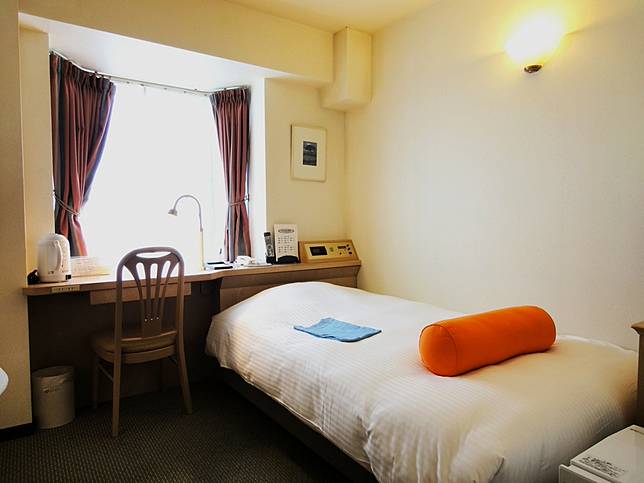 Credit: Agoda 
The rooms at Hotel Sunlite Shinjuku are definitely worth the money for their simply-furnished design, as well as their space (which can be hard to find in a busy city like Tokyo)! Located right next to an exit of Shinjuku Station, you practically have access to anywhere else in the city at your doorstep thanks to the subway system, including one of the two halalCoCo Ichibanya Curry outlets! Plus if you take a shortcut by walking through Shinjuku Station itself, you'll quickly find yourself at the Muslim-friendly Menya Kaijin which sells ramen in a seafood broth! Address: 5-15-8 Shinjuku, Tokyo Contact: +81 03-3356-0391 Rates: From USD88/night Website
Shibuya
Shibuya is another popular neighbourhood in Tokyo, and is known for being a shopping paradise! The world-famous Shibuya Crossing can be found in this busy area, and you can find a countless number of shops here ranging from high-end branded boutiques, to vintage shops that stock decades-old trends, to small niche independent businesses. For shopaholics who want to make the best out of their Shibuya stay without doing too much damage to their wallet, 
7. Sakura Hotel Hatagaya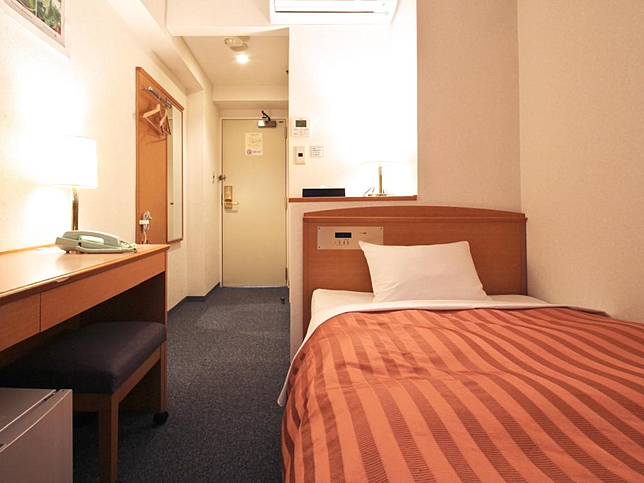 Credit: Agoda 
We can't talk about Muslim-friendly hotels in Tokyo without mentioning the Sakura Hotel Hatagaya. The hotel has a prayer room on the premises, and even provides a Muslim-friendly menu at its cafe upon request! 😮 The Tokyo Camii Mosque & Turkish Cultural Centre is also about 900metres away, as well as the large Yoyogi Park. The hotel offers guided day tour packages that cover everything from the Meiji Shrine to Sumo Wrestling Matches so remember to check the hotel's schedule to see what you can sign up for! Travellers flying in Haneda Airport might find this a better option to stay in, as it's just a 30minutes drive from the airport. Halal Status: The Sakura Cafe provides dishes made using halal ingredients for Muslim guests. As the Cafe serves alcohol separately, we advise that you dine at your own discretion. Prayer Room Facilities: Qiblat, prayer mats, and Quran provided. We advise that you bring your own prayer garments. Wudhu can be taken in your own room's washroom. Address: 1-32-3 Hatagaya Shibuya-ku, Shibuya, Tokyo Contact: +81-3-3469-5211 or email info@sakura-hotel-hatagaya.com Rates: From USD85/nightWebsite
Akasaka
The neighbourhood of Akasaka is not as well-known as some of the others on this list, but we recommend staying here if you like being near the heart of the city without being too close to the hustle and bustle. 😁 Located somewhere in-between Shibuya and Tsukiji (yes, the home of the former famous fish market) this neighbourhood is located near several major subway lines and is even home to the Roppongi district that houses various art museums and galleries! 
8. the b tokyo akasaka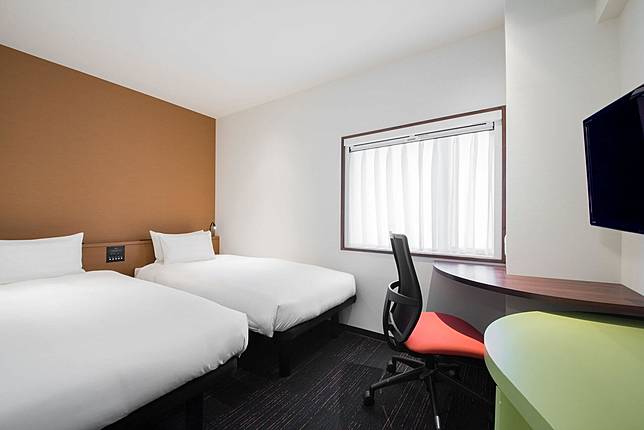 Credit:the b akasaka 
the b akasaka is a chic and modern hotel that's particularly suitable for business travellers or young couples. The hotel is a short walk from Akasaka Station, the National Art Center, Tokyo and the Suntory Museum of Art. It's even near a bike rental store for travellers who want to see the city from a new perspective! On the other side of Akasaka Station is the mouth-watering Gyukaku Akasaka - a halal Japanese BBQ restaurant that even has special Muslim-friendly courses available! Address: 7-6-13 Akasaka, Minato-ku, Tokyo 107-0052 Contact: +81-3-3586-0811 or via contact form on website Rates: From USD99/nightWebsite 
9. Centurion Hotel Grand Akasaka Mitsuke Station ($90)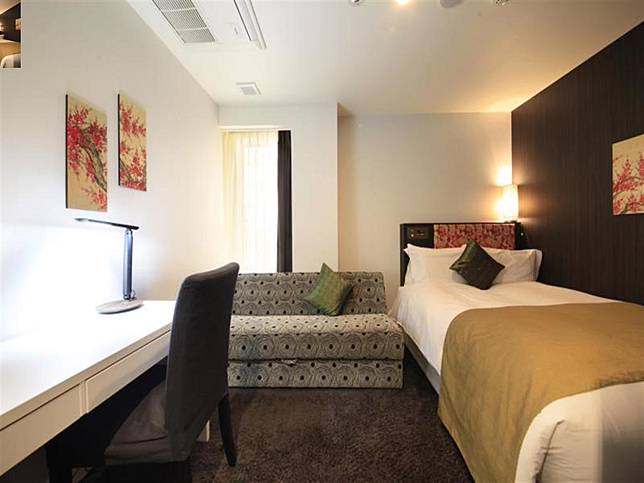 Credit: Agoda 
The Centurion Hotel is the perfect choice if you're looking for some affordable luxury during your stay in Akasaka! Male guests are even allowed to enter their public bathhouse and sauna rooms to relax even more during their stay. The hotel is just a few minutes from Akasaka-Mitsuke Station, which links out to some of the most well-connected lines on the subway including the Marunouchi Line and Ginza Line - meaning you're just a few stops away from almost all of the major attractions in Tokyo! Apart from Gyukaku Akasaka, the hotel is also near the sushi restaurant Akasaka Saryo Ouka which serves up halal fresh sushi platters, and even matcha pancakes and other traditional Japanese desserts! 😋 Address: 3-19-3, Minato-ku, Akasaka, 107-0052 Tokyo Contact: +81 3-6435-5226 or via contact form on website Rates: From USD90/nightWebsite 
There's definitely no shortage of hotels in Tokyo to choose from, and we're sure that no matter where you stay you'll have an amazing time in a city full of traditional history, cutting-edge culture, and of course family-friendly fun around ever corner. Remember to read through our Tokyo travel guides for even more ideas on what to do while you're there!
Artikel Asli