Traditional tableware adds whimsy with Line Friends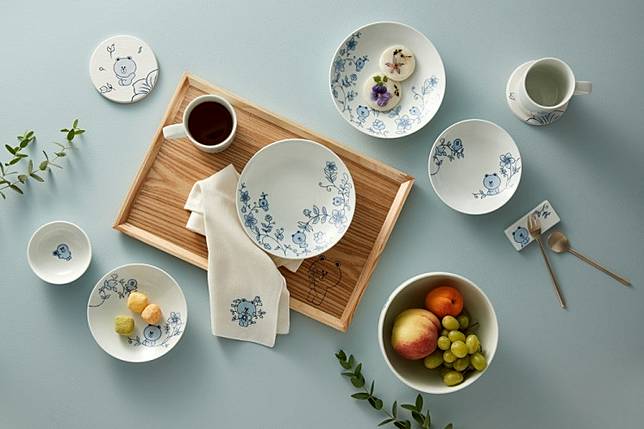 On the surface of white pottery is an illustration of a bear and a duckling playing surrounded by mokbuyong flowers, a type of lotus. The illustration is painted with blue pigments.
The bear is a character named Brown and the duckling is Sally, both from global character brand Line Friends, while the lotus flowers represent Korean premium tableware brand Kwangjuyo. The blue and white color coordination stems from a traditional pottery style especially popular during the late Joseon era.
The dish was launched in June as part of the "Kwangjuyo Brown & Friends Series" collection, jointly produced by the two companies.
"(Through this collaboration) I wanted to break the stereotypes against traditional products and show tradition can also be fun and easy," Kwangjuyo Chairman Cho Tae-Kwon told The Korea Herald via email. "Also, my ultimate goal is to make traditional ceramics a leading cultural product of Korea by harmonizing it with pop culture."
He added that when producing the new collection the company focused on harmony between Kwangjuyo's brand image and Line Friends' characters.
Kwangjuyo, a traditional tableware brand, was established in 1963. The current chairman inherited the leadership in 1988, and since then the company has been working on reflecting trends while preserving the art of traditional Korean ceramics.
"As a leading Korean traditional ceramic brand with 58 years of history, we are looking for diverse ways to become more familiar to the public," Cho said. "To do so, we have been collaborating with leading artists from different fields. Also through this collaboration, we hope to broaden our customer base and strengthen our brand awareness globally." 
Last year, the company launched a tableware collection inspired by K-pop sensation BTS. The brand also collaborated with popular Korean illustrator Nanan and launched a series of products in December last year and in May this year.
Read also: LINE launches new BT21 stickers to support vaccination initiative
Although the ceramics company is experienced with projects cooperating with artists, this is the first time for it to work with a character firm.
Cho said it decided to work with Line Friends due to the company's reputation in the global market and its wide customer base.
"Line Friends and its original characters are culture contents that have bases in different parts of the world," Cho said. "Line Friends' characters also have a strong fan base regardless of age or gender, so we thought that we can appeal to a new customer base through this collaboration."
According to Line Friends, it currently has over 200 outlets in 14 countries. The character brand became especially popular worldwide with its "BT21" collection, which was co-produced with BTS.
Line Friends also appeals to millennial and Generation Z customers -- collectively those born since about 1980 -- thanks to its online-to-offline service.
"At the flagship store in Gangnam, there is a separate zone for the Kwangjuyo Brown & Friends Series. Next to the products, there are QR codes, which link to our online mall. Customers can experience the products at offline stores and purchase them online," a Line Friends official told The Korea Herald. The company added that since the ceramics products are heavy and can break easily, this system makes it more convenient for customers to purchase.
Cho added that further collaborations will continue as Kwangjuyo hopes to uphold openness as a core value.