Toba caldera finally recognized as UNESCO Global Geopark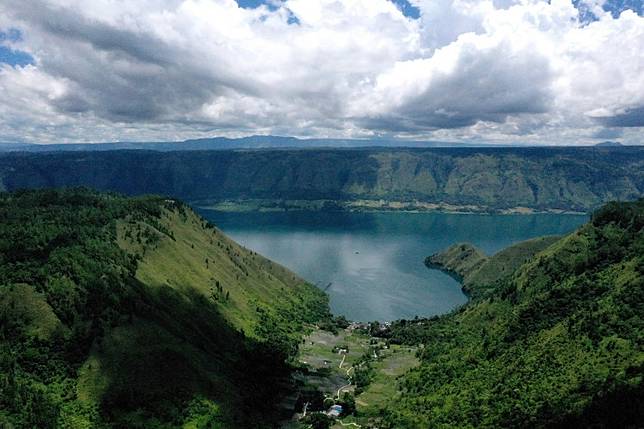 After a wait of nine years, the Toba caldera was finally named a UNESCO Global Geopark during the United Nations cultural body's 209th plenary session held in Paris on Tuesday.
According to a statement from the Indonesian Embassy in Paris, the Toba caldera was among the 16 new UNESCO Global Geoparks announced by the organization's executive board.
North Sumatra provincial administration is hopeful that the recognition will help boost foreign tourist arrivals to the destination.
"This is a blessing; we will try to develop this destination more so that it can be a source of income for local people," North Sumatra Tourism and Culture Agency head Ria Novida Telaumbanua told The Jakarta Post on Wednesday.
Ria said Toba Caldera Geopark was a tourist magnet as it was home to 13 geosites with breathtaking views, namely Tongging Sipiso-piso, Silalahi Sabungan, Haranggaol, Sibaganding Parapat, Eden Park, Balige Liong Spige Meat, Situmurun Blok Uluan, Hutaginjang, Muara Sibandang, Sipinsur Bakti Raja, Bakara Tipang, Tele Pangururan and Pusuk Buhit.
According to Toba Caldera Geopark Management Body general manager Wan Hidayati, the recognition at the plenary session was supposed to happen in April, however it was postponed due to the COVID-19 outbreak.
A ceremony where the UNESCO Global Geopark placard will be formally given to the Toba caldera is slated to be held in Jeju, South Korea, in September.
"Hopefully [the ceremony] will be on schedule. Nine years we've been waiting for [this recognition] since we first proposed it to UNESCO in 2011. That's a long wait, it is very meaningful for the people of North Sumatra," said Hidayati, adding that she was optimistic the new status would help increase the number of foreign tourists and boost tourism at Lake Toba.
Prior to the Toba caldera, Indonesia already had four destinations recognized as UNESCO Global Geoparks, namely Mount Batur in Bali, Cileteuh in Sukabumi in West Java, Mount Sewu in Yogyakarta and Mount Rinjani in Lombok, West Nusa Tenggara.
Since being proposed as a Global Geopark in 2011, the Toba caldera had been rejected by UNESCO twice in 2014 and 2017. However, the organization gave input to help the administration make improvements to the destination.
Separately, Samosir Regent Rapidin Simbolon told the Post he expected all stakeholders to make use of newly opened opportunities through international networks following the recognition, as well as give of their best according to their competency.
"Samosir has been building accessibility for the past five years and will continue to do so; as well as increasing [the number of] amenities and attractions as an integral part of Toba Caldera Geopark-based Samosir tourism development,"
Lake Toba, known as the world's largest volcanic lake, was formed around 74,000 years ago by a super-volcanic eruption. The bottom of the caldera was later filled with water and is currently the largest lake in Indonesia.
Due to its beautiful landscape and cultural richness, Lake Toba is listed among the country's super-priority destinations dubbed the New Balis. (asp/kes)