Jokowi's Angry Speech Draws Negative Public Response: LP3ES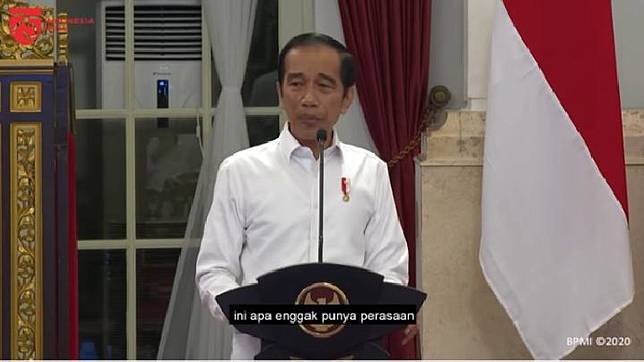 TEMPO.CO, Jakarta - The Institute for Social and Economic Research, Education, and Information (LP3ES) reported that President Joko "Jokowi" Widodo's frustration over some of his ministers' performance tends to draw negative public response. In a video published by the Presidential Secretariat, the state head was upset about the COVID-19 handling.
LP3ES chairman Didik J. Rachbini said the findings were obtained from the big data analysis together with consulting company Drone Emprit from June 28 to July 3, 2020.
Didik said 45 percent of the public expressed negative sentiments and only 25 percent responded positively, while neutral responses amounted to 31 percent.
"Most of the responses to Jokowi's anger were negative. People have begun to be critical that it (president's move) was improper. Moreover, it (the video footage) was deliberately spread to the public to become a drama," said Didik in a virtual discussion on Monday, July 6.
The data, he added, were obtained by observing conversations on online media and social media, namely Twitter, Facebook, YouTube, and Instagram.
He outlined there were more than 6,000 news articles on online media related to the president's fiery speech in which the latter even threatened to reshuffle the cabinet. Didik said the majority of responses on online media tended to be neutral.
On social media, meanwhile, there were 63,846 tweets. Of which, 30,441 were negative sentiments, 15,693 were positive sentiments, while 17,710 were neutral sentiments.
According to Didik, Jokowi's showing frustration in public reflected his failure as a leader, as well as inadequate planning, programs, policies, and human resource management.
"The anger of a leader in public reflects his or her recognition of poor performance, but later it becomes a trending issue and drama which covers it up," Didik said.
BUDIARTI UTAMI PUTRI