Indonesia passes mutual assistance treaty with Switzerland into law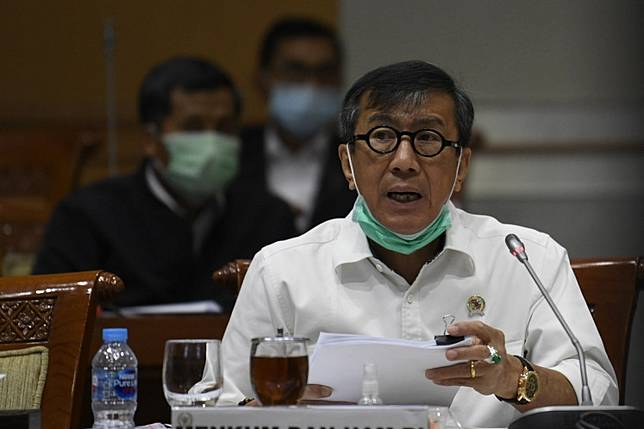 The House of Representatives passed a bill on the ratification of a treaty on mutual legal assistance (MLA) with Switzerland in a plenary meeting on Tuesday, in what officials commend as a progressive legal breakthrough against money laundering practices in the country.
Speaking after the plenary, Law and Human Rights Minister Yasonna Laoly said the government would begin the necessary procedures to collect data and track assets in Switzerland that resulted from criminal acts.
Yasonna said the government would put together an asset-tracing team comprising members of the National Police's criminal investigations department (Bareskrim), the Attorney General's Office, the Corruption Eradication Commission (KPK) and the Foreign Ministry.
"We will also work together with the Swiss authorities to access the available data," he said. "With this legal framework, we are finally doing it."
Financial Transaction Reports and Analysis Center (PPATK) chairman Dian Ediana Rae separately said the treaty's ratification was a progressive breakthrough in the enforcement of the antimoney-laundering law.
"With the ratification of the agreement, Indonesia has a strong legal foundation to run legal cooperation initiatives such as asset-tracing for corruption, financial crimes, tax crimes, banking-related crimes, corporate crimes and money laundering," Dian told The Jakarta Post.
Under the agreement, bank secrecy can no longer be invoked to impede the process of information exchanges, which would allow the PPATK to coordinate with Switzerland's financial intelligence units (FIUs) to track, block and recover illicit assets.
"The PPATK will also encourage law enforcement agencies to increase [the frequency of] financial investigations and impose articles on money laundering, so that they can pursue and return assets resulting from criminal offenses that have been taken abroad, especially to Switzerland," he said.
The new law has the potential to open up a Pandora's box of legal cases because it applies retroactively, observers say, allowing the government to recover illegal assets stored overseas before the law was put into effect.
"So, all fiscal crimes, money laundering or whatever happened before this agreement was signed, can still be traced," Yasonna said.
Based on the government's ambitious tax amnesty in 2016, Switzerland was one of five main tax haven countries in which wealthy Indonesians kept their money safe.
A number of legal cases also linked to assets parked in Switzerland include the 2005 Bank Mandiri corruption scandal, the 2008 Bank Century bailout case and the Supersemar Foundation case on misused state funds.
Ahmad Sahroni, a lawmaker from the House Commission III overseeing legal affairs, urged the government to use the treaty to process newer cases as well.
"The government has to keep in mind the latest money-laundering practices carried out by perpetrators in Indonesia, as it is likely that they have moved on to other countries and Switzerland is no longer the destination to hide their assets, accounts or money," the Nasdem Party lawmaker said.
Furthermore, Ahmad noted that the MLA agreement required other related issues to also be resolved, such as provisions on data privacy.
"This is one of the important issues submitted by Switzerland as a condition of the agreement. So, after it is ratified, we should immediately improve Indonesia's regulations on personal data protection."
Meanwhile, Wawan Sujatmiko from Transparency International Indonesia said the government still needed to prove it had the goodwill to enforce its existing anticorruption, antimoney-laundering and tax evasion laws.
"The government must show some seriousness in investigating tax evasion so that perpetrators can be brought [to justice] and the court's ruling can be used as a means to repatriate taxes, assets and money parked abroad," Wawan said.
Based on past experiences, with the 2006 Asian Agri tax scandal as one notable example, Wawan said the government should focus on companies and individuals suspected of embezzlement or tax evasion.
"Furthermore, global scandals such as the Panama Papers and Paradise Papers, which also mention a number of corporate entities or individual Indonesian citizens, can be an entry point for Indonesian law enforcement agencies to uncover tax crimes," he said.
The Panama Papers and the Paradise Papers are two instances of leaks of millions of law firm documents that reveal how various countries have become favored destinations for setting up shell companies for tax evasion.
The leaks name a number of affluent Indonesian businesspeople as well as current and former government officials.
For the past decade, after many years of unregulated monetary flows, the government began to crack down on tax evaders and money launderers in an attempt to shore up more tax revenue.
Many are believed to be keeping some of their funds in offshore financial centers out of concerns of inflation, a rupiah depreciation, political uncertainty and high taxes on financial income.
The state has estimated that more than Rp 11.4 quadrillion (US$782 billion) in assets have been stashed abroad.
Besides the tax amnesty, Jakarta has relied on MLA schemes with other countries.
The 10th such deal signed into law, the MLA treaty with Switzerland has been under negotiation since 2007 but stalled and was only resumed in 2015. The resulting agreement was signed on Feb. 4 last year.
Indonesia has signed MLA treaties with ASEAN member states, Australia, Hong Kong, China, South Korea, India and the United Arab Emirates.
Yasonna assured that the government was working to have similar agreements with other countries, including Serbia, with the support of whom local authorities had been able to capture longtime fugitive Maria Pauline Lumowa, despite no formal extradition and MLA agreements between the two nations.
Maria fled the country in 2003 just before she was named a suspect for allegedly stealing billions of rupiah from state-owned lender Bank Negara Indonesia (BNI) in a loan scam.
– Ghina Ghaliya contributed to this story