Indonesia, Australia to roll out worker exchange program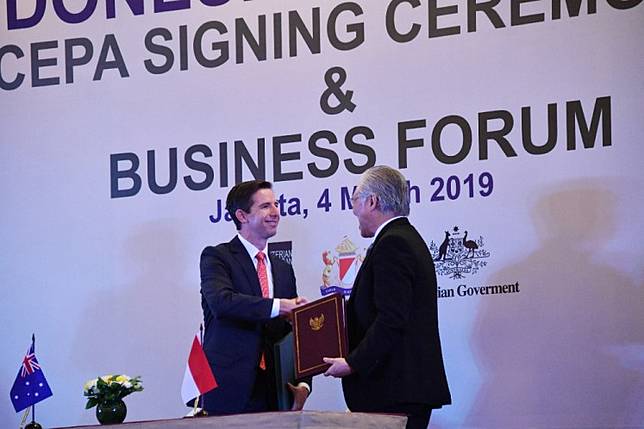 Indonesia will conduct a worker-exchange program with Australia to boost its human resources. The plan was announced by a senior government official just days after the Indonesia-Australia Comprehensive Economic Partnership Agreement (IA-CEPA) entered into force.
Trade Minister Agus Suparmanto said Indonesian workers in health care, telecommunication, transportation, tourism and other sectors were eligible to join the program and could get up to six months of training and work experience in Australia.
The government is aiming for 100 Indonesian workers to join the program in the first year, while the number of participants is expected to gradually increase to 500 within five years.
"This is part of Indonesia's benefits in human resource development from joining IA-CEPA, along with a chance for our workers' capabilities to be recognized by the Australian government and businesses," he said during a video press conference on Friday.
In the implementation of the program, the government will partner with the Indonesian Chamber of Commerce and Industry (Kadin), the Indonesian Employers Association (Apindo) and the Indonesian-Australian Business Council (IABC).
The IA-CEPA, which was ratified by the House of Representatives in February and took effect on July 5, eliminates trade tariffs between the two countries. With the trade pact, the Trade Ministry expects a boost in the export of some Indonesian products to Australia, especially textiles, automotive products, electronics, fishery products and communication tools.
As the COVID-19 pandemic disrupted global trade, Indonesian exports fell 28.95 percent year-on-year (yoy) to US$10.53 billion in May. The country's exports to Australia amounted to $920 million in the January-May period, up 15.69 percent yoy.
Agus also said that, with the IA-CEPA deal, Indonesia aimed to slash the country's export deficit to Australia by half in 2021 to around $1.5 billion from a $3.2 billion last year.
Trade between the two countries amounted to $7.8 billion in 2019, much lower than bilateral trade with Indonesia's top trading partner, China, which was $73 billion in the same year.
"We are hopeful that we can achieve an export surplus in the future, but not this year, because the agreement's effect will likely be slow, because of the pandemic," he said. "However, we are optimistic that we can see significant changes in 2021."
The minister stated that the two countries had also agreed to increase the number of working holiday visas to 4,100 from initially 1,000. He expressed hope that, by the sixth year of the IA-CEPA, the quota for this type of visa would reach 5,000.
Read also: RI to boost export to Australia as IA-CEPA enters into force
Furthermore, Indonesia and Australia have also decided to prioritize industry partnerships in food agriculture and electric vehicles as well as technical and vocational education and training (TVET) within the first year of IA-CEPA, according to the trade minister.
Previously, Association of Indonesian Automotive Manufacturers (Gaikindo) secretary-general Kukuh Kumara said Indonesia's automotive industry might not immediately benefit from the trade deal because it prioritized trade of electric vehicles (EVs), which Indonesia was not producing yet. The Jokowi administration has set itself a target to start producing EVs in 2021 or 2022.
"We do not have the products of the specifications Australian consumers need," Kukuh told the The Jakarta Post in a phone interview on July 6.
Indonesia's auto industry produced mostly multipurpose vehicles (MPV) or sedans like the Toyota Camry, while Australians prefered sport utility vehicles (SUV), Kukuh added.