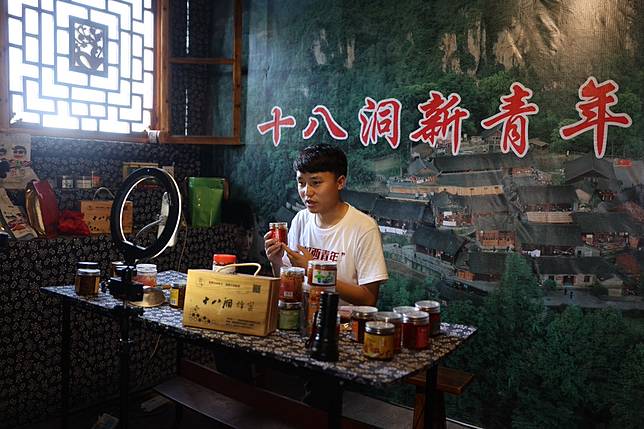 A livestream anchor promotes village produce at Shibadong Village in Xiangxi Tujia and Miao Autonomous Prefecture, central China's Hunan Province, July 2, 2022. (Xinhua/Xue Yuge)
LANZHOU, Jan. 25 (Xinhua) -- To ring in the Lunar New Year, Zhang Mingxia donned a red cotton coat and cooked a wok of potato noodles, before switching on the camera to livestream.
The 26-year-old swiftly juggled between promoting and pitching the noodle, interacting with first-time watchers, answering their queries for price and delivery, and occasionally slurping some burning-hot noodles as a demonstration.
For Zhang, the Chinese New Year holiday which begins on Sunday is not just about family get-togethers. It also brings a golden time for promoting local farm products and improving the income of fellow villagers.
Born into a farming family in Longxi County of Gansu Province, Zhang knows how difficult selling agricultural products is for her parents, due to weather-dependent yield and highly volatile prices.
So after college graduation in 2019, Zhang returned to her hometown with the ambition of selling agricultural products via livestreaming with seven other college grads who all grew up in rural areas.
Livestreaming sales is difficult. In the beginning, Zhang did not know how to present products to the audience, and even felt overwhelmed when addressing questions from her only 14 followers.
Some watchers mocked Zhang's large build. In response, she named her account "chubby helper of Gansu farmers" to play up her uniqueness. "It's not a problem for me as long as it helps to sell the farm products."
Gansu is an agricultural province in China's landlocked, arid northwest. Zhang's team soon grew unsatisfied with merely selling local potato noodles and planned to bring other unique agricultural goods from Gansu to consumers across the nation. They pooled funds to rent a car and embarked on a "treasure hunt" across the province.
"We look young, so it can be challenging to gain the trust of villagers. Occasionally, we arranged the purchase plan only to find them change their minds the next day because they did not believe we could sell their products online," said Yang Xiaoqiang, Zhang's colleague.
Through perseverance and learning from her mistakes, Zhang became a local celebrity, and requests began to flood in to help farmers sell unsold harvests.
Currently, lily, honey melon and matsutake are on their selling list, and approximately 340,000 people follow their account on Douyin, the Chinese version of TikTok.
According to Zhang, the team has helped Gansu farmers sell 1.5 million kilograms of agricultural products over the past three years. They sold about 300,000 orders last year alone.
"Livestreaming e-commerce is a new approach for farmers to raise their revenue, and is drawing more young people to participate in the cause of rural revitalization," said Zhang, whose team now has a stable source of income from the livestreaming business.
Statistics from Douyin estimate that by the end of 2022, the generation born in the 1990s had accounted for 45 percent of all broadcasters selling agricultural products via livestreaming on the platform.
"We have also realized our self-worth and enjoyed a feeling of success by helping other farmers," she said. "We wish to prove that even a remote mountain village can be a big stage for college graduates." ■