Beijing likely to undertake additional policy easing to offset any shock from the virus, UBS's investment bank says
Busy Lunar New Year travel period presents a 'tremendous challenge'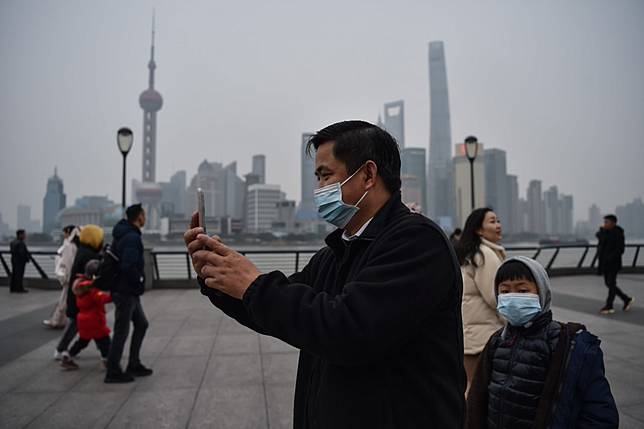 As the first case of the Wuhan coronavirus was reported in the United States on Tuesday, UBS said the outbreak, if not contained, could weigh on retail sales, tourism and travel in China in the first quarter and the early second quarter of this year.
The Swiss bank said it could present some downside risk to its economic growth forecast for the mainland, but it would expect Beijing to engage in additional policy easing to offset any shock from the virus, particularly to affected sectors, such as hotels and tourist-related businesses. Measures are likely to include the People's Bank of China keeping interbank liquidity "ample" and guiding down market interest rates in that scenario.
"History does not repeat itself, but it rhymes. More importantly, China has learnt lessons from Sars. The government is now working much more proactively and transparently to contain the Wuhan pneumonia than (it did with) Sars, and China's public health system is now more experienced than before as well," Wang Tao, head of Asia economic research and chief China economist in UBS's investment bank, wrote in a research note on Wednesday.
"Given the limited information, the mortality rate of Wuhan pneumonia seems notably lower than Sars. However, the ongoing travel peak season is a tremendous challenge, which could complicate the disease diffusion."
The outbreak has emerged at the height of the Lunar New Year travel season where some 3 billion trips are expected to be made by Chinese residents over the 40-day holiday period, which runs to mid-February.
The virus, which is believed to have had its first transmissions at a wholesale seafood market in Wuhan, has sickened more than 400 people and resulted in nine deaths. It has also spread to half a dozen other countries and territories, including the United States.
Hong Kong has reported more than 100 suspected cases, including 88 people who have been discharged from hospital.
Virus reignites fears for Chinese economy week after trade deal signing
Health officials in the United States, Singapore and other countries are stepping up screening of passengers travelling from Wuhan as they seek to curtail the spread of the virus.
Wuhan is a major transport hub in Hubei province, where all of the deaths from the coronavirus have occurred.
The viral outbreak has echoed back to severe acute respiratory syndrome (Sars), the epidemic that afflicted more than 8,000 people worldwide and killed 299 people in Hong Kong in 2003.
Sars cut into retail spending, as well as hotels, airlines and travel-related businesses as tourists and business travellers avoided Hong Kong. Retail sales fell by more than 6 per cent in March 2003 and another 15 per cent in April 2003 " the height of the epidemic, according to a paper on the economic effects of Sars by the University of Hong Kong.
It also changed the way people conducted their daily lives as they stayed away from restaurants and public places, avoided pushing the buttons on lifts and prominently wore face masks even if they were not ill.
Schools in Hong Kong have already begun taking extra precautions, office towers have hand sanitisers available in public spaces and face masks are again common in the streets.
In its note, UBS said China's sequential gross domestic product growth slowed sharply in the second quarter of 2003 during the Sars epidemic, mainly because of a hit to tourism and related sectors, such as transport, hotels and catering. Overall, mainland retail sales slowed from 9.2 per cent growth in the first quarter of 2003 to 6.8 per cent in the second quarter.
Wuhan virus and Sars should push Hong Kong towards research collaboration
Beijing provided targeted fiscal policy support for affected sectors in 2003, including waiving some fees for tourism and transport, UBS said. It also had accommodative monetary and credit policy at the time.
Fears about the Wuhan outbreak have already cut into markets this week, with the Hang Seng Index falling below 28,000 in early trading on Wednesday.
Wendy Liu, China strategist in UBS's investment bank, said it expects hotel operators with nationwide operations to be "significantly affected" depending on the spread of the virus, noting they are already trading below the 2003 trough valuation.
"Our consumer/internet team believes consumers may prefer to stay at home and forgo crowded public venues, cutting near-term travel plans. Thus, retailing, parks and movie theatres, which would normally benefit from Chinese New Year due to seasonality, could see downside," she said. "Furthermore, on-premises alcohol consumption is likely to be negatively affected."
Food deliveries, video streaming services and e-commerce could marginally benefit, she said. The bank remains constructive on Chinese equities this year, she said.
"Investors are rightfully concerned about infections spreading due to the heavy CNY travel season," Liu said. "However, also important, if consumption/retail sales weaken due to the spread of this virus, in theory, easing efforts may step up and we continue to monitor the lending rate trend for non-financial sectors in China."
Copyright (c) 2020. South China Morning Post Publishers Ltd. All rights reserved.