BANGKOK, Aug. 16, 2023 /PRNewswire/ -- Medlab Asia & Asia Health 2023, organised by Informa Markets and IMPACT Exhibition Management in collaboration with the Central Sterilizing Services Association, has officially opened to showcase the latest techniques and innovations in the healthcare and laboratory industry. The event takes place from 16-18 August in Halls 6-7 at IMPACT Exhibition Center.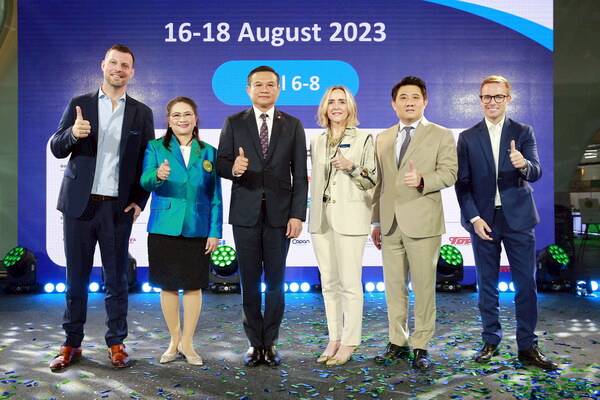 "Medlab Asia & Asia Health 2023", 16-18 August in Halls 6-7 at IMPACT Exhibition Center.
Dr.Sura Wisedsak, Director-General, Department of Health Service Support stated, "Currently, global awareness of health issues has led to the growth of the medical devices market. This aims to transform Thailand into a comprehensive medical hub, not just in ASEAN but in ASIA. We believe that "Medlab Asia & Asia Health 2023" will create good opportunities for the medical industry in ASEAN by generating income for the country, building connections with world-class manufacturers, promoting medical device innovation including learning the latest knowledge from countries to achieve Thailand's ambition to truly becoming the Medical Hub of Asia."
Both events are expected to welcome record numbers with over 7,500 participants from 50 countries and territories, including Mainland China, Japan, Pakistan, South Korea, Taiwan, UK, Germany, United States, Canada, Hong Kong, Hungary, Malaysia, Singapore, Thailand, and 336 leading companies, including industry heavyweights Randox Laboratories, GenScript Biotech (Singapore-based), Trivitron Healthcare, Sysmex Asia Pacific, BGI Genomics, Mindray, Roche, and Sansure Biotech.
Highlights include the latest technological innovations in the healthcare and medical laboratory sectors including Artificial Intelligence, Augmented Reality, Virtual Reality, medical instruments, radiology and diagnostics, medical materials and consumer products, healthcare and services, emergency medicine, health and prevention.
The event also features 13 medical academic conferences covering a variety of products designed specifically for healthcare professionals to earn continuous education credits certified by CME, CMTE, CNEU, CEPA, and CPD.
Solenne Singer, Vice President of Informa Markets, said:"The healthcare industry in Asia-Pacific is experiencing extremely positive year-on-year growth and is expected to continue being one of the economy's fastest-growing sectors. The laboratory technology sector has also seen significant advancements in recent years, resulting many key players in the industry have introduced new products and are seeking a global platform to facilitate networking and trade negotiations for medical devices and laboratory exhibitors and visitors. Medlab Asia & Asia Health facilitates this requirement and provides the premier business matchmaking platform in the Asia-Pacific region. Testament to this is the considerable increase in visitor numbers, as industry experts and potential buyers maximise the opportunities the events afford."