He Yuhong's ex-boyfriend has been detained and a court granted a restraining order against him after she went public with claims he abused her
Tens of millions of women in the country are estimated to suffer domestic violence, but very few come forward
When a popular Chinese make-up vlogger went public last week with claims that her former boyfriend physically abused her, it got people talking about domestic violence in China " and highlighted the slow progress in tackling the issue.
Police in the southwestern city of Chongqing began investigating after 28-year-old He Yuhong posted a video and details of the allegations against her former partner online on November 25 " the UN's International Day for Elimination of Violence Against Women.
He, who is known online as Yuyamika, uses make-up to transform herself into celebrities and figures like Leonardo da Vinci's Mona Lisa. She has more than 2 million followers on video app TikTok.
She alleged her ex-boyfriend, Chen Hong, had repeatedly abused her during their one-year relationship and posted screenshots of text messages, surveillance camera footage and testimony from his two former wives to back up her case.
Two days later, a court granted a restraining order against Chen, a 44-year-old illustrator, and he has been detained for 20 days for assaulting He, according to Chongqing police.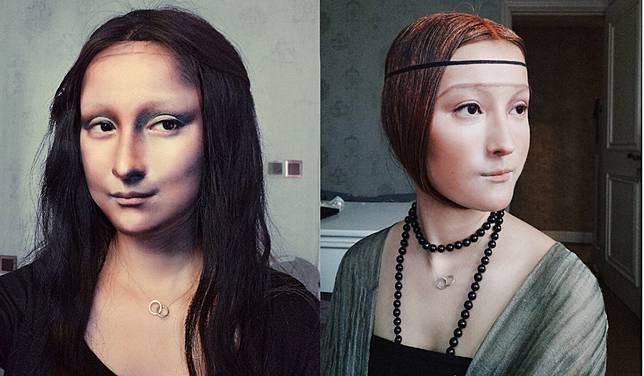 It was a rare move to speak out or take legal action in a country where tens of millions of women are estimated to suffer domestic violence, but very few come forward.
The All-China Women's Federation estimates that 30 per cent of married women in 270 million households have experienced some form of physical violence from a family member at some point in their lives.
But that is not reflected in the courts. China did not have a domestic violence law until March 2016. By the end of last year, 5,860 people had filed restraining orders since the law was enacted, and of those 3,718 orders were granted " or about 63 per cent of the cases.
The problem, according to legal experts and women's rights advocates, is a lack of awareness about the issue and the law, and a lack of confidence that it will be enforced, as well as the common attitude that domestic violence is a private matter.
Make-up vlogger He wants that to change. After the court granted the restraining order against Chen, she urged others to go straight to the police if they were assaulted.
"I deeply regret that because of my fear and hesitation, it was too late the first time I called the police. I lost some important evidence of the violence and injuries, so the perpetrator didn't get the harsher punishment that he deserves," she wrote on social media platform Weibo.
But for some, like 63-year-old Song Meijin, the idea of speaking out is almost unthinkable. The villager from Jiaxing in Zhejiang province said she was unaware of the domestic violence law.
She said her husband had hit her many times during their 35-year marriage.
"He was short-tempered when he was young. Sometimes he would hit me in the chest or slap me on the face when he was angry, but it's stopped now that we're older," she said.
"But every family has its problems, doesn't it? And he's not a bad guy. I've never even thought of leaving him."
Domestic abuse: why many suffer in silence, and the support groups in Hong Kong helping women deal with abusive men
Song's sentiments were not unusual, according to Beijing lawyer Lu Xiaoquan, who specialises in women's rights. Lu said it was a typical and entrenched attitude in China to "hide your dirty laundry", and it was the main reason so few cases of domestic violence were reported.
"It never occurs to them that they can call the police or take their case to court. They don't even know there's legislation in place " the Anti-Domestic Violence Law," Lu said.
"And even if they do hear about it, they don't know where to start, how to collect evidence or go through the paperwork."
He said fear of revenge was another factor stopping people from coming forward.
"Many of those who assault family members consider this to be just a private family matter, so their victims often fear that if they make it public it will lead to even worse violence later," Lu said.
That was the case for one of Chen's two ex-wives, both of whom were prompted to tell their own stories after they heard about the vlogger's experience.
In the video posted by He, Chen's second wife Jin Qiu claimed he had also been violent during their marriage but she kept it a secret " mainly because he had threatened to kill her and her family if she said anything.
"He knew I was afraid, and that I didn't have any evidence," Jin says in the video on Weibo.
Even for those who were aware of their legal options, many had doubts about whether taking action could really put a stop to the abuse, Lu said.
"They may feel that although they have enough evidence, the court might not agree. And for some, even if they're granted a restraining order, they don't believe it will actually be enforced," he said.
Women's freedom from violence, participation in politics and economic empowerment are the Asia-Pacific's next challenges
According to Feng Yuan, co-founder of Beijing-based women's rights and gender equality NGO Weiping, judges were also cautious about granting the restraining orders because of enforcement concerns.
Under the law, the court is responsible for keeping the perpetrator away from the victim when a restraining order is issued, and local police and the subdistrict administrative agency provide assistance.
"Judges are concerned that the police " who are really only partly responsible for enforcing these orders " won't take them seriously … they worry that the perpetrator won't voluntarily comply, and the courts don't have the resources to enforce the orders," Feng said, adding that more needed to be done to raise awareness about domestic violence and the law, including public education campaigns.
As she thanked her followers for their messages of support last week, vlogger He wanted others to know they were not alone.
"I know your attention is not just for me, but for a group of people including each and every one of us who may have gone through similar things but have kept it hidden," she wrote on Weibo.
Copyright (c) 2019. South China Morning Post Publishers Ltd. All rights reserved.