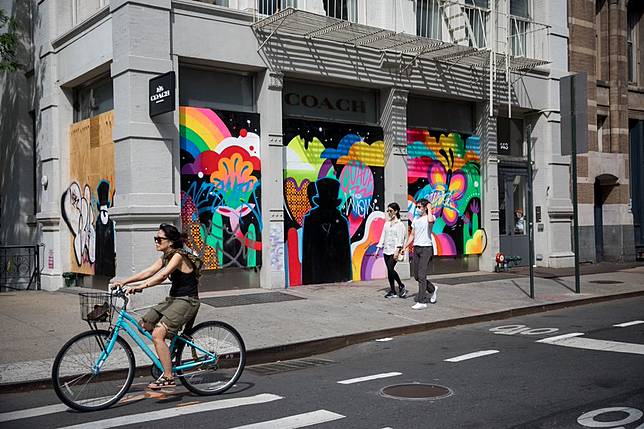 Pedestrians pass by a boarded up store during the COVID-19 pandemic in the Brooklyn borough of New York City, the United States, May 29, 2020. New York City, the epicenter of the COVID-19 pandemic in the United States, is set to enter phase one of the reopening process on June 8, New York State Governor Andrew Cuomo said on Friday. (Photo by Michael Nagle/Xinhua)
WASHINGTON, June 2 (Xinhua) -- The extraordinarily high unemployment rate in the United States is in large part due to the poor management of the COVID-19 pandemic by the federal government, a senior U.S. economist said on Monday.
"It was late to acknowledge the threat posed by the virus, and then ultimately ceded the bulk of the crisis management to state governments, which led to a patchwork response that was slow to get going," Mark Zandi, chief economist of Moody's Analytics, said in an analysis.
"In contrast, the management of the health crisis was much more aggressive early on, and the subsequent testing and contact tracing more comprehensive, throughout much of Asia," he said.
Based on the relationship between confirmed COVID-19 infections and unemployment rates across countries, Zandi noted that every 1,000 more infections per million inhabitants has resulted in an approximately 1-percentage point increase in the unemployment rate.
"This suggests that if the U.S. had simply experienced an infection rate consistent with the average country, the U.S. unemployment rate would have been nearly 3 percentage points lower in April," he said.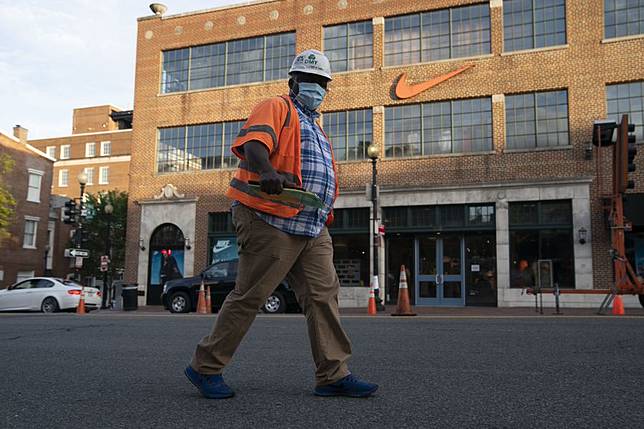 A construction worker wearing a face mask walks by a closed fashion store in Georgetown of Washington D.C., the United States, May 26, 2020.(Xinhua/Liu Jie)
As of Monday, the number of COVID-19 cases in the United States topped 1.8 million, the highest across the world, according to Johns Hopkins University.
U.S. employers cut a staggering 20.5 million jobs in April, which erased a decade of job gains since the global financial crisis and pushed unemployment rate to a record 14.7 percent, the Labor Department reported last month.
The real unemployment rate was closer to 20 percent in April after accounting for a misclassification error acknowledged by the Bureau of Labor Statistics that inappropriately counted millions of unemployed people as actually employed, according to Zandi.
Zandi expected U.S. unemployment to decline from 20 percent to nearer to 10 percent as businesses reopen, but "it is difficult to see doing much better than that until there is a vaccine."
"Many of the millions of jobs lost in brick-and-mortar retailing, leisure and hospitality, restaurants, the transportation industry, and the performing arts won't come back any time soon and may be lost forever," he said.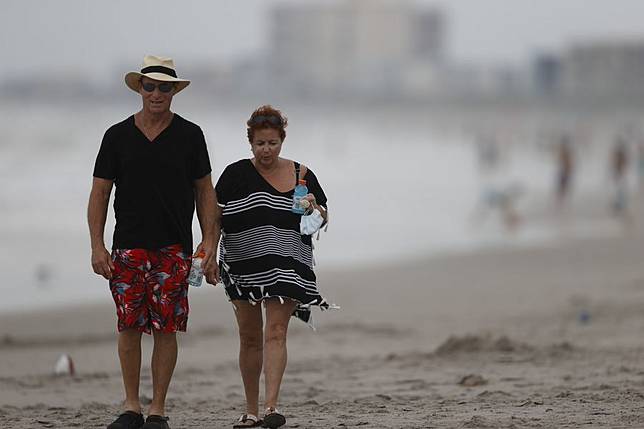 People lounge on the beach in Cocoa Beach, Florida, the United States, on May 28, 2020.(Photo by Ting Shen/Xinhua)
Zandi believed that the COVID-19 recession is over only if there isn't a serious second wave of the virus that disrupts businesses again, and Congress and the Trump administration come to terms on a fourth fiscal rescue package before Labor Day.
"Even if we are fortunate enough to avoid a serious second wave and smart enough to provide more fiscal support, the economy isn't going anywhere fast until there is a widely distributed and adopted vaccine," he said.
The U.S. Commerce Department reported on Thursday that economic activity in the first quarter contracted at an annual rate of 5 percent in a second estimate, 0.2 percentage point lower than the advance estimate.
That downwardly revised figure, however, still does not fully capture COVID-19's economic damage, and many analysts believe that the decline in the second quarter is expected to be much deeper.
Fallout from the COVID-19 pandemic will shrink the size of the U.S. economy by 7.9 trillion U.S. dollars over the next decade, according to new projections released by the Congressional Budget Office on Monday.  ■