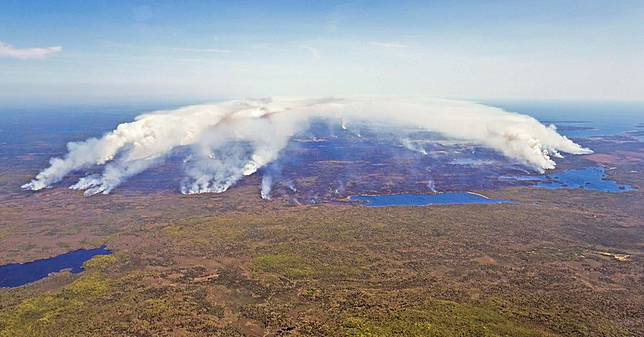 Aerial photo taken on May 31, 2023 shows wildfires in Shelburne County, Nova Scotia, Canada. (Nova Scotia Government/Handout via Xinhua)
Environment Canada warned that forest fires may keep the air dangerous to human health through most of the week.
OTTAWA, June 6 (Xinhua) -- As wildfires blazed in western Quebec and northern Ontario near Ottawa, the air quality of Canada's capital city was so bad that it cracked through the top of a risk scale on Tuesday.
Environment Canada warned that forest fires may keep the air dangerous to human health through most of the week.
The city was officially at a 10+ on Environment Canada's Air Quality Health Index Tuesday morning, which is its highest level and the highest among Canada's major cities.
This meant the general public should reduce or reschedule strenuous outdoor activities, and people at risk of serious health problems from pollution, including seniors, young children and pregnant people, should avoid these types of activities.
By early afternoon, it settled down to 10, which was still high.
Monica Vaswani, warning preparedness meteorologist for Environment and Climate Change Canada, said the air quality index maxes out at 10 for forecasting purposes. But Ottawa's readings actually hit as high as 14 on an internal scale on Tuesday, double what the ministry requires for issuing an air quality statement.
"That just gives you an idea that it is definitely, in some ways, off the charts," she said.
"Don't expect a return to normal anytime soon," Vaswani said, adding that winds from the north and northeast will keep pushing plumes of smoke from Quebec toward Ottawa.
There's also little sign of significant rainfall over the workweek or longer and the forest fires might actually prevent rain from forming, she noted.
"Unless the forest fires themselves reduce in some fashion, the weather is not going to change really," she said. "So more likely than not the air quality is going to remain … bad."
Environment Canada still has smog warnings for areas north and east of Gatineau and special air quality statements for the rest of eastern Ontario and western Quebec.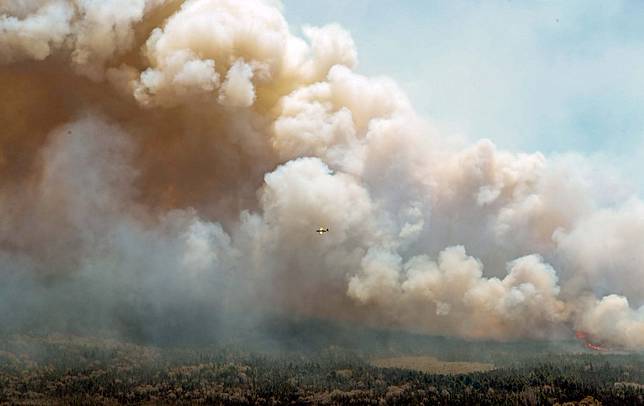 A firefighting plane flies above wildfires in Shellburne County, Nova Scotia, Canada, on May 31, 2023. (Nova Scotia Government/Handout via Xinhua)
Vaswani said the poor air quality in Ottawa is driven by high levels of fine particulate matter in the air from the forest fires. As of Tuesday at 8 a.m., Ontario's Ministry of Environment, Concentration and Parks was reporting levels of that pollutant well in excess of healthy levels. Concentrations of fine particulate matter were 267 micrograms per cubic metre.
The poor, dangerous air quality across the Ottawa-Gatineau region meant some events have been cancelled or changed.
Schools have cancelled outdoor extracurriculars and were keeping students inside at recess Tuesday.
Some schools have also cancelled outdoor activities for Wednesday with more smoke in the forecast.
The Ottawa Sport & Social Club and Soccer Outaouais have cancelled all outdoor games Tuesday. The Eastern Ontario District Soccer Association said it has cancelled all games "under its control" and has encouraged its clubs to cancel practices.
The Ottawa Redblacks have changed Tuesday's practice to an indoor walkthrough.
The City of Ottawa has cancelled all outdoor recreational programs and leagues taking place on Tuesday. Drop-in programs will move indoors, where possible. ■