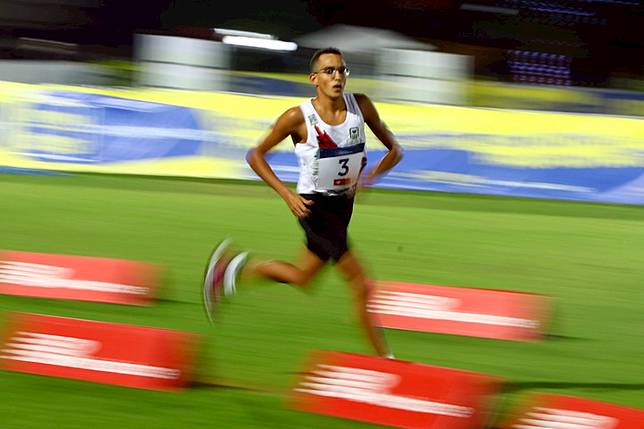 Mohamed Elgendy of Egypt competes in a laser run during the men's semifinal B of the UIPM 2022 Pentathlon World Championships in Alexandria, Egypt, July 28, 2022. (Xinhua/Ahmed Gomaa)

Egyptian brothers entered finals of UIPM Pentathlon World Championships in Alexandria, Egypt, on Thursday.
ALEXANDRIA, Egypt, July 29 (Xinhua) -- Egypt's Tokyo 2020 Olympic silver medalist Ahmed El-Gendy and his younger brother Mohamed were among 18 athletes who qualified on Thursday evening for the men's finals in the 2022 Pentathlon World Championships held by the Union Internationale de Pentathlon Moderne (UIPM) here.
The two brothers made it after competing in the Group B semifinals with 16 other athletes from different countries in fencing, swimming and laser run, which combines both shooting and running, in the new format of modern pentathlon.
"I am happy with the score I achieved. I didn't feel very tired in the laser run today and was able to save my power to be among the first seven in the group to be qualified for the finals on Saturday," Mohamed El-Gendy said.
"Having all these athletes from different countries, in addition to my participation in four championships this season, surely adds to my experiences for coming championships," he added.
By total points, El-Gendys came third and fourth among the 18 finalists.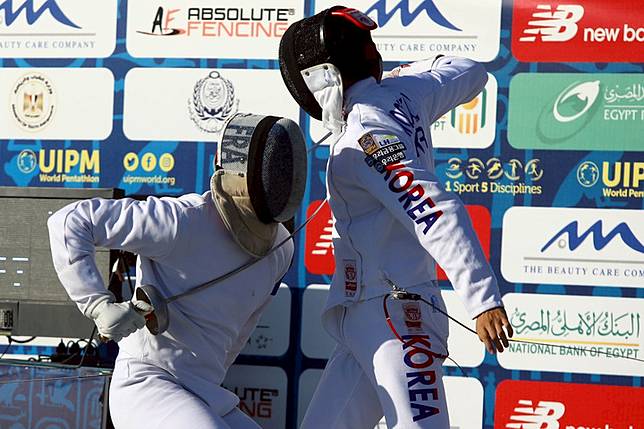 Brice Loubet (L) of France competes against Jun Woong-tae of South Korea in fencing during the men's semifinal A of the UIPM 2022 Pentathlon World Championships in Alexandria, Egypt, July 28, 2022. (Xinhua/Ahmed Gomaa)
Their shooting coach Ibrahim Sokar was proud of the achievement.
"This is the first championship for Ahmed El-Gendy after his recovery from injury, and he has proved ready for the finals," said the Egyptian coach.
"Both brothers are very good at fencing, laser run and riding, but Ahmed is more distinguished in swimming. We hope that both will be standing on the winner podium on Saturday," Sokar added.
Among those qualified for the men's finals from Group A semifinals, which also included 18 pentathletes, are South Korea's Tokyo 2020 Olympic bronze medalist Jun Woong-tae, Hungary's Balazs Szep and two-time world champion Valentin Belaud of France.
The finals will include riding, which wasn't included in the semifinals.
"It's a great championship here in Alexandria because all the venues are in one place, especially that it is the first year for the new format," said Belaud.
Only seven nations will be represented in the men's finals, namely Hungary by four qualifiers, the Czech Republic, France and Germany by three each, Egypt and South Korea by two each, and Britain by one pentathlete, Tokyo 2020 Olympic champion Joseph Choong.
The UIPM 2022 Pentathlon World Championships are held in Alexandria's Arab Academy for Science, Technology and Maritime Transport.
"Besides having the venues close to each other, the accommodation of athletes is also inside the academy, which saves them a lot of time and energy," Sherif El-Erian, UIPM vice president and head of the Egyptian Modern Pentathlon Federation, told Xinhua.
He described the venues and the general atmosphere of the championships as "wonderful."
More than 40 countries and regions participate in the championships, which started on July 24, with delegates of over 500 athletes, managers and coaches in total, according to the Egyptian sports official.
Later on Friday, also 36 female athletes will compete in the women's semifinals, including three from host nation Egypt.
The women's and men's finals will be on July 30 and the mixed relay on July 31.
In the same championships, Egypt has already achieved one gold through the women's team-relay and one silver through the men's team-relay. ■