Academics and postgraduate students to return on Wednesday, internal email reveals, after campus was devastated by clashes
Violent exchanges of tear gas and petrol bombs last month led to police siege of radical protesters
The university ravaged by protest violence and besieged by Hong Kong police for nearly a fortnight will partially reopen its Hung Hom campus on Wednesday, according to an internal email obtained by the Post.
Staff and research postgraduate students at Hong Kong Polytechnic University would be allowed to return to two buildings once they had signed a document showing they understood the risks, the circular read.
Radical protesters unleashed chaos in and around the university on November 17, triggering violent exchanges of petrol bombs and tear gas with police.
The force declared the unrest a riot before surrounding the site for 13 days, initially with hundreds of hard-core demonstrators trapped inside.
Thousands of petrol bombs and other weapons were recovered from the grounds after the siege came to an end on November 29.
In Tuesday's email to staff, the university's facilities management office said: "We understand that some staff and RPg (research postgraduate) students are quite anxious to resume work in their offices and laboratories.
"Since we consider blocks Y and Z generally safe after our initial assessment, offices in these two blocks will be reopened on 11 December."
Before they were granted access to the buildings, those eligible must sign on first entry a "letter of understanding" and acknowledge they had "evaluated the circumstances and taken precautionary measures", the email read.
Other parts of the campus would reopen in stages in December and January as damage assessments, safety inspections and cleaning exercises had been "progressing satisfactorily", it added.
The university said earlier that PolyU's second term would begin as scheduled on January 13, although the first two weeks were for holding exams that were supposed to have been taken in the first semester. Teaching will begin from February 3 onwards.
Up to 100 activists still holed up as Hong Kong campus stand-off continues
A partial reopening of the library, which was flooded during the siege, is also tentatively set for January 13 next year.
It is understood that, with most of PolyU's main campus in Hung Hom closed, some staff were working at other PolyU sites including its Hung Hom Bay campus and the building complex of Hotel ICON, where its school of hotel and tourism management is located.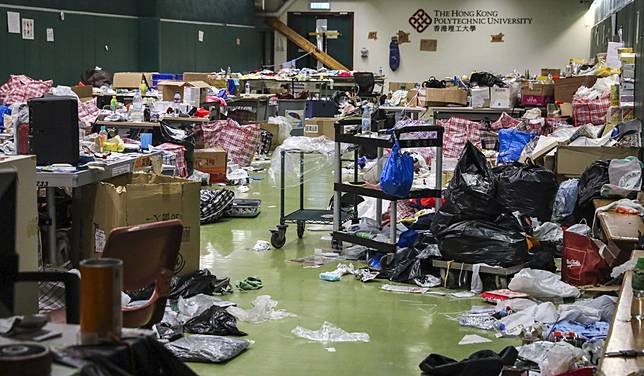 More than 1,100 people were arrested during the PolyU saga, which is seen as one of the worst outbreaks of disorder in the six months of anti-government protests, which was initially sparked by the now-withdrawn extradition bill. Of those arrested, only 46 were PolyU students.
Police withdrew from the campus on November 29 after searching for evidence and removing hazardous items.
PolyU chairman bemoans immeasurable loss to research projects
About 4,000 petrol bombs were found alongside nearly 600 items classified as weapons. Dangerous materials including chemicals were also stolen from laboratories.
The university also said in the email that environmental samples from the campus were still being collected for further analysis for dioxins, cyanide and water quality. It said some samples had already been sent for testing.
Results were expected to be released in the second half of December.
Chung Kim-wah, an assistant professor from PolyU's department of applied social sciences, which is not based in the two buildings reopening, said he expected some colleagues to return on Wednesday.
"Teaching is only part of our work. There is still a lot happening on campus including research projects, consultancy jobs and administration duties, which need to be urgently tended to," he said.
Chung added that university management had allowed a limited quota of four staff per department to enter the campus last Thursday.
Trashed university in Hong Kong 'will take more than six months to repair'
He said he went back to get his medication, which he had left in his office before the stand-off. One of his colleagues had also returned to collect her passport.
On Tuesday, PolyU's governing council and the university court held a special briefing session, during which members expressed their views on the siege. It also included a presentation by president Teng Jin-guang on the scale of the damage to facilities and the restoration work, according to the council's student representative Owan Li.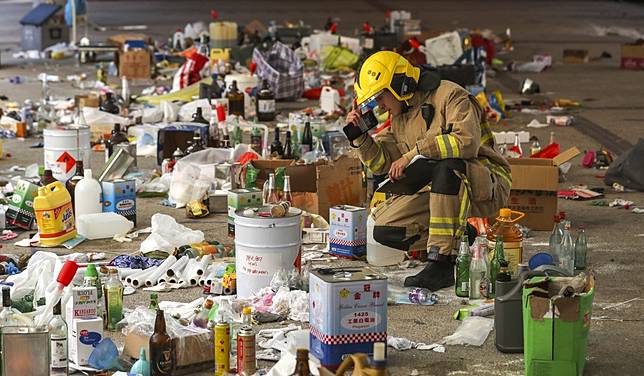 There were widespread closures of campuses and disruption to classes when universities emerged as a new battleground for clashes between police and hard-core protesters in mid-November.
Separately, management from the University of Hong Kong (HKU) told its governing court in a meeting on Tuesday that all classes in the second semester were expected to return to normal after the holiday break, according to two sources.
All teaching and examinations were carried out online at HKU and PolyU after face-to-face classes in the first semester were abandoned.
From war zone to 'prison': voices from Polytechnic University siege
It has been reported that at least 140 HKU students were arrested during the unrest. At Tuesday's meeting, the president Zhang Xiang praised the university, including professors, staff and college wardens, in standing united to minimise the damage to its sites.
He has not said when he would fulfil his promise to meet the students again.
Additional reporting by Alvin Lum
Copyright (c) 2019. South China Morning Post Publishers Ltd. All rights reserved.