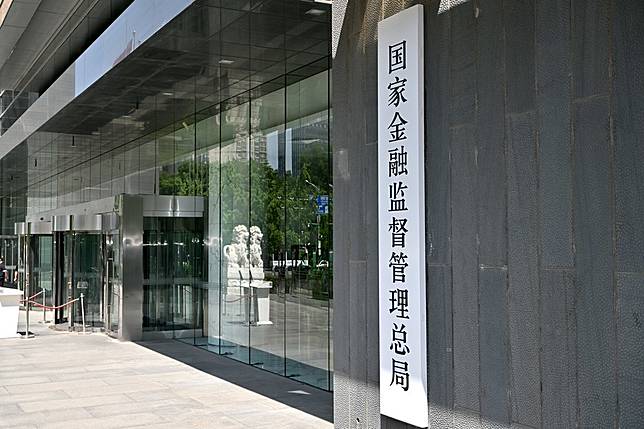 This photo taken on May 18, 2023 shows the National Administration of Financial Regulation in Beijing, capital of China. (Xinhua/Li Xin)
BEIJING, May 19 (Xinhua) -- The National Administration of Financial Regulation (NAFR) was officially set up on Thursday as China's new financial regulator, marking an important step in the country's institutional reform on financial supervision.
The NAFR, directly under the State Council, has been formed on the basis of the China Banking and Insurance Regulatory Commission.
The new administration is in charge of regulating the financial industry, with the exception of the securities sector. It will take over certain functions of the People's Bank of China and the China Securities Regulatory Commission.
Vice Premier He Lifeng attended the opening ceremony of the NAFR in Beijing on Thursday.
The establishment of the new regulator is seen as an important move to deepen structural reform in the financial regulatory sector, strengthen and improve the country's modern financial regulation, and promote full coverage of financial regulation in the sector.
The administration plans to dispatch 2,000 teams to inspect about 2,500 banking institutions, and nearly 800 teams to supervise about 800 non-banking institutions this year, according to an official budget document posted on its official website.
The plan to set up the NAFR was adopted by the national legislature in March.
"Even if new financial institutions and new financial forms emerge in the future, they will be within the regulatory framework," said Zeng Gang, director of the Shanghai Institution for Finance & Development.
Zeng said that setting up a new regulatory administration of this sort means placing all types of financial activity under regulation, in accordance with the law.
"The People's Bank of China and the China Securities Regulatory Commission have transferred their responsibilities regarding protecting financial consumers and investors to the NAFR," said Yin Zhentao, a researcher with the Institute of Finance & Banking, affiliated to the Chinese Academy of Social Sciences.
"Such a move aims to strengthen the standardization of financial behaviors and improve regulatory efficiency, and to substantially reduce the compliance costs and risks caused by different standards," said Yin.
Experts have also stressed the importance and urgency of reforms in order to ensure finance plays a bigger role in serving economic and social development. ■