It is not uncommon to see a Georgian property in Surrey, United Kingdom, but a Grade II-listed Georgian house renovated in a sustainable approach is a jewel in the city.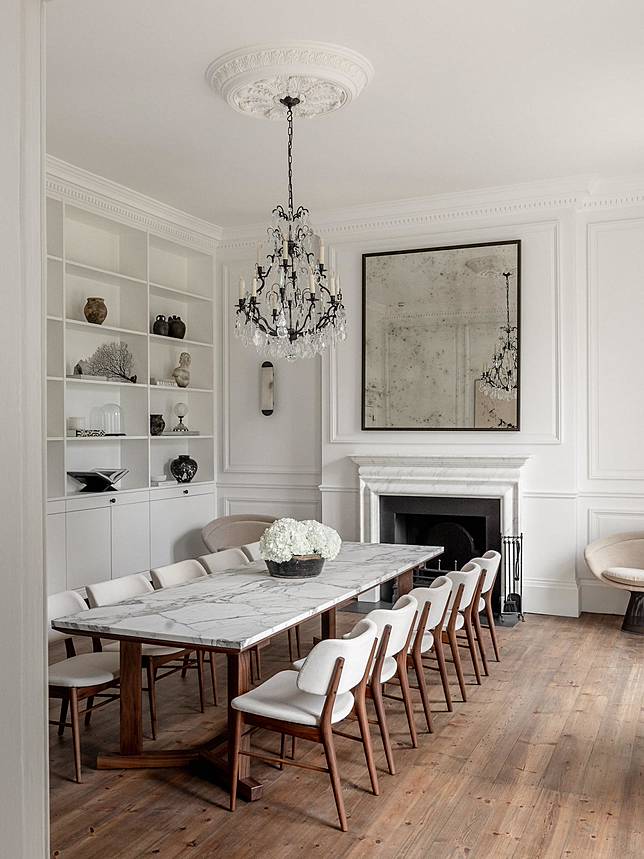 Built in 1750, this 9,000 square foot two-storey house ingeniously combines historic charm, architectural grandeur, and contemporary details, which has helped it stand the test of time.
"Both function and style were the top priority. We have carried out extensive restoration works with carefully considered modern updates to perfectly balance the past and present," says Maria Lindgren, co-founder of London-based interior design studio Covet Noir.
The homeowners are from France and Sweden and they wanted a mix of Parisian luxe with a Scandinavian design twist. "This grand Georgian house was built with a great sense of symmetry and elegance, creating the perfect canvas for our design scheme," says Adele Lonergan, the other founder of the design studio.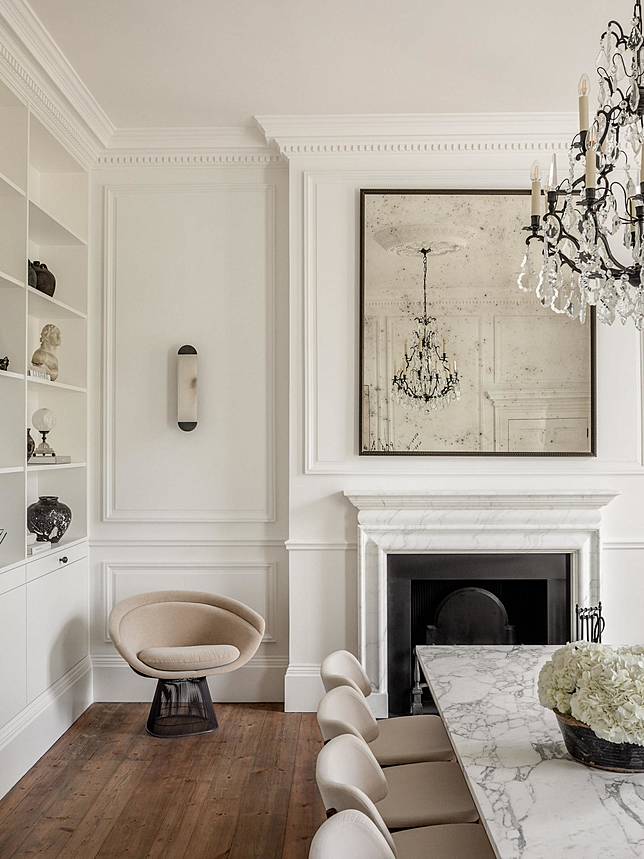 Entering from a half-glazed door, one is greeted by a tranquil entrance hall with various impressive design features, including a fireplace in honed Carrara marble and Nero Marquina marble cabochon inserts; a lense limestone cantilevered stone staircase; a French antique Guéridon table; and iron and alabaster wall lights designed by Pierre Chareau and re-edited by Galerie MCDE.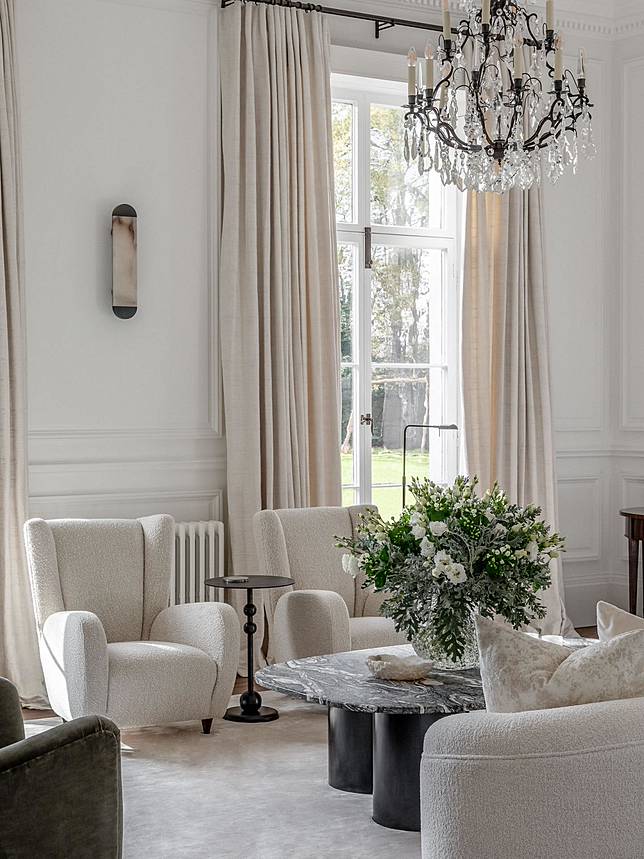 Next to the entrance hall is the cosy and naturally lit main living area. The drawing room features different seating zones and a calming neutral colour palette. Vintage Paolo Buffa armchairs are placed around a marble coffee table with a bronze cylinder base which was sourced from the Paris Antique Market. A bespoke cornice bolection mantel in Calacatta Caldia is graced by a George II-style cast iron and steel log fire grate. Decorative mouldings have been restored to bring the space back to its former glory.
In the dining room, a full-height joinery unit with open shelves and cutlery drawers provides ample space for displaying objets d'art and storing crockery. A large dentil plaster cornice hand-painted in the same finish as the walls adds splendid and harmonious details to the joinery piece. The Nissa dining chairs by Porada, designed with a solid Canaletto walnut frame and elegantly curved backrest, are set around a bespoke dining table with a Calacatta Oro Extra top and walnut base.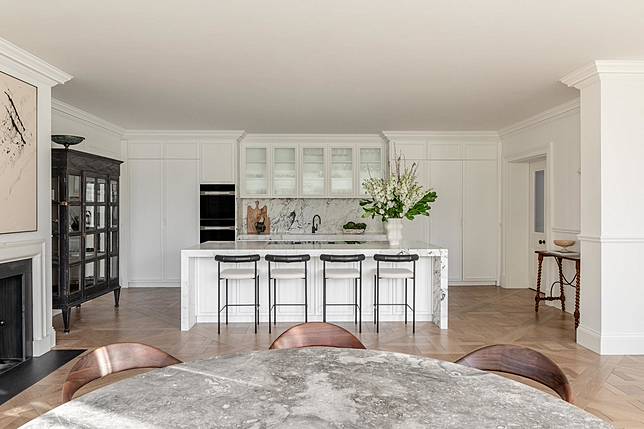 The integration of bespoke joinery and stunning marble enhances the architectural features of the property. Handmade contemporary slab-fronted cabinets with moulding details, and discreet recessed handles, infuse warmth into the kitchen and pantry, while the full-height Fantastico white marble with soft red, blue and green veins framing the glass crockery cupboards, gives the space a sense of timeless luxury.
The study is also furnished with a sophisticated joinery. Made with walnut veneer, the bookshelves flanking the windows are of the same height as the window architrave, creating symmetrical beauty. The iconic Model 36 desk from Danish designer Severin Hansen is set in front of the bookshelves, matched with a vintage Hans Wegner JH-713 armchair. Good lighting is, of course, essential in the reading domain. It is soothingly brightened up by a vintage Murano Chandelier from Studio Laurin, and a Pie de Salon G3 floor lamp.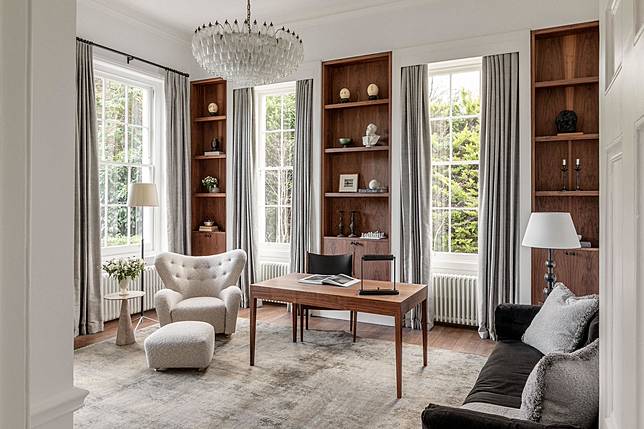 There are seven bedrooms and five bathrooms in the house occupying the upper floor. The neutral base colour scheme is retained here to provide a familiar consistency, and to reinforce the calmness and serenity.
Soaked in swathes of natural light, the generous primary bedroom, dotted with elegant black accents, is airy and peaceful. A refined combination of linen, cotton and wools is a nod to classic naturalness as well as modern luxury.
Covet Noir worked with Blou Joinery to custom-make a full-height joinery with closed storage and full overlay doors in a eucalyptus veneer. Finely detailed ceiling enrichments create a focal point in the bedroom, with each decorative leaf of the ceiling rose applied individually.
A bespoke vanity unit in a eucalyptus veneer and Calacatta Oro Extra marble by Livra is the central piece of the bathroom. The Celine White bathtub by Devon&Devon in soft form demonstrates the interplay of traditional and contemporary aesthetics.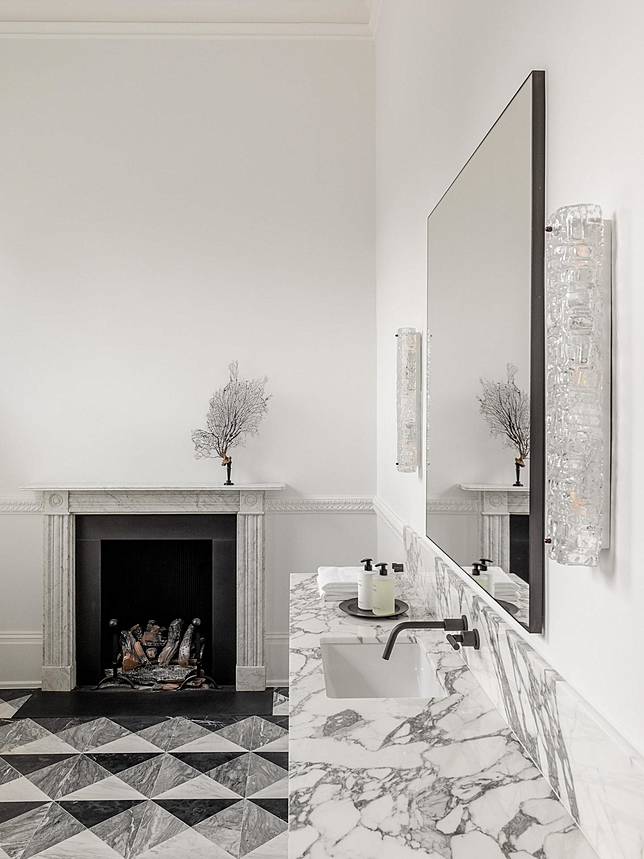 High-quality, natural materials and finishes have been used throughout the property to further uplift its historic and unique character. Oak parquet flooring, original-faced reclaimed Georgian pine floorboards, sustainable air-purifying paint Graphenstone, as well as detailed plasterwork and cornices, create an incredible array of antique and modern touches.
Covet Noir reinstated as much architectural character as possible in order to bring back the original grandeur of the house and avoid unnecessary decoration waste. The result is a thoughtful design that respects the period style while injecting modern details to create a timeless and contemporary curated look.
Photo courtesy of Taran Wilkhu