At least 10 rowdy politicians thrown out of legislature's chamber in heavily disrupted sitting
Just three lawmakers able to quiz Lam on policies announced on Wednesday, with leader repeatedly shouted down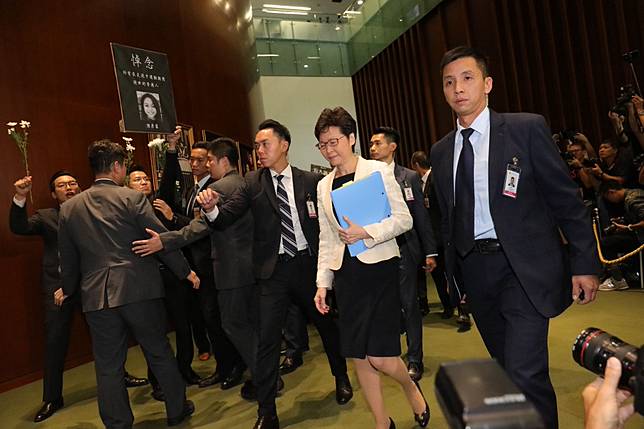 Only three lawmakers managed to question Hong Kong leader Carrie Lam Cheng Yuet-ngor on her policy address on Thursday as she faced a barrage of insults from politicians in the city's legislature for the second consecutive day.
The day after the city's chief executive was forced to abandon her policy speech in the Legislative Council, she was repeatedly cut off by pro-democracy politicians, at least 10 of whom were thrown out the chamber for disorderly behaviour.
It led to repeated delays to the sitting, with the Legco president having to pause proceedings. Just three pro-establishment lawmakers got to quiz Lam on the government's main platform for policy announcements during the 1 1/2 -hour session.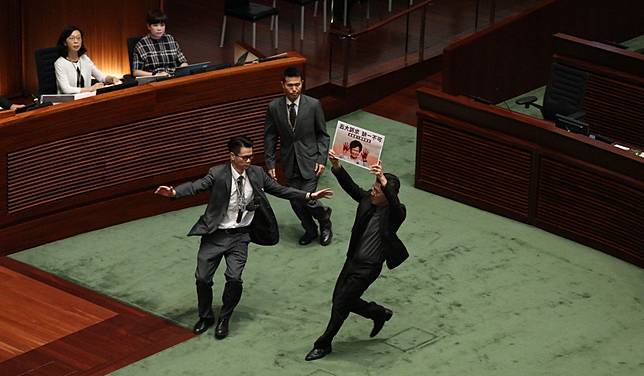 On Wednesday, Lam became the first chief executive to release her policy address by way of pre-recorded video after pan-democrats twice disrupted her presentation, leading legislature president Andrew Leung Kwan-yuen to adjourn the meeting.
The chief executive returned to Legco on Thursday morning for a question and answer session, but was barracked by her political opponents from the outset.
"Yesterday I already delivered the policy address to Legco," Lam said, before she was cut off by pan-democratic lawmakers.
Council Front lawmaker Eddie Chu Hoi-dick was the first to be ejected from the chamber for shouting.
People Power lawmaker Raymond Chan Chi-chuen was also kicked out after he chanted: "Hong Kong Hitler! No one will call you Carrie any more! Blood all over your hands!"
Hong Kong leader misses opportunity to break impasse, analysts say
Claudia Mo Man-ching, of Council Front, who called the chief executive a "habitual liar", was also ejected, alongside six other pan-democrats.
Leung paused the session at 10.50am. The session resumed at 11am and had finished by noon.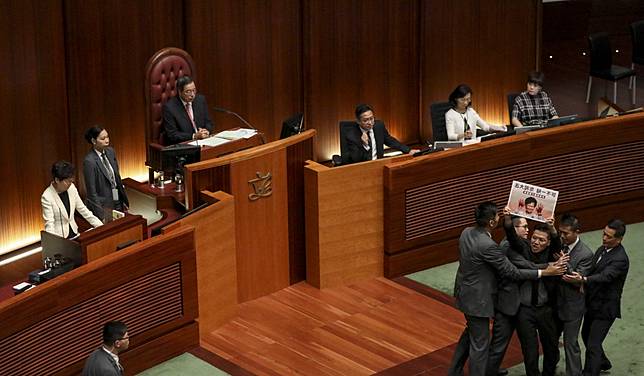 Before the session started Lam was confronted by 14 legislators from the pro-democracy camp holding white flowers in tribute to a 15-year-old girl found dead at sea last month.
Police have said her death was not suspicious and her body showed no signs of sexual assault, but some questioned if there was more to the case.
"Pursue police brutality, seek the truth," pan-democrats chanted as Lam walked into the chamber.
Protesters say Lam's policy address is a bid to silence middle class
The protest continued inside, with Democratic Party lawmaker Roy Kwong Chun-yu calling for the council to pay tribute to those who his colleagues believed had died in the ongoing protests.
"I invite you all, including government officials, to take a minute of silence for Hongkongers who lost their lives in the social movement," Kwong said.
Leung said he was saddened by the deaths but refused Kwong's request.
He said holding a minute's silence inside the chamber was an act reserved for late lawmakers and important political figures, as well as victims of major disasters.
Leung told lawmakers they could pay their respects on other occasions.
Copyright (c) 2019. South China Morning Post Publishers Ltd. All rights reserved.