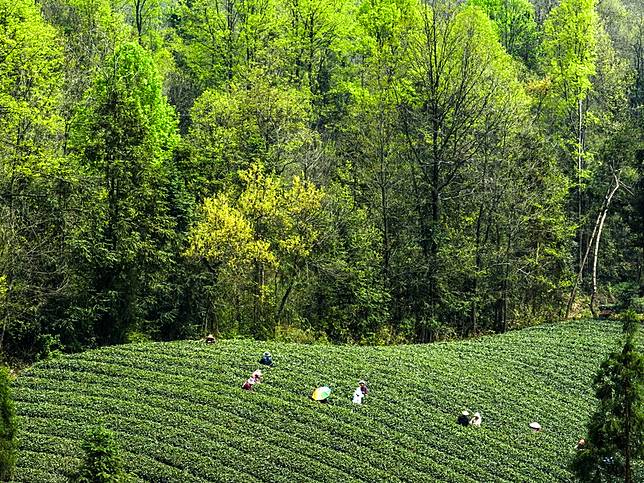 Farmers pick tea leaves at a tea plantation in Meitan County, southwest China's Guizhou Province, April 4, 2023. (Xinhua/Ou Dongqu)
GUIYANG, April 20 (Xinhua) -- As the first light of dawn broke, Wu Guangyun woke up to begin her busy day of the harvest season and headed out to pick tea leaves carrying a small basket with him.
Wu, 70, who is a member of the Miao ethnic group, comes from Wangfeng Village in Leishan County, located in southwest China's Guizhou Province. Due to the county's ecological advantages of being at a low latitude, high altitude and receiving limited sunshine, it has developed into a high-quality tea production base
In Leishan, the Miao people account for 84.2 percent of the total population. According to the elderly in Wangfeng Township which administrates Wangfeng Village, it is a well-known fact that the local people enjoy drinking tea. Furthermore, the presence of old tea trees in the area attests to the longstanding tradition of tea cultivation in the region.
Wu has cultivated nearly 10 mu (about 0.67 hectares) of tea trees, four mu of which she manages herself while the rest is rented out to others. During the tea picking season, she is able to harvest about 2.5 kg of tea leaves every day, resulting in an average daily income of approximately 160 yuan (about 23.3 U.S. dollars).
According to Li Xiaohua, the head of Wangfeng Township, the area boasts sloping fields that are conducive to tea cultivation. Since the 1990s, the local government has been distributing tea seedlings to villagers for free and actively encouraging them to plant tea trees.
At present, every resident in the township has two mu of tea trees, Li said, adding that in 2022, the per capita annual net income of the township reached 16,000 yuan, with the tea industry contributing 40 percent of the total.
As the tea output and quality continue to improve, businesspersons from both inside and outside the county are flocking to the township to purchase tea leaves.
A farmer picks tea leaves at a tea plantation in Meitan County, southwest China's Guizhou Province, April 4, 2023. (Xinhua/Ou Dongqu)
During sunset, stalls collecting tea leaves can be seen every few hundred meters along the road leading to the township, allowing tea growers to sell their leaves in the vicinity of their tea gardens.
Last year, the county invested more than 8 million yuan in the construction of a digital demonstration base, which includes software for source tracing, a big data system and a display center, offering scientific and technological support for the smart management of tea gardens.
The smart platform displays the temperature, humidity, wind direction and soil nutrition of tea gardens in real time. Lan Wenyan, the person in charge of the platform, explained that agricultural experts can know the situation of tea gardens in time through the platform and give technical guidance to tea growers.
"Digital management allows the government, experts and tea growers to have a clear mind of the overall situation of tea gardens, and provides a basis for supervision, production and consumption," said Mao Zhengxiang, deputy director of the agriculture and rural affairs bureau of Leishan.
As of 2022, the county had a total of 163,000 mu of tea gardens, and the tea industry has benefited more than 78,000 tea growers from 132 villages in the county.
Meitan County in northern Guizhou, located at 27 degrees north latitude, is one of the world's three major tea production areas along with Wuyi Mountain in China's Fujian Province and Darjeeling in India.
Meitan, with a tea plantation area of 600,000 mu, has focused on developing the tea industry to improve the lives of its people.
According to statistics from the local tea industry department, more than 3,200 tonnes of tea leaves were exported to countries and regions including Russia, Malaysia, Pakistan and Morocco in 2022.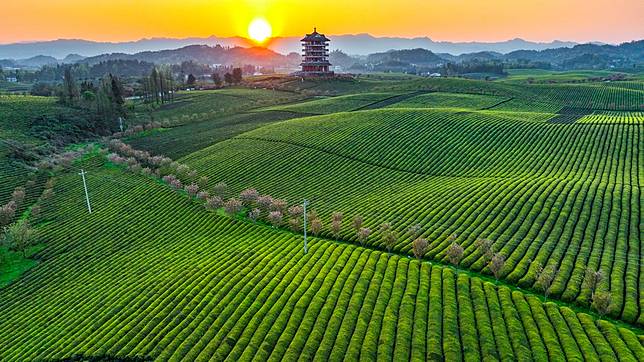 This aerial photo shows tea plantations in Yongxing Town, Meitan County, southwest China's Guizhou Province, April 4, 2023. (Xinhua/Ou Dongqu)
Xiong Shihua, a 57-year-old resident of Tiancheng Town in Meitan, owns seven mu of tea trees that yield 3 to 3.5 kg of leaves per day during the Qingming Festival, the optimal time for harvesting fresh tea leaves. This results in a total income of nearly 40,000 yuan during the harvest season.
Jiangkou County, home to the natural heritage site Mount Fanjingshan, is regarded as the "capital of matcha in China." In 2018, Guitea Group, the leading tea production enterprise in Guizhou Province, set up a matcha production workshop in Jiangkou, with its annual output amounting to 4,000 tonnes.
As one of the largest workshops for refined matcha manufacturing in the world, the company has exported its products to 34 countries and regions including Germany, the United States and Canada.
So far, the county has built four matcha production lines, providing job opportunities to nearly 100,000 people.
By 2022, the tea plantation area in Guizhou Province had expanded to 7 million mu, yielding an annual output of 454,000 tonnes of tea leaves with a value of 60.62 billion yuan. The province's tea industry also generated an annual export value of 520 million yuan. ■