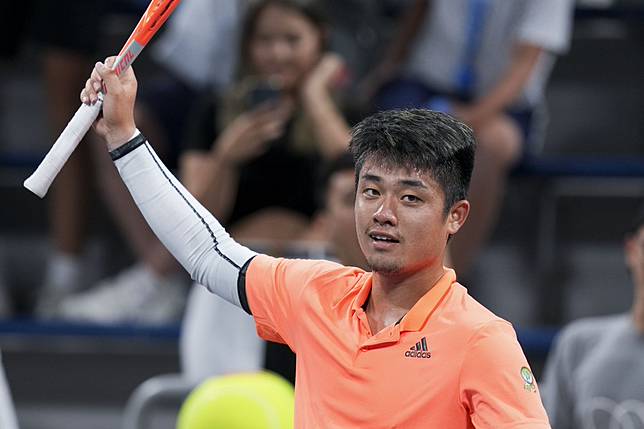 Wu Yibing of China celebrates after the men's singles second round match against Nuno Borges of Portugal at the 2022 US Open tennis championships in New York, Aug. 31, 2022. (Xinhua/Liu Jie)
After a remarkable US Open third round appearance, China's rising star Wu Yibing surely feels upbeat about his future.
BEIJING, Sept. 13 (Xinhua) -- Being the first Chinese player to reach the men's singles last 32 at the US Open, Wu Yibing not only started a new chapter in Chinese tennis history, but also entered a new stage of his life.
Storming back to the international arena after over two years due to injuries and the pandemic, the 22-year-old picked himself up in New York and had an open horizon in his eyes for the future.
BREAKTHROUGH
"For my performance in the US Open, I'd give myself an eight out of ten," said Wu with a confident smile in an interview with Xinhua. "One point was deducted for my physical condition, and the other was for my upper limit."
As the first male player from mainland China to win a Grand Slam singles match in the opening round in 63 years, Wu's every victory marks a milestone.
"Every game I played in New York was unforgettable. I cannot say that I remember every point in the matches, but I believe some of the important scenes will play a positive role in my life," said the youngster.
In his second qualifier against Italy's Stefano Travaglia, Wu lost the first set 6-7(4) and continued a 1-4 slump in the second set. "During the medical timeout, I tried everything to make myself feel better, hoping to keep playing. And finally, I gritted my teeth to fight through that set," recalled Wu, who then retrieved the situation 7-6(4), 6-3 in the last two sets.
"That match inspired me for the coming week because it proved that I can win even with injuries. It was a great confidence booster," Wu added.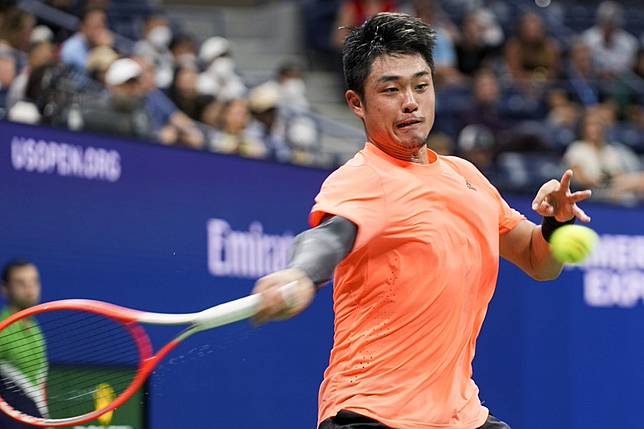 Wu Yibing hits a return during the men's singles third round match against Daniil Medvedev of Russia on Sept. 3, 2022. (Xinhua/Liu Jie)
Although stopped by world No. 4 Daniil Medvedev in the third round, Wu quietly derived confidence and lessons from his maiden Grand Slam journey as an adult player.
His performance impressed Medvedev, who commented, "He was playing good. Returns were unbelievable. I feel the (game) level was really high."
"I can see my competitiveness in the return of service and baseline play. But compared with the world-class players, I still need to grind my techniques in service, slice, volley and to improve my ability to grasp opportunities," Wu said.
GROWTH
To Wu, the US Open seems to be the Promised Land. Five years ago, he became the world No.1 in the ITF juniors rankings after winning the boys' singles title at the US Open.
"I can feel an upsurge of emotion here. It's the place where witnessed my best period of youth, and where I started my new career as an adult," Wu noted.
As a junior champion, there were high hopes for Wu, but the past five years have been a bumpy ride for him. Affected by injuries and the pandemic, Wu hardly played any international matches across a two-year span. He also had elbow surgery and still cannot straighten his right arm completely.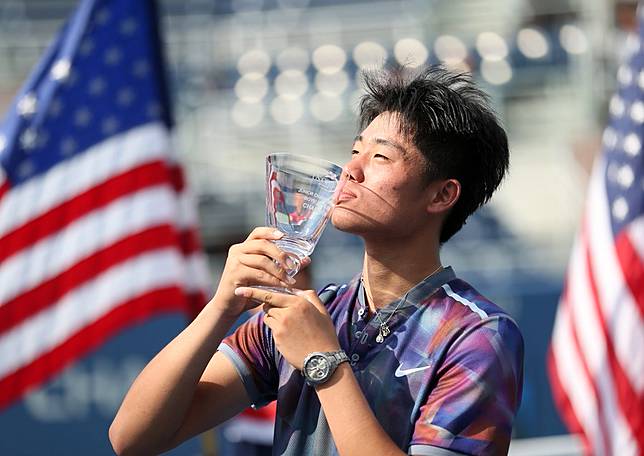 Wu Yibing kisses the trophy during the awarding ceremony after defeating Axel Geller of Argentina at the junior boys' singles final match of the 2017 US Open in New York, Sept. 10, 2017. (Xinhua/Qin Lang)
Despite this, when recalling the past years, Wu said, "I don't think any period of time was really hard for me. I enjoy them all, because I love the sport."
"We all have to go through setbacks before we grow up. The injuries and miseries of my life help adjust my perspectives to my career as well as my life," he added.
When Wu went abroad to compete at the beginning of the current season, his world ranking stood below 1740th, and now he has ascended to 131st.
"Two years is a long time for a pro player to be away from international matches," said Wu, adding that his original goal for the season was to see what his level was, and gauge whether he could finish the season completely and healthily. "So the ranking is actually going up faster than I expected."
This love for tennis leads Wu to where he is today. "I'm always willing to read articles about tennis and watch videos of other players as well as mine, especially the ones that I lost, which can inspire me a lot," he noted.
Wu also contributed his growth to his Argentinian coach Gerardo Azcurra in the interview. "We are quite compatible in tennis concepts. We would come up with the same training plans without previous discussions. For example, recently, we both happened to think of strengthening my forehand cross-court shots at the same time."
INSPIRATION
In addition to Wu, other Chinese players also achieved milestones in US Open.
For the first time, four Chinese players entered the women's singles third round at a Grand Slam tournament. Two male players also made breakthroughs by reaching US Open main draw, with Wu taking a historic win to reach the last 32.
For Wu, his achievement in New York is also a result of the joint effort of all Chinese tennis players. "This week, I entered the main draw with Zhang Zhizhen from the qualifiers. I think it's more or less because of our sense of competition with each other, and I really enjoy it," said the youngster.
"I hope that Zhang and I, as the highest ranked Chinese male players, can continue to advance higher in the world standings, so as to inspire younger generations," he noted, adding that he hopes more Chinese players can compete in Grand Slam tournaments in the future.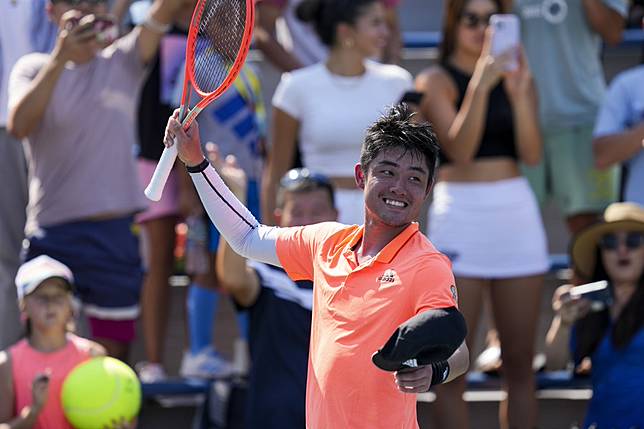 Wu Yibing celebrates after the men's singles first round match against Nikoloz Basilashvili of Georgia on Aug. 29, 2022. (Xinhua/Liu Jie)
Wu, who started playing tennis at the age of four, was the object of much attention on Weibo, China's microblogging service, with related topics generating nearly 900 million views. Among these, many expressed how excited and motivated they were by Wu's performance at the US Open.
"I feel it's my responsibility to promote the sport to more people. And I hope more kids fall in love with tennis because of me, and maybe some would set goals to surpass us," he said.
The last character of Wu's given name, bing, means light in Chinese. Now, the 22-year-old, just like a beam of light, flashes into Chinese tennis.
"Hopefully, next year I can enter the main draw of the Australian Open with my world ranking. And my next goal is to be one of the top 100 players in the world," Wu said. ■