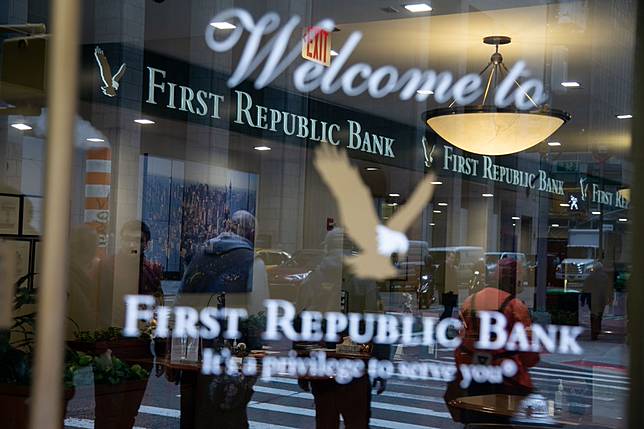 Photo taken on May 1, 2023, shows a branch of First Republic Bank in New York, the United States. (Photo by Michael Nagle/Xinhua)
The findings are similar to those in 2008 during the global financial crisis.
LOS ANGELES, May 4 (Xinhua) -- Nearly half of Americans are anxious about the safety of the money they have in accounts at banks or other financial institutions amid turbulence in the U.S. banking system, according to a new poll released on Thursday.
The poll, by research firm Gallup, revealed that 48 percent of U.S. adults say they are concerned about their money, including 19 percent who are "very" and 29 percent who are "moderately" worried. Only 30 percent are "not too worried" and 20 percent are "not worried at all."
The poll was conducted between April 3 and April 25 following the collapse of Silicon Valley Bank on March 10 and Signature Bank on March 12.
The findings are similar to those in 2008 during the global financial crisis. In September of that year, shortly after the collapse of Lehman Brothers, which remains the largest bankruptcy filing in U.S. history, 45 percent of U.S. adults said they were very or moderately worried about the safety of their money, according to Gallup. ■