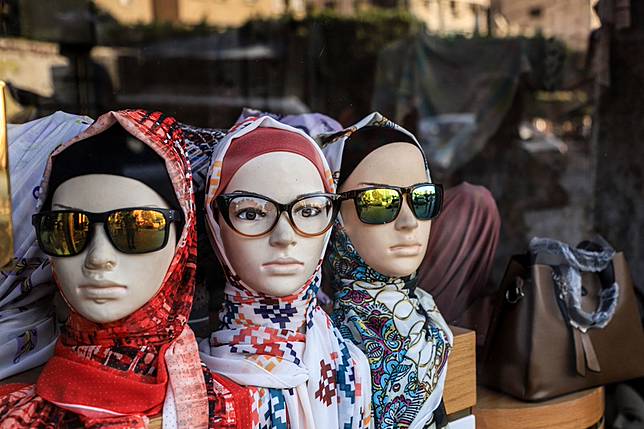 Photo shows mannequins wearing colorful Hijab in Gaza city on the first day after the end of the Gaza-Israel conflict, Aug. 8, 2022. (Photo by Rizek Abdeljawad/Xinhua)
by Sanaa Kamal
GAZA, Aug. 8 (Xinhua) -- Life in the Gaza Strip has gradually returned to normal after a three-day conflict between the Palestinian Islamic Jihad (PIJ) and the Israeli army.
On Sunday evening, the PIJ announced it had reached an Egyptian-brokered ceasefire agreement with Israel to end the conflict that killed 45 Palestinians and wounded 260 others.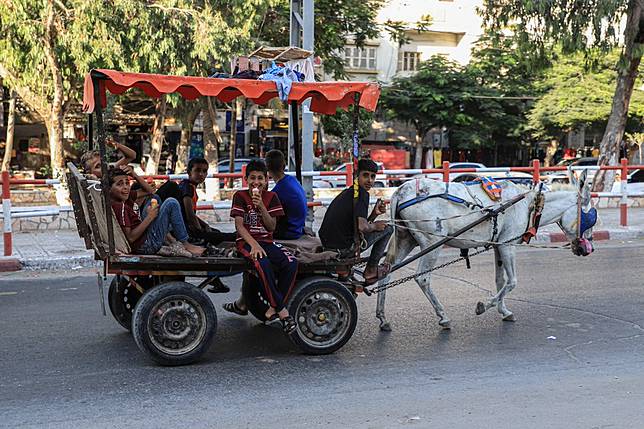 Gazan boys sit on a cart driven by a donkey walking in a public street in Gaza on the first day after the end of the Gaza-Israel conflict, Aug. 8, 2022. (Photo by Rizek Abdeljawad/Xinhua)
Since the early hours of Monday morning, stores in the Gaza Strip opened to customers and public transportation resumed service.
"We do not like to involve in military tensions with the Israelis unless we can gain political, economic or social benefits. It is better to negotiate and reach a ceasefire agreement that would allow us to rebuild our land," Iyad Abu Kwaik, a Gaza-based clothes shop owner, told Xinhua.
Conflicts kill civilians, destroy buildings, and put people in a circle of endless suffering, said the 33-year-old man, who called on the Palestinian factions to coordinate their efforts in order to address the complicated crisis in the coastal enclave rather than engage in new rounds of hostilities with Israel.
The Gazans need to carry on with their daily lives despite the hostilities, said Gaza-based lawyer Tawfiq Abu Ghalwa.
"We need to pass all our sadness and start once again to create our own life on our land," he said.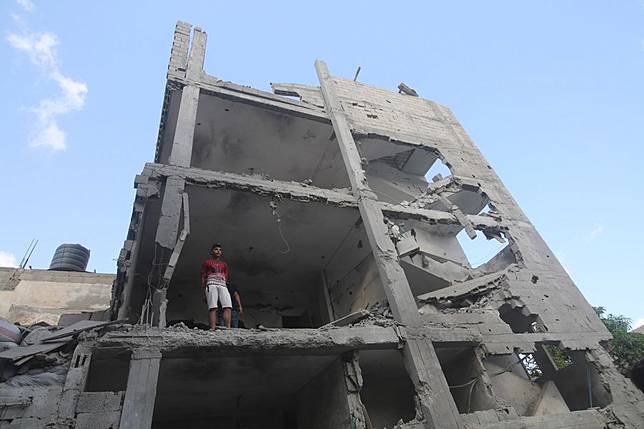 A Palestinian inspects the rubbles of a residential building damaged by Israeli airstrike in the southern Gaza Strip city of Rafah, Aug. 7, 2022. (Photo by Khaled Omar/Xinhua)
However, life was no longer the same for Qusai Shamalakh, who lost his four-story building during the conflict.
He has spent hours to inspect his properties, remove the debris, and search for belongings that might have survived the Israeli raids.
"My life has come to an end as everything in my house was destroyed. My family and I became homeless, and there's not a glimmer of hope," the 45-year-old father of four told Xinhua.
The latest conflict left about 18 houses completely destroyed, 71 partially ruined, and 1,675 uninhabitable, according to the Hamas-run Ministry of Public Works and Housing.
Fuel trucks arrive at the Kerem Shalom commercial crossing in the south Gaza Strip city of Rafah, on Aug. 8, 2022. (Photo by Khaled Omar/Xinhua)
Earlier in the day, the Israeli authorities reopened the commercial crossing of Kerem Shalom and the Erez crossing after six-day closure.
"About 30 fuel trucks entered Gaza for the power plant, and these trucks were loaded with food, grain, and humanitarian aid," said Bassam Ghaben, director of Kerem Shalom crossing. ■