By reviving the clothes of their ancestors, Hanfu lovers say they are showing pride in Chinese culture and recreating a world of respect and nobility
A niche interest has steadily grown to include at least 2 million enthusiasts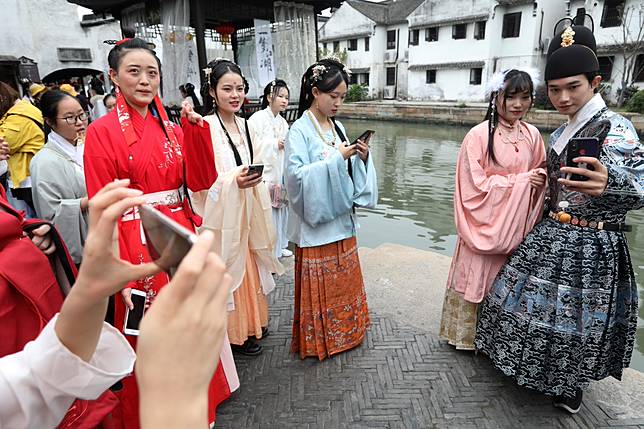 On weekdays Hu Xin, 21, wears a dark blue suit with a red tie and a court pin on her collar for her job as a civil court clerk in southwest China's Sichuan province.
Only on weekends can she find peace in the circle of friends she is most comfortable with, dressed in Hanfu, the ancient attire of China's Han people, which dates back 4,000 years and was outlawed by the Manchu who ruled the country from 1636.
The garments are characterised by the cross collar, right lapel, wide sleeves and a sash that ties everything together in place of buttons.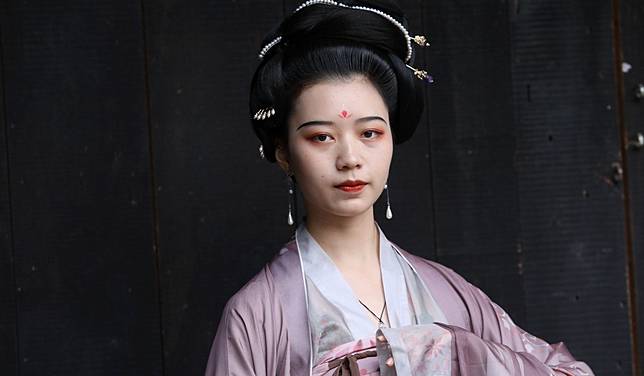 Hu and her friends play the Chinese zither, drink tea, make traditional embroidery or recite poetry together. Everyone is polite, refined and shares the same interests.
She styles her hair like a conch, in the Tang dynasty (618-907) way, and paints a red pattern, known as a flower ornament, between her eyebrows. She walks with a solemn look and holds her arms below her chest.
"I have been interested in Hanfu since the eighth grade. It creates that artistic fantasy world that only the ancient poems can offer," Hu said.
Is ancient Chinese clothing fad more cosplay than cultural heritage?
Last month, Hu asked for leave from her job, took two trains and flew for three hours so that she could join tens of thousands of her fellow enthusiasts " all dressed in the ancient style " for their annual gathering to promote Hanfu culture in the water town of Xitang, in the eastern province of Zhejiang.
The trend began in 2003 when a 34-year-old power grid worker wore his self-made Hanfu in Zhengzhou, in the central province of Henan. Since then, Hanfu has been a growing and more visible presence in the daily life of mainland China.
Addressing each other as tong pao " a term which means "people sharing the same robe" and is used in traditional poetry to refer to friends " Hanfu enthusiasts form clubs online and in schools. They brave stares and sometimes talk of "strange clothes" while on group outings or engaging in traditional cultural activities, such as calligraphy, playing ancient musical instruments or matching couplets.
By reviving the clothes of their ancestors, Hanfu lovers like Hu are trying to show their pride in Chinese culture and recreate an idyllic world, not only of magnificent clothes, but also a state of nobility.
"Hanfu is the perfect bridge for young people to connect with Chinese culture and identity," said Fang Wenshan, a Taiwanese lyricist who started the Hanfu Culture Week in Xitang seven years ago.
"The threshold is low enough for everyone to get involved " they don't need to be academic and by dressing in Hanfu they are showing their feelings."
"When you see so many magnificent clothes in the past you will want to learn more about the history and culture of the country where you grow up," said An Congying, a programmer at a bank in Shanghai, who was lured into the Hanfu world because of her interest in ancient Chinese literature.
She wears Hanfu almost every day " sometimes just one part of her clothing to "lay low" at work " because "Hanfu brings out the best of a person".
"I feel a different person when I am wearing Hanfu," An said. "I unconsciously stand very straight with good manners. I need to behave well enough for the outfit."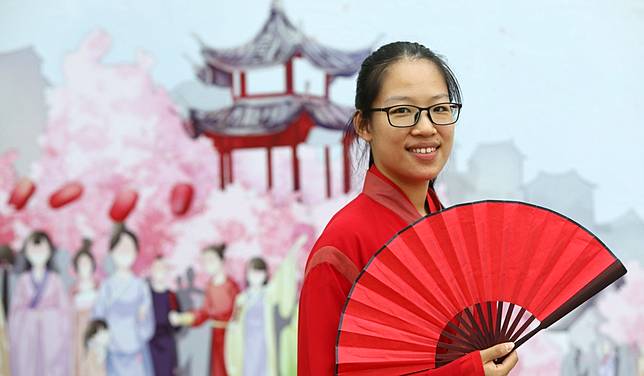 For Zhu Ao, 20, a third-year student at the Hunan Technical College of Railway High-Speed, Hanfu represents the traits of a decent person.
"The open robe with cross-collars signifies being open-minded and accepting of others. The edge of the robe is level, meaning we must be very just and fair. The line at the back of the robe is always vertical to the ground, signifying we must have integrity.
"It's so much more than just clothes. We say you need a good body to pull off Western-style clothes, but good virtue to wear Hanfu," said Zhu, who wears the styles every day " choosing thinner sleeves for convenience, or the wider sleeves in which he can carry his wallet and mobile phone.
By last year, the Hanfu enthusiast group had grown to 2 million members, a 73 per cent increase on the previous year. Most are women, with an average age of 21, according to WeChat group Hanfu Information.
Sales of Hanfu jumped 92 per cent last year on the Taobao online shopping site, with a total market value of more than 1 billion yuan (US$143 million).
Some people are attracted by the splendour of the custom-made dresses and robes " which can take up to a year to be delivered " and build up collections of luxury garments which can cost up to 10,000 yuan or more.
Others are diving deeper, learning the six arts prescribed by Confucius as the requirements for becoming ajunzi, or noble and perfect man. These skills " rites, music, archery, chariot racing, calligraphy and mathematics " became popular in the Zhou dynasty as signifiers of a state of perfection.
"Hanfu is the symbol of authentic Chinese culture. We wear Hanfu to promote the Chinese way of life just as Confucian scholars aspired to, mastering arts such as rites and music and achieving a high moral standard," said Huang Zaiyu, 28, a musician from Hengyang, Hunan province.
A professional Chinese zither player, Huang uses his expertise to translate ancient music scores and joins fellow tong pao to perform at ritual ceremonies, such as marking the beginning of school by worshipping Confucius.
"In ancient times scholars learned rites to refine one's mind. In modern times we still practise these ceremonies to learn the Confucius philosophy and guide our lives," he said.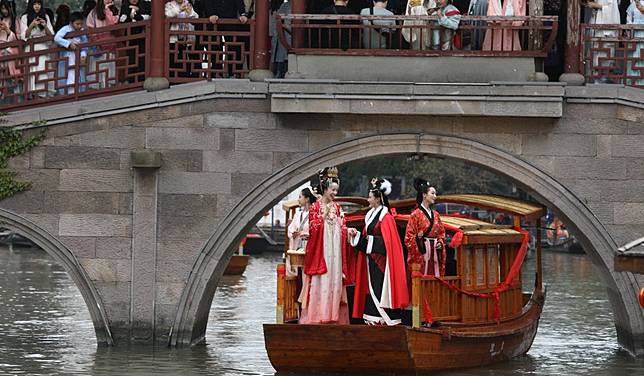 An and her friends also follow ancient rituals, performing a traditional coming-of-age ceremony when a girl turns 15 which includes coiling her hair with a clasp. And when a Hanfu enthusiast marries, they attend in ceremonial gowns to keep the traditional style of wedding alive.
In Beijing, Chen Xuefei, a former art director at a video game company who now specialises in producing Hanfu clothing and accessories, has spent years perfecting the Han archery rite.
"Modern archery is competition. I think it's our obligation to revive the traditional rite," said Chen, who visited museums and studied ancient books to recreate the original ceremony.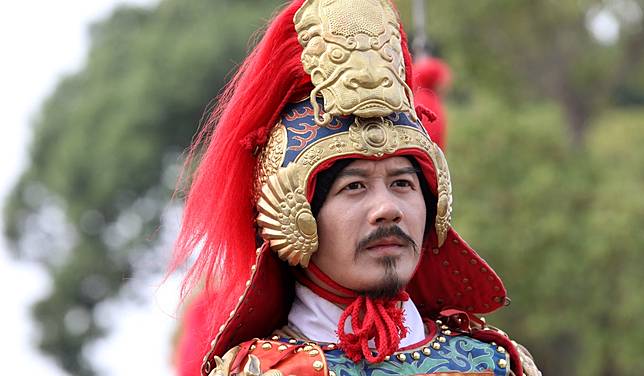 Winning is less important than sticking to the rules and showing respect, and so there is much bowing " to show respect for the host, guests and fellow shooters " as well as shooting to the rhythm of music and drinking wine.
"We live in a time of material abundance and have spiritual pursuits," Chen said, explaining Hanfu's importance to him and other young people. "Dressing in these clothes and performing such rites bring us closer to our ancestors.
"We are not old-fashioned people trying to go back to the past. We are not strange people. We live in modern times and we go to work like others," he said.
Why the Communist Party supports a revival in traditional Chinese clothing
The Hanfu revival has not been free of controversy. Among other criticisms, it has supposedly promoted Han dominance in a country with dozens of ethnic minorities. But Hanfu fans distance themselves from that stereotype.
"At the early stage there were some radicals," Chen said, "but not any more. People are just proud of the culture Han, as one of the ethnic groups in China, has passed on over the years."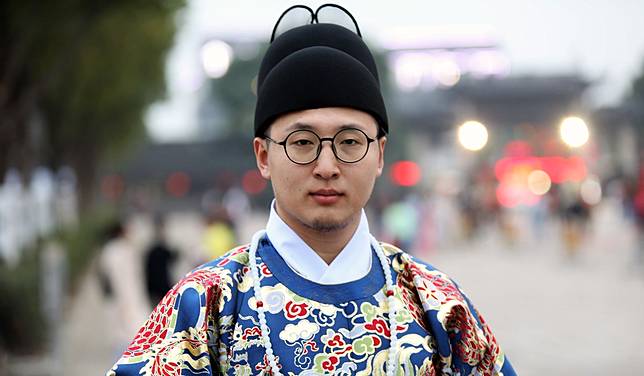 San Bai, 24, a data analyst with a property developing company in Suzhou, in the eastern province of Jiangsu, rejects the criticism entirely.
"I don't know anyone in my circle who believes Han is superior to other ethnicities," he said.
"It's the 21st century and nobody believes that … I have friends of Yi ethnicity who will dress in Hanfu occasionally and I dressed in Miao ethnicity clothes when I was travelling because they were attractive.
"Why can't I as a Han dress in Han clothes to celebrate my holidays without being judged?"
Copyright (c) 2019. South China Morning Post Publishers Ltd. All rights reserved.