Many of the police tactics have been inadvisable but officers are still Hongkongers who want to do what is right for their city. The police had a difficult relationship with the public even before the protests and an overhaul of community relations is needed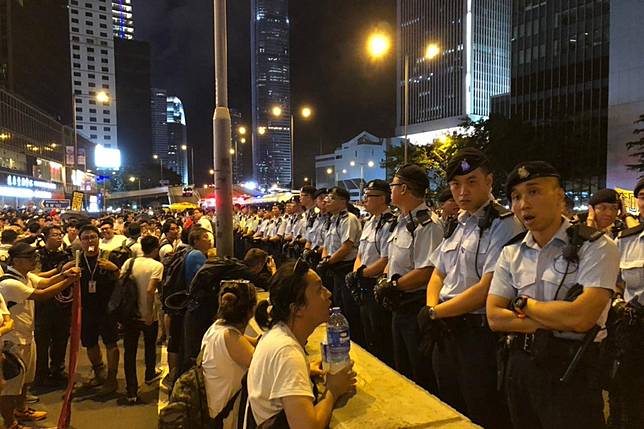 It is just over 50 years since Woodstock. The guys who organised it admitted they didn't know what they were doing when they asked a hippie commune, Hog Farm, led by a man named Wavy Gravy (true) to provide security for half a million drug-, booze-, sex-, and rock-and-roll-filled concertgoers. Security went without a hitch " they called themselves the "Please Force".
While not suggesting that the Hong Kong Police Force should employ the same methods, they have not said "please" enough. The general public views the police with suspicion and wariness. For too long, they have been bossy and rude, referring to citizens as "cockroaches". Members of the public are stopped and searched, often between the unticketed cars of the fat cats illegally parked in Central. One rule for them; another for us.
The lack of community liaison is due to years of negligence by the police leadership, who have placed no priority on developing relationships with the public. Some weeks ago, at London's crowded Notting Hill Carnival, the Metropolitan Police were handing out (reusable) water bottles with "Metfriendly" on them. When the 2019 Water Revolution calms down, our next police commissioner has a lot of bottles to distribute.
I am a supporter of the Hong Kong police. Asia's finest have shown great restraint and discretion in allowing the vandalising rioters to escalate things. Our police have got it right in a very important way. They have the lethal weapons to take a much harder line, but using them would cause unlimited damage to the Hong Kong economy and permanently split society. This restraint should be recognised and applauded.
The early police tactics were misconceived and served only to give succour to the current spate of vandal-filled riots. Allowing rioters the freedom to trash the Legislative Council, vandalise the national emblem outside Beijing's liaison office, and target the airport was ill-judged and made the police look incompetent, asleep or, worse, politically correct.
Baton charges and close-range pepper attacks on defenceless civilians is summary justice. Punishment is for the courts, not the police. Police violence is justified to control rampaging rioters or for arrest. Otherwise, it makes them look like bullies and intensifies anti-police feeling among hospital workers and the public.
Some of the early police operations looked like a high-speed rerun of the Keystone Cops with a touch of Dirty Harry, looking tactically inept. The police should have affairs sufficiently under control not to fire warning shots, use unnumbered officers dressed as protesters, borrow mainland spies or bundle Joshua Wong Chi-fung into an unmarked car. There has been some very muddled thinking.
Protesters see the police as an occupation force
The Hong Kong government has left the thin blue line undeservedly exposed to the people's anger. It has fiddled while Hong Kong has burned, unable to negotiate with Occupy or the Water Revolution, let alone put right 22 years of selfish, glued up, bureaucratic misgovernance that has set the city alight.
The speech by Chief Executive Carrie Lam Cheng Yuet-ngor backtracking on the extradition bill and establishing an inquiry into the disturbances was a step in the right direction and should have had a calming effect. Alas, it was too little, too late for a small minority of rioters who see it as a bit of a game to smash up MTR stations just because they can. The long arm of the law will reach them.
'How to kill Hong Kong police' and what comes next
Truth is the first casualty in the fog of conflict. The police have been accused of sex attacks, cover ups, even murder. These are cheap shots; unproven but effective, and used as excuses for the next conflict. Police families have been threatened, and their children abused. For 100 days now, officers have been attacked with spears and petrol bombs, working long hours without proper rest.
I am proud of the real Hong Kong when you can pass the scene of a riot hours later and see little evidence of mayhem. Indeed, the absence of pedestrian railings helpfully assists jaywalking. Serious damage is wrought alongside the most expensive watch and jewellery shops in the world " which remain untouched. In London and Paris, rioters walk off with televisions. We are still in the rioter's Little League.
I support the Hong Kong police because the ordinary officer wants to do the best for the city. They want to be solving crime and keep the economy moving " not fighting vandals. In the past few weeks, I have seen police dealing with a midnight landslide in Pok Fu Lam and directing traffic past a fallen tree in Stubbs Road. I was treated with immense courtesy in Happy Valley when I made an insurance declaration.
I left a calm (legal) gathering and was rewarded with a big smile after giving a watching officer a "thumbs-up". My grandson and I walked past a tooled-up police van " they had time to give him a grin and a wave. The police are Hong Kong people too.
Their position reminds me of Kipling's poem about the common soldier, "While it's Tommy this, an' Tommy that, an' "Tommy, fall be'ind/But it's "Please to walk in front, sir" when there's trouble in the wind…"
Richard Harris is chief executive of Port Shelter Investment and is a veteran investment manager, banker, writer and broadcaster, and financial expert witness
Copyright (c) 2019. South China Morning Post Publishers Ltd. All rights reserved.