Perched on the hills of Sha Tin, this 2,293 square foot residence overlooks panoramic city views from downtown to the mountains.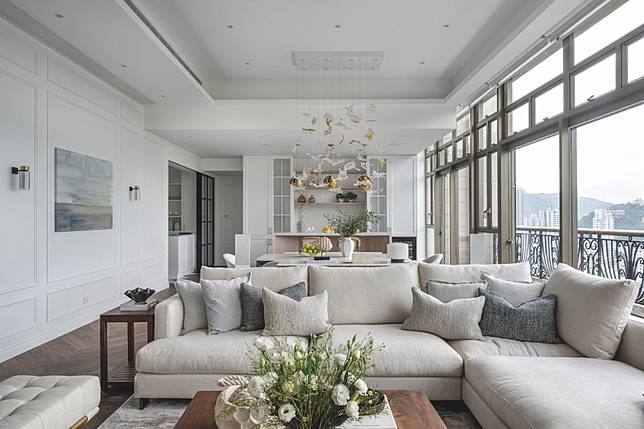 The home's designer Grande Interior's Maggy Cheung opted for a vintage European aesthetic, reminiscent of grand medieval castles infused with a modern-day sensibility. A neutral colour scheme of white, beige, and wood reigns throughout the home, with some navy accents on the entrance door, bathroom and study room.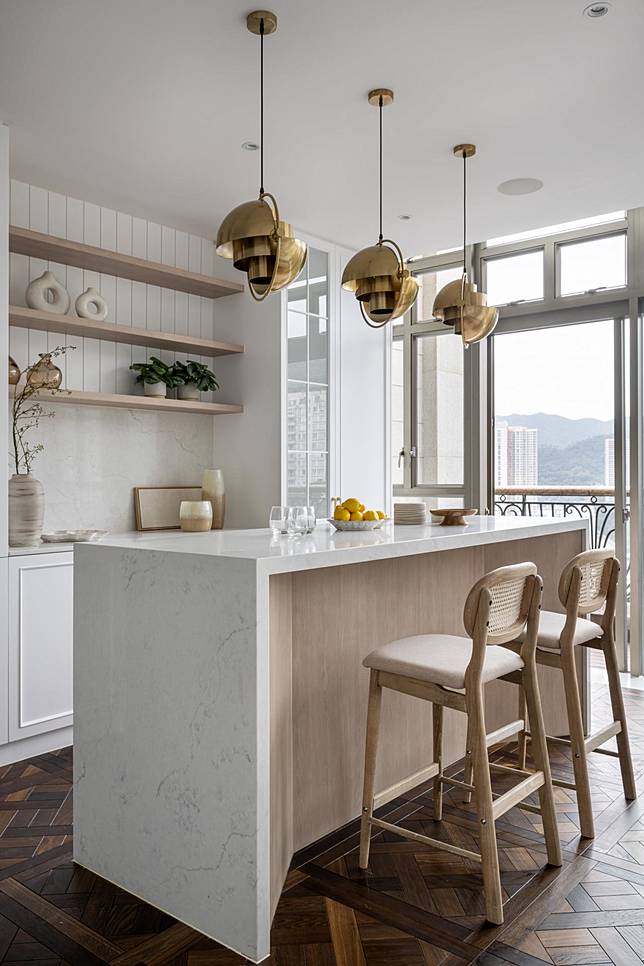 Taking advantage of the high ceilings in the original structure, the designer positioned a row of full-height glass doors in the living room to frame panoramic views of concrete buildings scattered among lush hills.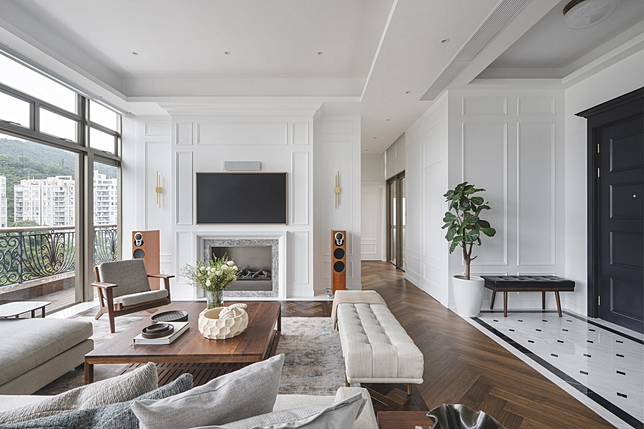 Cheung used various flooring materials to create a sense of separation and transition in an open floor plan. Unique tiles, and marble, form patterns on the dining room floor, while wooden floors by Joyful Sky make up the living room for a more inviting atmosphere. Through its design, the flooring and intricate wall moulding help suggest a medieval heritage.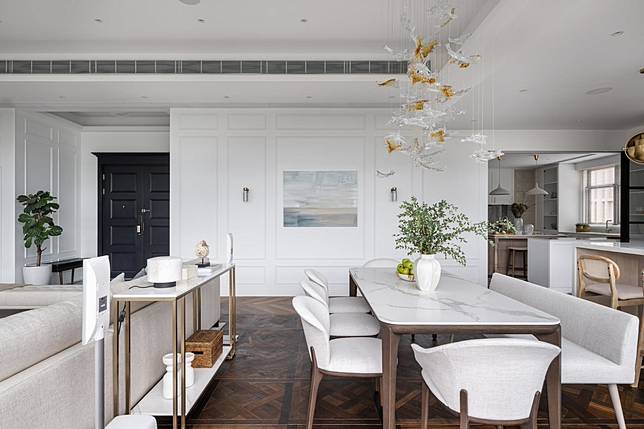 When the homeowners, a Canadian and Hongkonger couple, sought the help of Grande Interior, their main objective was to blend their lifestyle and cultures into their home.
"The male homeowner wanted to incorporate more Canadian elements into this home," the design team tells us. "To reflect this, we placed a handmade maple leaf pendant imported from the United States in the living room, along with an artificial fireplace reminiscent of a Canadian house in the living room.
"There's a lot of love for both Chinese and Western cooking in this family. Therefore, they requested an open bar and a large open kitchen with an island that could serve as a breakfast area as well.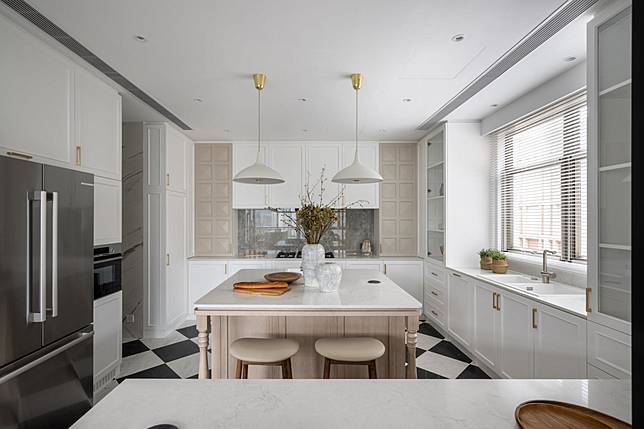 It is easy to imagine the couple sipping cocktails, having breakfast at the dining table by HC28, or cosying up in front of the fireplace on the beige L-shaped sofa by TREE.
Cheung altered the original layout of the flat in several ways. She rearranged the place to include an extra bedroom for the baby, and placed a powder room and bathroom on the left side of the living room. The powder room and study room share the same navy blue colour scheme, with tiled pattern flooring in the powder room.
The guest bedroom suite, consisting of an independent study desk and cabinets, comes in soft beige and wood tones. The adjoining bathroom uses sea-coloured tiles to create a soothing atmosphere.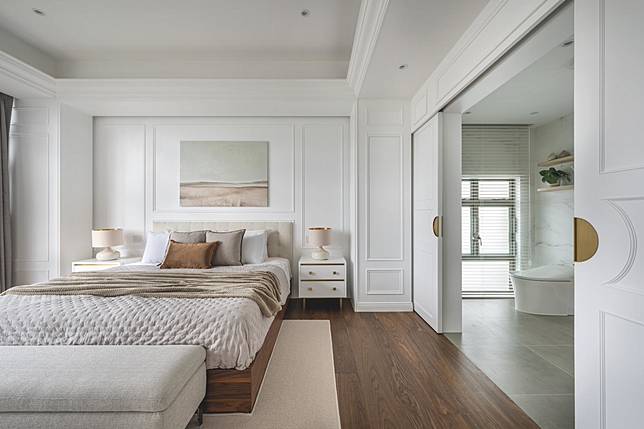 In the master bedroom, Cheung has modified the bedroom proportion by installing wooden laminated stairs as an opening. The bedroom suite includes an en suite bathroom and an elegant closet that feels more like a clothing boutique.
Intricate details such as mouldings and bronze lend character and help create a refined, luxurious space in the house.