China's president says Beijing will seek to boost economic cooperation and look into the construction of a cross-border rail link
Nepal has traditionally been closely aligned with India but visit comes as China seeks to expand its influence in South Asia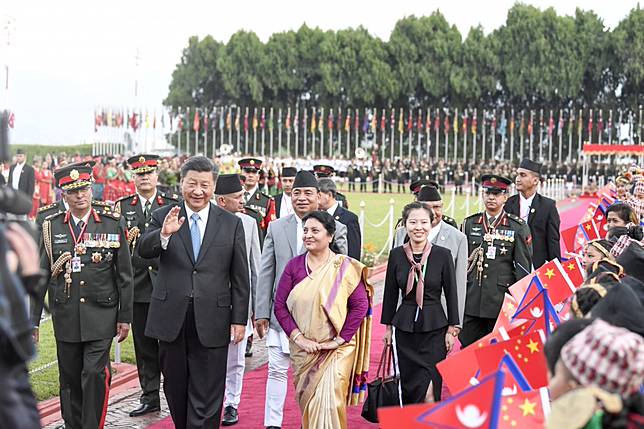 Chinese President Xi Jinping has pledged to boost economic cooperation with Nepal and continue to support the country during his visit to Kathmandu over the weekend.
The two countries signed 20 agreements on Sunday to wrap up Xi's two-day visit, which marked the first visit by a Chinese state leader to the Himalayan state in more than two decades as Beijing seeks to bolster its influence in South Asia.
The pacts included connectivity, border management and trade and investment, the official news agency Xinhua said.
Xi said on Sunday that China was willing to step up policy communications with Nepal, launch a feasibility study into a cross-border railway project, increase telecoms cooperation and explore hydropower "in a reasonable manner" .
Xi also said both countries should step up joint efforts to crack down on terrorism and cross-border criminals and intensify protection of Mount Everest, which lies on the border between the two countries.
He also promised that Beijing would also continue to help the country's reconstruction after a devastating earthquake in 2015.
On Saturday, Xi and his Nepali counterpart Bidya Devi Bhandari announced that they would upgrade China-Nepal relations to "a strategic partnership of cooperation featuring ever-lasting friendship for development and prosperity".
Bhandari and Prime Minister KP Sharma Oli also stressed that Nepal respected China's territorial integrity and would never allow any anti-Chinese forces to operate in Nepal.
Xi also praised Nepal's firm support for China in defending its core interests and warned against any form of separatism.
President Xi Jinping looks to 'upgrade China-Nepal relations' during two-day visit
On Saturday, Xi said the two countries should start work on a trans-Himalayan connectivity network.
China and Nepal are boosting cooperation on infrastructure such as roads, ports, airports and power stations, according to Xinhua's report.
Xi also said that China would conduct a detailed project report for a 72km trans-Himalayan railway that will connect Kathmandu and Kerung in Tibet, The Kathmandu Post reported.
It also cited a Nepali official who was present at the meeting on Saturday and said that Xi had promised US$480 million in economic assistance over the next two years.
China has in recent years increased its presence in the Himalayan country, which borders China's Tibet and India, while Kathmandu has also tried to reduce its heavy dependence on New Delhi.
India has traditionally had extensive influence over Nepal's politics and economy, but relations have suffered in recent years after Nepal accused India of imposing an undisclosed blockade in September 2015 to signal its displeasure over a new constitution, which New Delhi believed discriminated against people of Indian origin.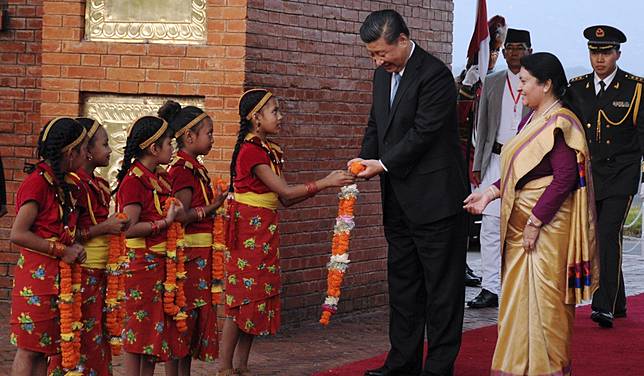 The blockade severely hit Nepal's economy and forced it to turn to its northern neighbour for much-needed energy and other resources.
Nepal signed up for China's Belt and Road Initiative in May 2017, while India has refrained from taking part.
The visit was the second leg of Xi's tour of South Asia, which also included a meeting with Indian Prime Minister Narendra Modi in Chennai.
The meeting between Xi and Modi came amid escalating tensions between India and Pakistan over Kashmir, which both sides claim in full.
Beijing supported Pakistan in opposing New Delhi's decision to remove Jammu and Kashmir's autonomous status in August.
Xi said China and India should increase mutual trust and properly handle bilateral conflicts and sensitive issues.
Copyright (c) 2019. South China Morning Post Publishers Ltd. All rights reserved.