Li Meng (R) and Li Yueru in action during China's FIBA Women's World Cup qualifying match against France in Belgrade, Serbia on Feb. 13, 2022. (Photo by Predrag Milosavljevic/Xinhua)
World No.7 ranked China will depend on their talented youngsters and look forward to a breakthrough at the FIBA Women's Basketball World Cup.
SYDNEY, Sept. 20 (Xinhua) -- Highly-fancied China are banking on their talented youngsters to spearhead a breakthrough at the upcoming FIBA Women's Basketball World Cup, which starts on Thursday in Sydney, Australia.
The 12-team showpiece women's event will culminate in the final on October 1 with the winner receiving a direct ticket to the Paris 2024 Olympic Games.
After China swept through undefeated in the qualifying tournament in February, there is growing anticipation over the world No.7 ranked team, whose best finish was runner-up at the 1994 World Cup - the last time the event was held in Australia.
Having finished fifth at last year's Tokyo Olympics, a youthful China have steadily improved.
"We are now fixing some problems that we met at the Tokyo Olympics, like turnovers and a lack of physical contact. We are becoming better and better," said China coach Zheng Wei, who rated her team's maturity at six out of ten.
"Hopefully we can reach eight [in this regard] when we are competing at the World Cup. We have found our players' progress from every game, such as dealing with key possessions or an inferior situation."
After veterans Shao Ting and Sun Mengran bade farewell in Tokyo, an exciting new era has started led by emerging star Li Yueru.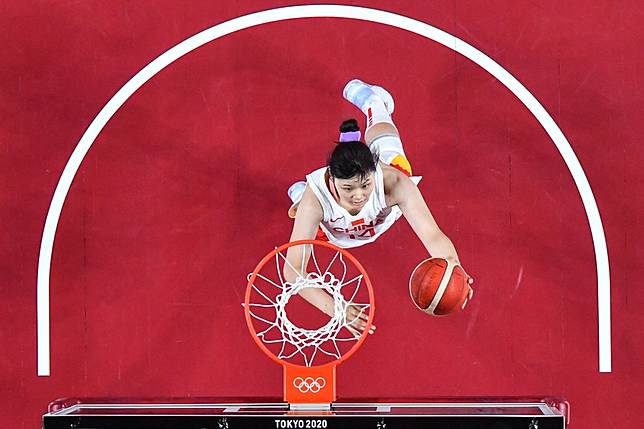 Li Yueru goes for a layup during the women's basketball quarterfinal against Serbia at the Tokyo 2020 Olympic Games in Saitama, Japan, Aug. 4, 2021. (Xinhua/Pan Yulong)
The 23-year-old center has become a lead China player in recent years and showed glimpses of her huge potential in the WNBA with the Chicago Sky.
Li has proved unstoppable around the basket and forms a devastating tandem with towering Han Xu, who averaged 8.5 points and 3.6 rebounds with the New York Liberty in the WNBA.
"After finishing my second season in the WNBA, I need to shoulder more responsibilities and help our team both on and off the court," Han said.
China's offensive options also include dynamic forward Huang Sijing, who was named MVP at the qualifying tournament.
They are well stocked at all positions with point guard Yang Liwei experienced in running the offence.
However, the team must handle the expectations having fallen short at the Tokyo Olympics and last year's FIBA Women's Basketball Asia Cup.
"We have to be fully prepared for the difficulties ahead, not only doing well ourselves but also puzzling over the opponents to unleash our advantages and do our best," Zheng said. "We are in a position to challenge others."
China have been drawn in Group A with Belgium, Bosnia and Herzegovina, Puerto Rico, South Korea and hot favorites the United States.
They will go all out trying to become one of the four teams to qualify for the knockout stages, and have to face a major early test against three-time defending champions the United States in a blockbuster on September 24.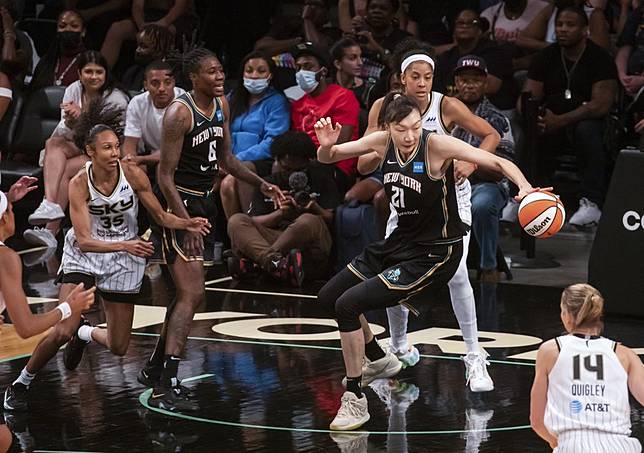 Han Xu (C) of the New York Liberty reaches for the ball during a WNBA 2022 regular season match against the Chicago Sky, July 23, 2022. (Photo by Michael Nagle/Xinhua)
The United States once again start as overwhelming favorites having won a 10 of the previous 18 World Cups.
The No.1 ranked side have an array of WNBA stars led by Breanna Stewart and A'ja Wilson, arguably the two best players in the world.
28-year-old Stewart saves some of her most exhilarating performances for major international competitions underlined by winning MVP at the FIBA Women's Basketball World Cup in 2018 and the Tokyo Olympics.
She just missed out on her second MVP in the recent WNBA season after being pipped by forward Wilson, whose defensive mastery saw the 26-year-old win the top honor for the second time in the past three seasons.
No.5 ranked Belgium should be the other major contender in Group A but the European powerhouse are amid a transition since the retirement of leader Kim Mestdagh. In an eagerly awaited contest, Belgium and China clash on September 27.
In a tough Group B, rated by experts as the "Group of Death", hosts Australia have been buoyed by the return of legend Lauren Jackson, the country's most decorated basketball player.
The 41-year-old, a three-time WNBA MVP who spearheaded her country to their sole World Cup triumph in 2006, launched an audacious comeback in Australia's WNBL earlier in the year having retired in 2016 due to chronic injuries.
"I've never had so much fun playing because the pressure is off now," Jackson said at the event's official launch on Monday. "I don't need to prove anything, I just get to go out there and really complement my teammates. I'm really happy playing that role."
After performing spectacularly in the WNBL, Jackson will play in her first World Cup since 2010.
Jackson's presence is hoped to fuel passionate local support for Australia, who are one of the favorites in Group B featuring Canada, France, Japan, Mali and Serbia.
Tokyo Olympics silver medalist Japan should battle Australia for Group B supremacy. No team in the draw is more dangerous from three-point shooting range than Japan, who have multiple sharpshooters.
Even so, Japan enter Sydney with their chances of winning a first World Cup title slightly dimmed after an underwhelming qualifying tournament at home in February.
Conversely, No.4 ranked Canada gained confidence after unleashing a high-octane game plan under new head coach Victor Lapena in the qualifying tournament. Their hopes rest on WNBA players Natalie Achonwa and Bridget Carleton who form a formidable duo with the Minnesota Lynx.
The top four teams in each group will advance to the quarter-finals with the winners moving on to the semi-finals and medal round. ■