Zhou Xianwang tells state broadcaster the government's 'warnings were not sufficient' in interview that prompts online backlash
He is slammed for allowing Lunar New Year gathering of more than 40,000 people to go ahead on Sunday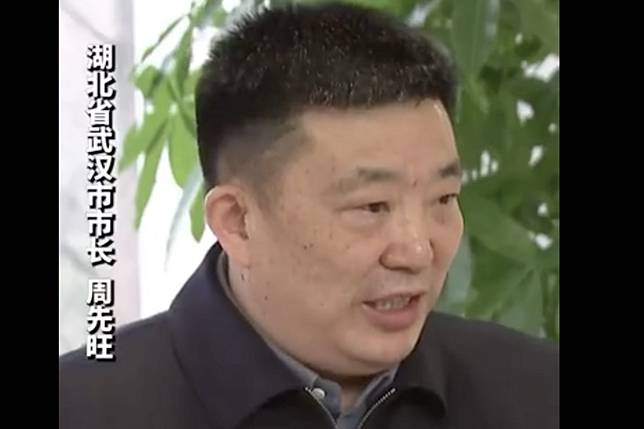 The mayor of Wuhan, the central Chinese city where a new coronavirus first broke out, is under growing pressure over the government's response to the outbreak after he admitted its disease prevention efforts fell short.
Zhou Xianwang, the 57-year-old mayor of the Hubei provincial capital, is weathering what will likely be the toughest crisis of his career, with a flood of calls for his resignation after he told state broadcaster CCTV that the city's "warnings were not sufficient".
During the interview on Tuesday, he was grilled on whether the city had reacted "too slowly" to the spread of the virus, if timely information had been shared, about hospital staff getting infected, on allowing a mass gathering to go ahead in the midst of the outbreak, and the delayed cancellation of public events for the Lunar New Year.
"From the perspective of continued understanding of the situation, it is only at this time that everyone realises it is so dangerous," said Zhou, who has been mayor since September 2018. "If we knew at first from the virus spread that it would be so serious, finding effective control and prevention methods of course would be good, but the problem is usually we cannot realise the severity from the outset."
Video clips from the interview posted on Chinese social media have drawn thousands of angry comments, with many accusing the mayor of "neglecting his duty" and calling for him to "step down". Public dissent is rare in China, particularly as Beijing has clamped down on civil society in recent years to ensure the media, and social media users, carefully toe the official line.
But the online backlash to Zhou's remarks was swift. One blogger, with 6.8 million followers, wrote that the mayor had "better voluntarily resign, this way he can actually have some dignity".
Another commenter wrote: "You completely ignored early prevention and control efforts."
One other added: "It feels very likely this is the last time you will accept an interview with this status."
More than 541 cases of the coronavirus have been confirmed across mainland China, after the pneumonia-like disease first spread from Wuhan in late December, with 17 deaths. There have also been confirmed cases in Japan, Macau, South Korea, Hong Kong, Taiwan and the United States.
What do you need to know about the new coronavirus in China?
The Wuhan mayor, a member of the ethnic Tujia minority, was slammed specifically for allowing a large-scale Lunar New Year gathering " where local media said more than 40,000 families dined on nearly 14,000 dishes " to go ahead on Sunday in one of the city's urban districts, when 62 cases of the viral pneumonia had already been reported.
"This year, they continued to hold the activity because our judgment earlier on the disease spread was that there was limited transmission between humans, so our warnings on this were not sufficient," Zhou said. "Later, it was confirmed there was human-to-human transmission and this trend had the possibility of becoming more intense, so we quickly employed various measures to request that these types of events not be held unless absolutely necessary."
Wuhan first reported 27 cases of the new disease on December 31, linked to the Huanan Seafood Wholesale Market. The count rose in early January to 44 cases, then 59. After a period with no new confirmed cases, the city's health authorities reported on Sunday that the count had reached 62, a number that soared the next day to 198.
Zhou said Wuhan had begun movement controls on January 14, with restrictions for both entering and exiting the city starting from Monday to limit the spread of the disease. He also acknowledged a cross-infection incident where a patient undergoing brain surgery infected one doctor and 13 nurses with the coronavirus.
"This lesson was very profound and showed that prevention efforts are needed so there are no holes," he said. "This is also related to how our understanding of the harm and the spread of the virus did not reach a high level."
Coronavirus weaker than Sars but may share link to bats, Chinese scientists say
Zhou first made national headlines 16 years ago " not for a public health crisis but for impressing the Chinese president at the time, Hu Jintao, at a 2004 legislative meeting. Zhou, then-head of the Enshi Tujia and Miao autonomous prefecture in Hubei province, produced a receipt from Hu's trip two decades prior to the Enshi prefecture, showing Hu had paid for his own meal in the countryside, according to Communist Party mouthpiece People's Daily.
Zhou later became deputy governor of the provincial government, then deputy mayor of Wuhan before he took the job of mayor.
Sign up now for our 50% early bird offer from SCMP Research: China AI Report. The all new SCMP China AI Report gives you exclusive first-hand insights and analysis into the latest industry developments, and actionable and objective intelligence about China AI that you should be equipped with.
Copyright (c) 2020. South China Morning Post Publishers Ltd. All rights reserved.