Tolerance of neutrals is disappearing while government supporters find the situation increasingly unacceptable
Protesters have escalated their actions, blocking thoroughfares across the city, disrupting train services and engaging in intense clashes with police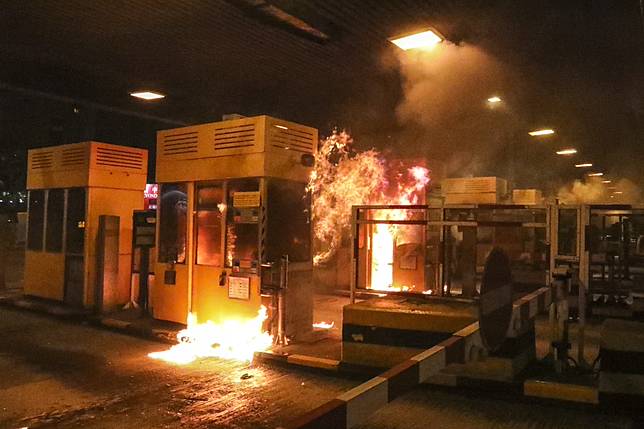 The worsening violence in Hong Kong is causing many who support the ongoing protests to question their radical actions, but after four straight days of mayhem they are still pointing the finger of blame at the government and police rather than the demonstrators who have stepped up their campaign to cause widespread disruption.
But the tolerance of those who are politically neutral is disappearing while government supporters find the worsening violence increasingly unacceptable.
Targeting weekdays rather than weekends, protesters have escalated their actions since Monday, blocking thoroughfares across the city, disrupting train services, and engaging in intense clashes with police as the anti-government demonstrations entered their sixth month.
Ashley Chan, 48, a counsellor who described herself as a "peacemaking" person, said she still supported the movement, although she questioned whether protesters needed to go to such extremes as vandalising public facilities and shops.
"I'm still on their side. But do they need to use violence as such? I think not," she said.
Chan said the government and police were chiefly to blame for forcing the protesters to take drastic actions.
She said she opposed police abusing their power and mentioned an incident where they fired tear gas at Tai Shui Hang in Ma On Shan on Wednesday.
"I was walking near Tai Shui Hang where some university students were sorting out resources such as food, water and medical items. They did nothing illegal. But all of a sudden police fired more than one round of tear gas at the site. I was furious because there is a primary school next to it," she said.
I'm still on their side. But do they need to use violence as such? I think notAshley Chan, counsellor
Kevin Chan, 34, who runs a restaurant in Kam Tin, said he was forced to close early over the past few days as a supplier and some staff could not get there because of a lack of public transport.
Chan and his wife Mary, also 34, said that although some of the protesters' actions went overboard, they still generally supported the demonstrators because they were offended by what they called police's abuse of power.
"A lot of police actions don't make sense such as the wanton arrests of people without any reason," he said.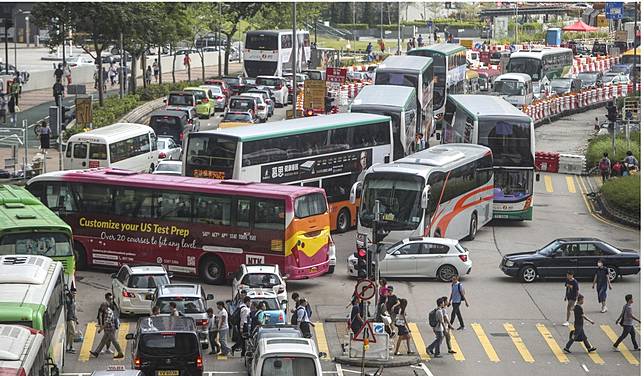 But they were concerned that the radical actions would jeopardise public support.
"My feeling is that they are adopting a foolish strategy. I am only concerned whether they fall into a government trap and lose public support with their radical actions," Mary said.
Despite closing early for several days, Chan said business at the restaurant was unexpectedly good as more people dined locally rather than going to other districts.
Xi again backs Hong Kong police use of force in stopping unrest
Joyce Lee, 31, works in the hospitality industry in Jordan and joined the "lunch with you" protest in Central for four straight days. She said the death of 22-year-old student Chow Tsz-lok last week, after his fall from a car park around the time of a nearby police operation, had provoked widespread anger.
"Weekday demonstrations are more effective as we can and have brought schools and some work to a halt. I am not afraid of public opinion turning as those who are blind to police violence already turned against us a long time ago," she said.
Mandy Yu, 63, a security guard at a shopping mall in Tai Po, said she still supported the protesters despite their violent acts.
"Some protesters come to my workplace to shout slogans and damage the facilities. But I just let them. They never affected my life," she said.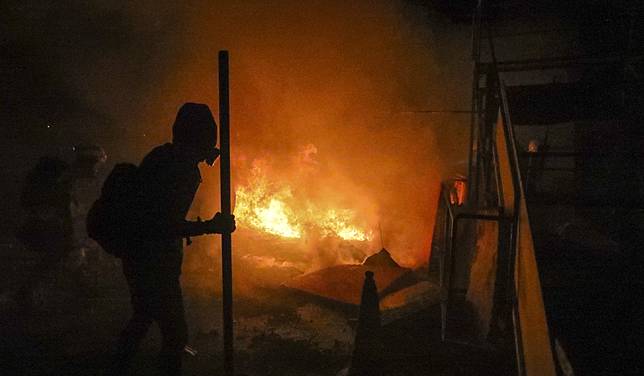 While she disapproved of radical acts such as setting fire to shops or on university campuses, she also disagreed with the way police handled protests.
"I think the public's past tolerance has caused the government to disrespect the people and keep bullying the young and the weak, such as women. That's why I have a responsibility to support the protesters," she said.
But there were people who felt increasingly angry with the protesters' actions.
Minibus driver Henry Sze, 52, said he could not make any money over the past few days because roads were blocked.
"So far I've lost several thousand dollars this month," he said.
Sze said originally he had no particular views about the protesters as long as they abided by the law. "But now they've become too radical and their actions have affected a lot of people. They even beat up people who oppose them. This is really too much," he said.
Sze also defended police, saying they were only trying to maintain law and order. "I don't think police will assault people for no reason. They have been regularly provoked by the protesters and forced to take enforcement actions," he said.
Government supporter Sang Chui, 56, an Uber driver and paralegal at a law firm in Sheung Wan, said he was very annoyed with their actions such as blocking the roads, making unfounded accusations against police, and beating up those with opposing views.
"I think the protesters are messing up right from wrong," he said.
However, he said the crippled transport situation had allowed him to make more money over the past few days on Uber orders.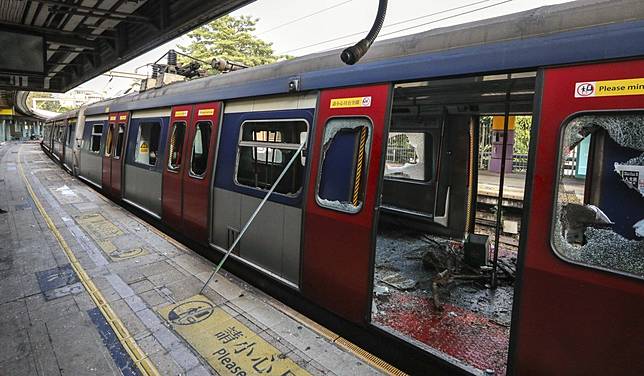 Fung Tze-pan, 68, owner of a plant shop in Kam Tin, said his business had dropped by about half as the protests had dampened consumer sentiment.
He said at first he respected the protesters' right to oppose the now-withdrawn extradition bill, which sparked demonstrations in June that have since morphed into the wider anti-government campaign, although he did not have any negative views about the draft law. Now he was saddened by the protesters' extreme measures.
"I feel sad about their actions which have caused society to become highly polarised. Now I question their real goals. Do they want to destroy everything or they do have aspirations?" he asked.
Now they just beat up those who disapprove of their actions. Is this democracy? They are no different from dictatorsFung Tze-pan, shop owner
Fung said the protesters became dictators who could not tolerate any opposing views. "Now they just beat up those who disapprove of their actions. Is this democracy? They are no different from dictators," he said.
Ma Ngok, associate professor at the department of government and public administration at Chinese University, did not think the inconvenience caused by protesters had affected their support.
"There are more people taking to the streets to oppose the government including the flash 'lunch' protests in Central. I see the protest has expanded to a wider level," he said.
Ma said even though the protesters had resorted to violence, for many people, the scale of it and the destruction could not be compared with police actions.
"From many polls, most people still think the government and police hold the biggest responsibility for the escalation of protesters' actions," he said.
Copyright (c) 2019. South China Morning Post Publishers Ltd. All rights reserved.