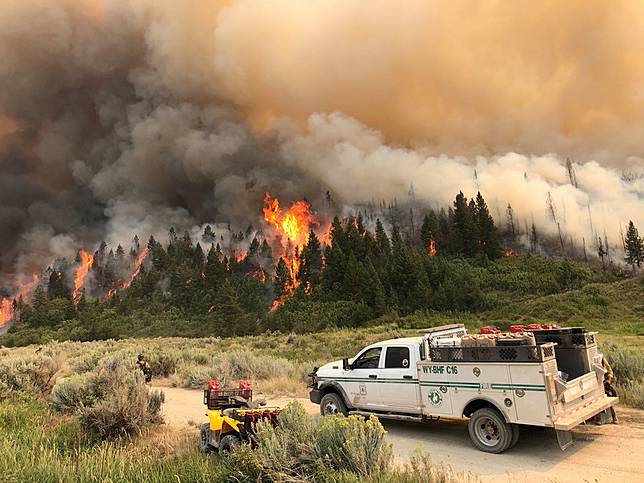 Extreme fire behavior is seen on the north side of the Pine Gulch Fire in Colorado, the United States, on Aug. 7, 2020. (Photo credit: Facebook account of Pine Gulch Fire)
As of Saturday, 466 firefighters were battling the blaze.

LOS ANGELES, Aug. 8 (Xinhua) -- A wildfire ignited by lightning one week ago in the U.S. state of Colorado exploded in size Saturday morning, growing to 20,089 acres (81.3 square km) with zero percent containment.
The authorities predicted that dry and windy conditions could fuel the blaze this weekend further.
The fire, dubbed "Pine Gulch Fire," started on July 31, 30 km north of Grand Junction, a city in Colorado's Western Slope region, and is burning in remote, rough terrain, in pinyon, juniper, oak, and sage brush.
Although there were no evacuations ordered due to the fire and no reports of injuries, an interactive fire and smoke map from the government website AirNow showed the huge smoke plume caused by the fire had stretched from Grand Junction to the Denver area, 390 km east away.
As of Saturday, 466 firefighters were battling the blaze, according to the InciWeb, an interstate incident information system. Crews planned to continue building fire lines and aerial resources were also expected to be used.
The latest information updated by the InciWeb said the humidity level was poor overnight, only approximately 17 percent, and it would decrease through Saturday with an expected minimum relative humidity as low as 9 percent.
Moreover, winds were expected to increase out of the southwest Saturday afternoon with gusts up to 20 mph, which could result in more extreme fire behavior, the InciWeb said.  ■