NGOs striving to clear Cambodia's minefields are giving opportunities to local mean and women, including landmine survivors and female labourers
With women able to earn far more than as employed as labourers, and receiving insurance and maternity leave, positive changes are occurring to local society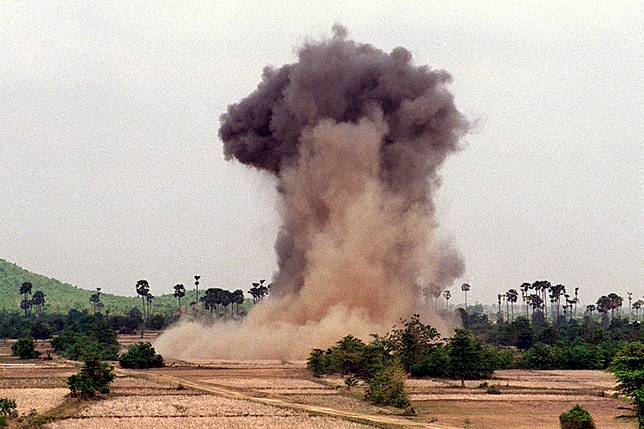 Six years ago, Soy Kossal stepped on a landmine as he walked along a well-trodden path to his fields in Battambang province in northwestern Cambodia.
The force blew off his right leg, leaving the 28-year-old part-time carpenter a cripple, with no immediate hope of being able to support his wife and family. His tale is all the more tragic because it was an occurrence so regular as to be almost unremarkable in Cambodia.
"I was so depressed. I was ashamed and isolated myself from everyone. I didn't want to live. People were telling my wife she should get a divorce," says Soy Kossal.
Luckily his wife, Kolab, paid no heed to the doomsayers, helped him to overcome the trauma and encouraged him to seek other employment. Furnished with a prosthetic, Soy Kassal found a job as a deminer with a charity, and promptly took on a new lease of life.
"It took me a long time to cope with the emotional struggle," he says. "I knew I had to continue to support my family, but at the same time I didn't want other people to suffer the same fate that I did. I want to clear all the mines in the country, every single one."
Soy Kossal is one of thousands of innocent victims " estimated at 64,000 " who have fallen foul of unexploded ordnance (UXO), a hideous legacy of the conflict that ravaged Cambodia late last century. There's now a hospital in Battambang that treats anyone injured by UXO for free " though there's no shortage of victims lining up for service.
One of the biggest minefields in the world " a 500-metre (1,600-foot) wide strip dubbed K5 that was laid in a fruitless attempt to forestall Khmer Rouge guerillas " runs for 800km (500 miles) along the Thai-Cambodian border.
Cambodia training elite squad of 15 African rats to sniff out landmines
Dozens of NGOs " including Apopo, which has taken the innovative step of training rats to detect mines " are engaged in the grim, painstaking task of clearing K5's estimated 20 million UXOs, many of which are becoming increasingly unstable as the years wear on.
Yet their mission suffered a psychological setback in early February when US President Donald Trump cancelled a policy prohibiting US military forces from employing anti-personnel landmines beyond the Korean peninsula.
The move was branded a death sentence for civilians because it seemingly conferred legitimacy on the use of landmines after a lengthy campaign to ban them worldwide.
"Nations, even superpowers, should never use landmines because of the superfluous injury and unnecessary suffering that they cause," says Jerome Bobin, executive director for Humanity & Inclusion Canada.
"There is no use for landmines that cannot be accomplished by other means that do not so significantly and indiscriminately kill and maim civilians."
Trump's move sent shock waves of disbelief through Cambodia's demining community.
"I am disappointed, though hardly surprised, that my country has decided to step backwards into the dark past of landmines," says William Morse, who was inspired to found the Landmine Relief Fund " which is based in Van Nuys, California and works closely with Cambodian Self Help Demining in Siem Reap " after hearing of a former child soldier who had taken to defusing mines with his bare hands.
It was my own decision to become a deminer. I was an uneducated girl trapped by my circumstances. If I weren't a deminer, I would still be a labourer earning much less moneyRuot Sreyla, a woman working as part of Cambodia's demining workforce
"The United States has been the largest contributor to mine clearance in the world. Military leaders like US Army General Norman Schwarzkopf and US Marine Corps Commandant Alfred Gray have denounced the use of landmines as unnecessary on a modern, fluid, battlefield. There's no logical reason to do this," Morse says.
The NGOs striving to clear the country's minefields work with Cambodians like Soy Kossal, giving them expert training in the perilous art of demining.
"Landmines laid during the ousting of the Khmer Rouge in 1979 and throughout the subsequent decades have had a devastating impact on the people of Cambodia," says Lasha Lomidze, operations manager for Halo Trust, which was set up in Afghanistan in 1988.
"Over 64,000 casualties and more than 25,000 amputees have been recorded in the past 40 years. Around half of Cambodia's minefields have been cleared and the remaining ones are mainly in the rural northwest of the country, especially in K5.
"As the population grows, families have little choice but to move near mined land, placing themselves at risk, but still living in hope, waiting for things to change."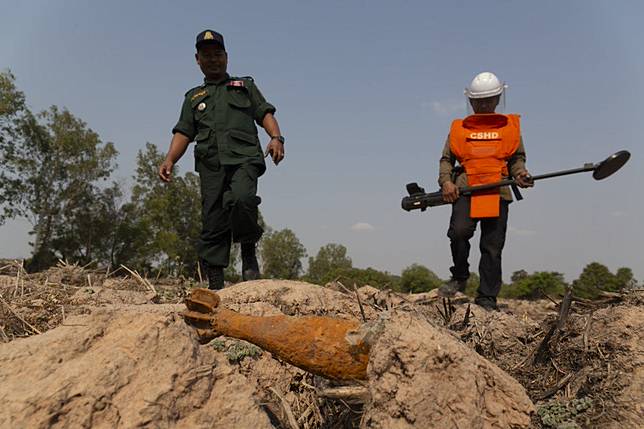 Halo is one of the world's most prominent demining operations, and its managers were savvy enough to solicit the support of Britain's Princess Diana, filming her visit to a minefield in Angola in January 1997.
The subsequent publicity was judged to have been a significant influence in getting more than 160 countries to sign the Ottawa Mine Ban Treaty " effectively outlawing the weapons " that December.
Halo employs more than 1,000 men and women from mine-affected areas in Cambodia to work in fields all along the Thai border from Koh Kong to Preah Vihear, and in the southeastern province of Tboung Khmum, clearing hundreds of landmines every month.
In addition, Halo responds to frequent calls from people elsewhere in the country who have found dangerous explosives that need to be destroyed safely.
By employing women in the demining workforce " whether as educators or actually clearing minefields " NGOs are making some positive changes in Cambodian society.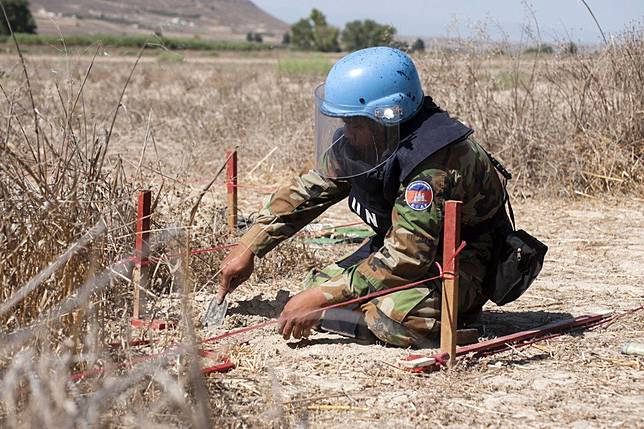 Ruot Sreyla used to spend her days tilling farmland for a paltry US$20 a week, and having left school early had despaired of finding a more lucrative job. So when she heard about the possibility of training as a deminer she jumped at it.
Together with a friend, Song Sreymao, she embarked on a six-week training course at the Cambodia Mine Action Centre (CMAC) in Kompong Chhnang province, learning how to use mine detectors, follow a strict set of standard operating procedures, and stay safe at all times.
"It was my own decision to become a deminer," says Ruot Sreyla. "I was an uneducated girl trapped by my circumstances. If I weren't a deminer, I would still be a labourer earning much less money."
The women are paid roughly US$200 per month. They also receive life and medical insurance, and three months' paid maternity leave.
"I encourage other women in Cambodia to become a deminer so they can earn more," Song Sreymao says. "There is no need to be afraid because the training is very good. You just have to be careful and follow the standard operating procedures."
Training women how to clear mines has had far-reaching effects on Cambodian society.
"Mine risk educators have encouraged women to take part in activities and have promoted equal access to employment," says Peang Sovannary, CMAC's gender focal manager.
"However, there are some areas where gender inequality persists, such as the number of women attending planning meetings. Greater focus on participation at the local level to promote gender equality would help increase women's involvement in planning and prioritisation."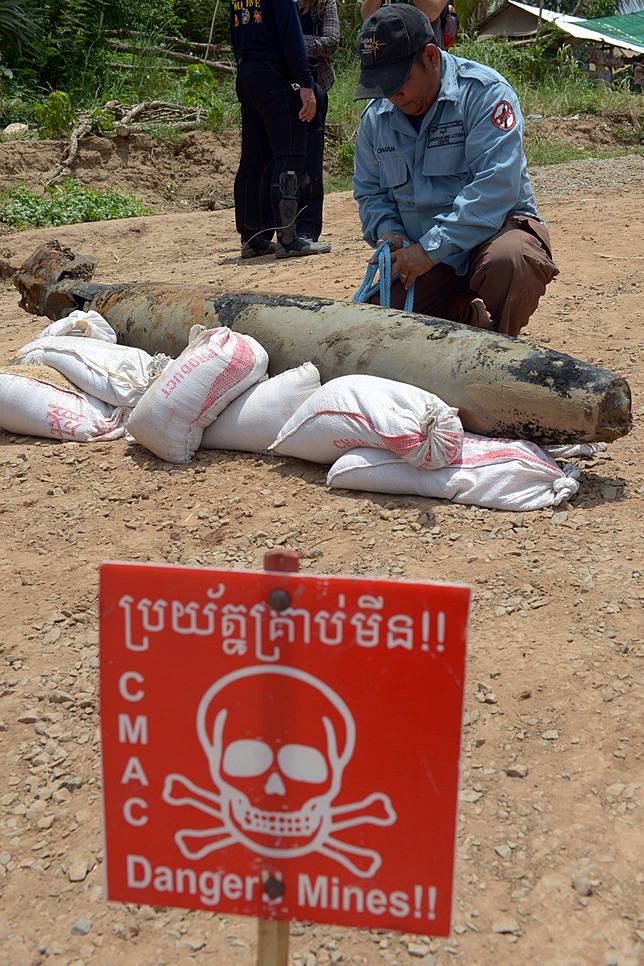 Once an area has been cleared and declared safe, the effect on lives of nearby residents is both immediate and liberating.
A United Nations Development Programme project around Tuol Mtes in Koas Krala district that came to a successful conclusion last autumn allowed villagers to farm in safety after many years of working their fields in fear, and consequently boosted their earnings.
"I came here 20 years ago, and we farmed small patches of land that we hoped were not contaminated with mines or explosive devices," says Yuth Voung, a mother of five.
"We were desperate to feed our family, so that meant sometimes we would try to clear the land without any professional assistance. Now the land is free of mines, we have a new sense of confidence, and we have the time to study sustainable farming, while some of my friends have taken to growing something other than rice, like mangoes."
This year's International Mine Awareness Day, an annual event promoted by the UN, falls on April 4. In what may not be a coincidence, the following week the new James Bond movie " titled No Time to Die and starring Daniel Craig, who is also a global advocate for the UN's Mine Action Service " will hit cinema screens around the world.
"Thanks to a concerted effort in many different nations, landmines " weapons that were once in widespread use and are easy and inexpensive to make and deploy " have been stymied by collective action," Craig has said.
"Every landmine not made means potentially that one child's life is not taken away, or violently altered forever. It's that simple."
Copyright (c) 2020. South China Morning Post Publishers Ltd. All rights reserved.