US factory output is shrinking, but the economy is holding up because of robust private consumption
One reason why Trump hasn't backed down in the trade war may be that key battleground states in the presidential election have enjoyed the strongest growth in personal income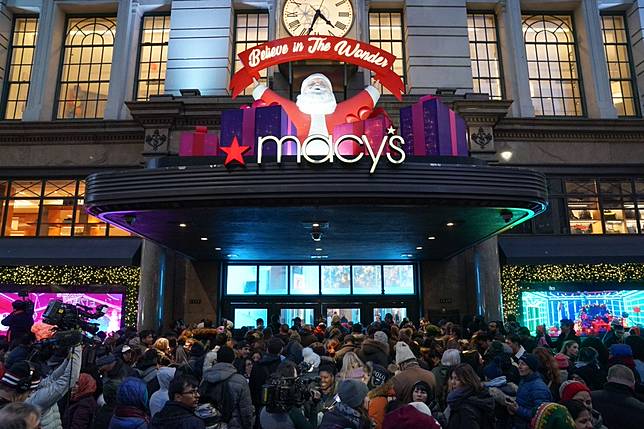 As the global downturn gains momentum, America's economy has come under intense scrutiny. Increasing signs that its expansion " the longest in US post-war history " is slowing due to the fallout of the trade war have unnerved financial markets, and have already forced the Federal Reserve to cut interest rates three times this year.
Fresh evidence of decelerating growth emerged on Monday when a gauge showed US manufacturing contracting for the fourth straight month in November. The downturn is now sharper than in China, where official data published last Saturday showed factory output expanding for the first time since April. According to Bloomberg, the US manufacturing sector has not performed this badly, relative to its Chinese counterpart, in a decade.
Yet, America's economy continues to hold up significantly better than any of the world's other leading economies, and is still the cleanest dirty shirt in the laundry.
Its relative strength is driven by buoyancy in private consumption, the mainstay of the economy and the engine of global growth in earlier decades.
While manufacturing accounts for 11 per cent of America's gross domestic product, household spending makes up about 70 per cent. The latest batch of survey data on consumer sentiment shows confidence remaining high, underpinned by historically low unemployment, record high stock prices and extremely accommodative monetary policy.
Indeed, according to the University of Michigan's consumer sentiment index, levels of optimism over the past three years are the highest they have been since the late 1990s. Consumers, moreover, are far more upbeat than businesses, which have been cutting back on capital investment, citing uncertainty about their supply chains, profits and growth.
The robust health of US consumption is not just the only bright spot in an otherwise lacklustre global economy, it is also one of the main reasons why US stocks continue to outperform the rest of the world. While the benchmark S&P 500 index is up a whopping 24 per cent this year, the MSCI All Country World ex USA Index (a gauge excluding the US) has risen by a less impressive 13 per cent.
Why the trade war may soon be the least of China's worries
The resilience of US consumer spending, moreover, is allowing the Fed to be patient in deciding whether to cut rates again, and is set to play a crucial role in the US presidential election as Donald Trump seeks a second term while facing an impeachment inquiry in the Democrat-controlled House of Representatives.
The good news for Trump is that some of the key battleground states that could determine the outcome of the election enjoyed the strongest growth in personal income during his first two years in office.
According to research carried out by Bloomberg, more than a third of the US counties that made the best annualised income gains since 1992 were located in swing states such as Pennsylvania, Ohio and Iowa.
This may help explain why Trump has been willing to escalate the trade war, and why the incentive for him to strike a deal with Beijing in the coming weeks is not as strong as many investors and traders believe.
Still, the US consumer is hardly immune to domestic and external headwinds.
The world economy is headed for a fall and China can't save it
For starters, although confidence remains high, it stopped rising some time ago. Cracks are beginning to show in the consumer balance sheet. The delinquency rate on auto loans has reached its highest level since 2012, pointing to weaker demand for cars.
What is more, it stands to reason that if US companies are reducing their spending on equipment and other capital outlays, hiring and wage growth will slow, dragging down consumer sentiment. Data on private-sector employment published on Wednesday showed job growth at its slowest pace since May.
Indeed, concerns about the resilience of consumer spending is one of the reasons why stock analysts have been slashing forecasts for US corporate profits for this quarter, increasing the odds of the first earnings recession in nearly four years.
Any sign that consumer confidence is going to weaken significantly would revive fears of a global recession, putting markets under renewed strain and forcing the Fed to resume its rate-cutting campaign.
Why a Kentucky election is bad news for Trump and China
Yet, such a scenario, while a distinct possibility, is unlikely to materialise. The growing partisan divide in economic sentiment " Republicans are far more upbeat than Democrats " has ended up increasing the resilience of the US consumer at a time of mounting global uncertainty.
Even if the trade war flares up again, Republican voters are likely to remain optimistic. The bright spot in the global economy is not about to lose its lustre just yet.
Nicholas Spiro is a partner at Lauressa Advisory
Copyright (c) 2019. South China Morning Post Publishers Ltd. All rights reserved.