China's move to set lending rates in reference to borrowing costs on money market will narrow banks' net interest margins, investors and analysts say
Worsening earnings outlook outweighs banks' valuations, the cheapest among all sectors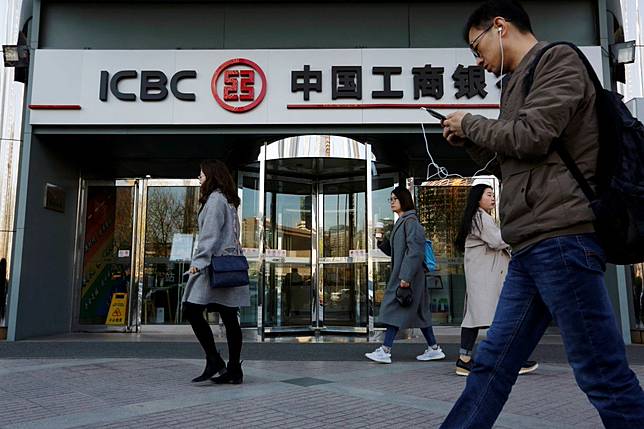 Chinese banking stocks, already the cheapest among all sectors, may see their share prices beaten down more, as a new market-based way to price loans is set to take away a shield that protected their profit margins for decades.
As of this week, commercial lenders must link the loan prime rate to their funding costs from the money market. It is a move aimed to lower borrowing costs for companies and support economic growth.
But it comes at the cost of banks' profits, as net interest margins " or the difference between the lending and deposit rates that make up a big chunk of earnings sources " are poised to narrow.
Chinese banks' earnings will probably fall by as much as 4.5 per cent next year, Northeast Securities says, with the whole industry moving to charge clients more based on demand and supply.
China changes the way bank loan rates are set, with HSBC left out of rate-setting club
The sector's battered valuation, at a 41 per cent discount to the benchmark equity gauge, is not convincing investors that the China-listed stocks are bargains. They are looking more to the deteriorating earnings outlook.
"The liberalisation of the interest rate alongside with the poor macroeconomy is the main factor that's weighing on the banking stocks," said Wang Zheng, chief investment officer at Jingxi Investment Management in Shanghai. "It's true that the valuations are low, but generally I will avoid the sector because the outlook isn't that bright."
Most of the mainland-traded banks, including China's big four state-owned lenders and smaller city lenders like Bank of Beijing, are available for overseas traders through the exchange links with Hong Kong.
While the one-year deposit rate has been kept unchanged at 1.5 per cent for almost four years, the new one-year loan prime rate dropped by six basis points to 4.25 per cent two days after the People's Bank of China unveiled the new calculating method. The corporate borrowing cost, which was previously pegged to the benchmark lending rate set by the central bank for years, now needs to refer to the medium-term lending facility, a tool used by the PBOC to fund commercial lenders through the open market operation. The MLF rate was recently set at 3.3 per cent.
The central bank is expected to take a variety of measures to bring down borrowing costs, such as directly guiding the MLF rate lower and a cut in the amount of reserves commercial lenders must set aside, to stem a slowdown, according to Standard Chartered. China's growth slid to 6.2 per cent in the second quarter " the slowest pace of in at least two decades.
"Because of current market conditions, the implementation of the new (loan prime rate) loan pricing mechanism will directly weigh on bank rates on new loans and lower their net interest margins," said Yan Li, an analyst at Moody's Investors Service. "We expect that the banks with large loan exposures due for re-pricing in the near-term will be more immediately exposed."
If the loan prime rate falls by a range from 10 to 25 basis points, Northeast Securities predicts profits for listed banks will decrease between 1.8 per cent and 4.5 per cent next year.
GF Securities says the change of the mechanism will chip 1.7 percentage points off banks' earnings growth, while Zhongtai Securities argues the negative impact will be between 1 percentage point and 2 percentage points.
Chinese banks' earnings growth has been decelerating over the past years, as lenders make larger provisions for non-performing loans amid a moderation in economic expansion at the Asia's largest economy. The growth rate was 4.7 per cent last year, compared with 36 per cent in 2011, Bloomberg data shows.
All of the so-called big four state-owned lenders, including Industrial and Commercial Bank of China and China Construction Bank, posted profit growth below 4.3 per cent in the first three months of the year.
Still, there are optimists who see banking stocks as good bets.
They argue the reform of the loan-pricing mechanism will improve the asset quality in the long run and the impact on profitability will also be limited, because lower lending rates are applied beyond existing loans and house mortgages.
"Banks' valuations have basically priced in downbeat expectations about the economic prospect and asset qualities," said Guo Yi, an analyst at Wanlian Securities. "With the low risk appetite, banks' high dividend yield ratio will help keep valuations stable."
China's central bank now has 'bigger say' over lending rates, but analysts question level of impact
The 26 banks on the Shanghai and Shenzhen exchanges traded at an average of 8.2 times earnings, the lowest among all the industry groups, and China Minsheng Banking and Huaxia Bank were the cheapest with the multiple of 5 times, according to Bloomberg data. The benchmark Shanghai Composite Index was valued at 13.9 times earnings.
A gauge tracking the sector has climbed 12 per cent this year, lagging a 16 per cent gain on the Shanghai Composite. ICBC, the nation's biggest, has risen 2.5 per cent.
For Hong Hao, managing director with Bocom International Holdings in Hong Kong, Chinese banking stocks may set up a valuation trap for investors, as the cheap may get even cheaper.
"Overall net interest margins will continue to be compressed," he said. "I will still avoid the sector. For years, it hasn't performed."
Copyright (c) 2019. South China Morning Post Publishers Ltd. All rights reserved.